Photography
LED Nature: Barry Underwood "This Land Is Your Land" @ Sous Les Etoiles, NYC
Feb 16, 2017 - Apr 15, 2017Sous Les Etoiles Gallery, New York
Barry Underwood channels Woody Guthrie in his new solo show at Sous Les Etoiles Gallery, NYC.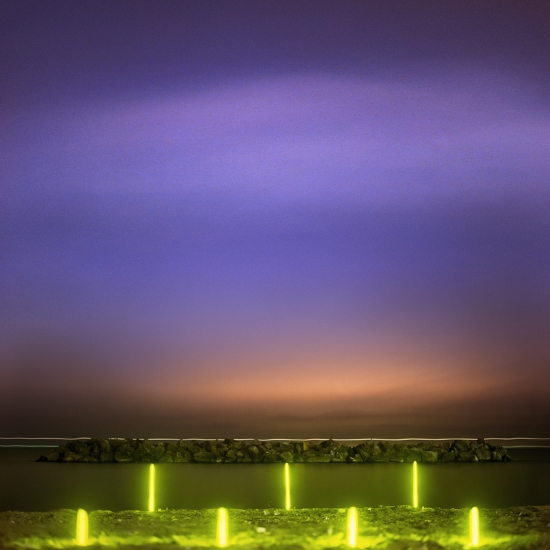 nspired by the famous folk tune, "This Land is Your Land" written by Woody Guthrie, Barry Underwood's series affirms his standing as an environmentalist photographer and ecological advocate. Written in 1940, the song's original lyrics introduced a critical perspective to the idealistic view of America as Underwood's images challenge the common bucolic perception of the landscape.
Underwood marks the landscape with LED lights, luminescent substances and other physical processes, utilizing lustrous color and working with shapes, lines and light to point to the immutable traces that human interventions leave behind. By staging a visual disruption in an otherwise familiar setting, Underwood seeks to reveal the unseen potential instilled in the landscape. As a result of the interplay of the natural and unnatural, he creates strikingly beautiful, otherworldly visuals enhancing awareness of environmental issues.
He writes, "The landscape has been and continues to be altered by ambitious human activities linked to political, social, economic, climactic, and aesthetic forces. I am particularly interested in connections between land use and the interpretation of a landscape as a politically symbolic environment, reflecting human activity and one's own self-definition, as well as our values and beliefs."
All images courtesy of Sous Les Etoiles Gallery.