Photography
Juno Calypso's "Joyce"
August 14, 2014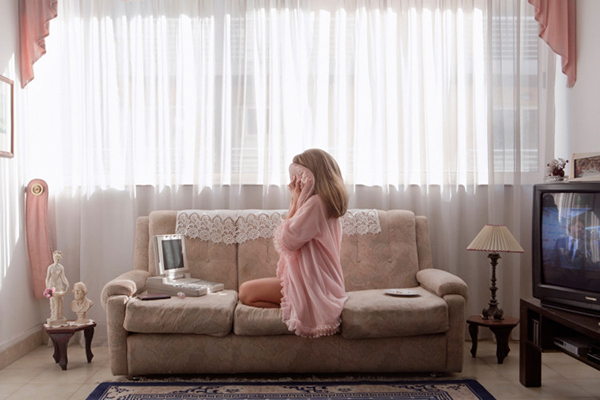 With the right pink accessories and a housewife's robe, photographer Juno Calypso becomes Joyce. During a Cindy Sherman-esque ritual of production, she transforms into her character Joyce, whose dead-eyed stare is captivating and erie.
She writes, "I draw upon personal experience to perform critical studies into modern rituals of beauty and seduction. Objects once perceived as radical, innovative, fun and nutritious – an electronic anti-wrinkle mask, computer equipment from the 1980s, baby oil, a tin of cold meat – have become joyless and oppressive. Joyce appears alone, consumed by artifice. Her glazed appearance acting as a mirror to the exhaustion felt whilst bearing the dead weight of constructed femininity."
Juno Calypso graduated from the photography program at the London College of Communication in 2012 and is now represented by the Simon Oldfield Gallery in London.
Text by Linnea Stephan