Photography
Exploring the Fringes of Contemporary Visual Art
January 30, 2017
Born from the "art brut" (raw art) philosophy of 20th century French artist and curator Jean Dubuffet, The Outsider Art Fair has for decades strived to demystify contemporary art - lifting it from industry politics by prioritizing raw creativity above notoriety.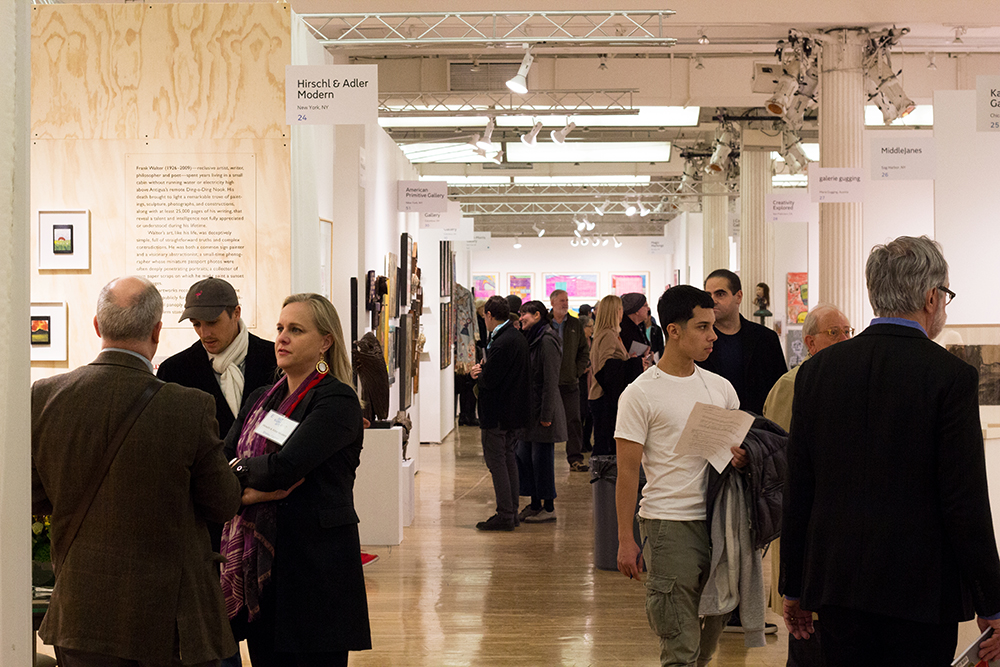 Now entering its 25th year, the festival opened the new year with a wide array of unique individual collections from curators and galleries across the country and beyond, occupying an entire floor of the Metropolitan Pavilion in Manhattan's Chelsea neighborhood.
Upon entering the space, the layout leans toward a traditional art fair. Each gallery occupies its respective section of cubicles and a steady stream of well-to-do artists, art enthusiasts and industry associates flow through the cracks observing, discussing and negotiating as orange for sale stickers slowly encroach on the corners of these rare and beautiful creations. The distinguishing element becomes apparent upon submerging oneself in the work itself, and experiencing the unique brilliance of such an exceptional and organic collection modern art - ranging from delicately beaded artillery and digitally altered archive photography to psychedelic reimaginations of the nervous system with colored marker.
Notable highlights included a haunting display of original photographs from Mark Hogancamp, utilising still miniature plastic dolls and figures to create dramatic scenes ranging from gruesome war to intimate romance and horror. Ruben Natal San Miguel's collection of street photography from an ongoing project exploring different communities in New York's five boroughs offered an honest and necessary gaze into the eyes of this city that are so rarely seen. The Rebecca Hossack Gallery included a brilliant display of australian aboriginal art, gathering indigenous paintings from the Warlpiri Culture from Australia's northern territory. The Creative growth art center of Oakland, CA provided an exceptional collection from a breadth of talented artists from their programs supporting artists with disabilities.
With eyes set on the next festival set to be in Paris later this year, the Outsider Art Fair is not one to miss, as a powerful introduction to some of the new, vibrant [and often underappreciated] work being made in our time.