Photography
Damon Casarez: Boomerang Kids
July 26, 2014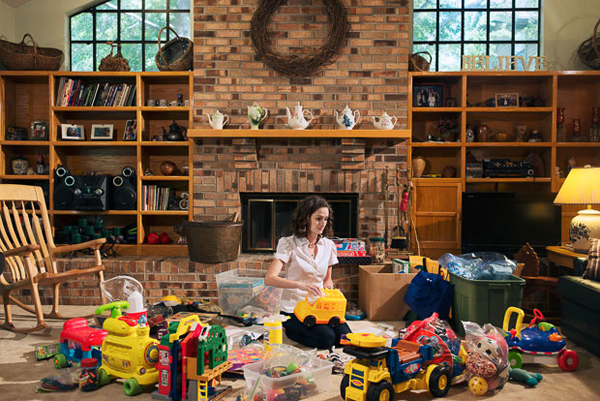 Photographer Damon Casarez has researched the continuing struggle for independence faced by those aged 20 -30. Having finished College or University it is becoming increasingly common for these individuals to then move back to live with their parents as a result of financial pressures or competitive job markets, rather than by preference. Referred to as 'millennials,' this series looks at this specific demographic cohort that researchers and commentators have highlighted as those with birth years ranging from the 1980s -2000s.
There are some quite frightening statistics associated with this project. The New York Times Magazine stated that 1 in 5 people in their 20's and 30's will currently find themselves still living at home. In the Western world we have known our parents generation to own their own house and to have started their own families by this time, whereas individuals of the same age nowadays are largely in no position to even be able to consider following this pattern.
Damon Casarez was one within this statistic and sought to conduct the project as a means to connect with others forced into the same situation. All of Casarez's subjects currently live in the US, where some have up to $90,000 worth of student debt, some are still currently unemployed, some are employed but not yet near, or remotely near their goals.
The series is a moving account of a very real issue that faces young individuals today and of course their families as well. Each sitter is shown within his or her home environment where there is a surprising sense of perseverance that might not be expected considering that each individual to some extent has had to accommodate a process of 're-adolescence.' It is frustrating to acknowledge their evident drive of ambition and their continued willingness to work, yet the current lack in economic ability to be able to facilitate these motivations.
With additional facts pertaining to each individual, we are able to gain a further insight into the backgrounds of each subject. Their ambitions are not at all seemingly extravagant, poignantly highlighting that despite the individuals ambition – whether it be to become a film producer, a social worker or a librarian; across the board of potential career aspirations, young individuals are struggling to accomplish these roles within society. Forcing the viewer to engage in current debates of what and how this issue may be resolved.

text Maresa Harvey
IMAGE CREDITS:
Image 1/Damon_Casarez_01 :
Adrianne Smith, 28, Seminole, Fla.
Degree: B.A., Psychology, University of Central Florida; M.S., Counseling, Nova Southeasern University
Career goal: Expanding her business
Current job: Entrepreneur and therapist (whose clients include autistic children)
Student Loans: $40,000 (for graduate school)
Image2/Damon_Casarez_03
Annie Kasinecz, 27, Downers Grove, Ill.
Degree: B.A., Advertising and public relations, Loyola University, Chicago
Student Loans: $75,000
Image 3/Damon_Casarez_05
Ashley Chang, 25, Queens
Degree: B.A., Comparative literature, Hamilton College
Career goal: Digital media manager
Current job: Digital-media analyst
Student Loans: $20,000
Image 4/Damon_Casarez_07
Gabriel Gonzalez, 22, Suffern, N.Y.
Degree: B.F.A., Graphic design, School of Visual Arts
Career goal: Graphic designer
Current job: Graphic designer and production assistant
Student Loans: $130,000
Image 5/Damon_Casarez_08
Jacqueline Boubion, 30, Diamond Bar, Calif.
Degree: B.A. Communications, California State University, Fullerton
Career goal: Film director 
Current job: Production assisting in commercials and music videos
Student Loans: None, but $22,000 in credit-card debt
Image 6/ Damon_Casarez_11
Mikey Billings, 29, Statesville, N.C.
Degree: B.A., Film studies, Full Sail University
Career Goal: Film or music industry
Current Job: Working part time at a malt shop
Student Loans: $80,000
Image 7/Damon_Casarez_12
Monica Navarro, 24, Escondido, Calif.
Degree: B.A., Literature and writing, University of California, San Diego. 
Career Goal: Librarian 
Current Job: Library volunteer, Home Depot Worker
Student Loans: $44,000