Juxtapoz
Photography and Drawing Combined
August 27, 2014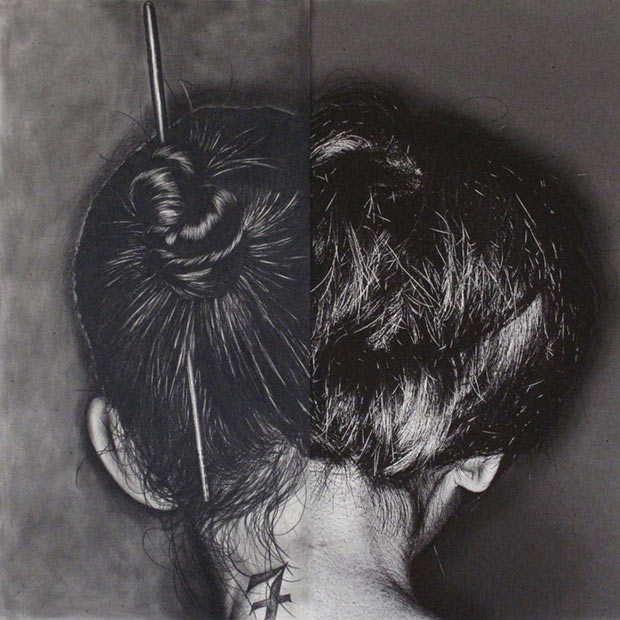 Juan Caguicla and Christina Dy come together for STEREO 1, the first part of two series marrying Caguicla's edgy photography and Dy's large-scale but intimate drawings. In STEREO 1, Caguicla and Dy become one as both sides join to produce an altogether new and grotesque image. "Stereoscopic!", describes mutual friend Ramon De Veyra, the source of the show's name.
Caguicla and Dy unlock the connection between the two mediums as they expose the play between image symmetry and their artistic differences, between sameness and distinction. "During its infancy and throughout history, photography, one way or another, to a degree, referenced classical art (painting drawing, sculpture, etc.) for some semblance of guidance and vice-versa, STEREO 1 just blurs the distinction between [photograph and drawing] but still manages to offer a clear line to separate them on a single plate", explains Caguicla.
On that single plate, Caguicla and Dy offer themselves. Choosing their own body parts to be the subjects of STEREO 1, Caguicla and Dy not only proclaim their love for the human body, but also reveal a different side of them in the process. In STEREO 1, Dy veers away from the large-scale drawings she is known for. No longer do we need to step back to take in Dy's drawings, she draws us in to see up close the nitty-gritty details. While Caguicla, known for his work in the fashion world, instead of highlighting the glamorous and attractive, fearlessly narrows in on parts so imperfect.
And as photograph and drawing are intrinsically linked, so are Caguicla and Dy. Each one's body part is both theirs. One owns the body part while the other interpreted it.
STEREO 1 plays with photography and drawing, and with what is his and what is hers.
via Silverlens