Juxtapoz
Pardee's Picks: Nosego "Unknown Elements" @ Thinkspace Gallery, Culver City
Dec 14, 2013 - Dec 21, 2013Thinkspace Gallery, Culver City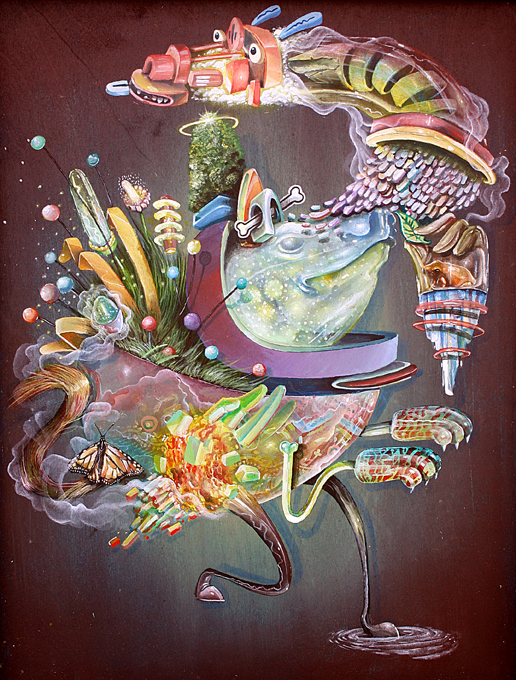 Why stop at just using LEGO pieces to make something out of your imagination when you can use your ENTIRE toy box to do so? That's the thought process that initiated the vibrant, playful and BEAUTIFUL artwork of NOSEGO, Philadelphia's most exciting resident to emerge into our culture since Rocky Balboa. And NOSEGO opens a new show at Thinkspace Gallery in Culver City, CA this Saturday, December 14, 2013.
Years ago, Nosego (AKA Yis Goodwin) started creating paintings influenced by his childhood memories of the messes he would make with his toys, capturing the new shapes and alternate characters that would emerge when he piled all of his action figures, stuffed animals and hot wheels together on his floor.
But over the years, as he matured as a person and as an artist, his life experiences, successes, frustrations and emotions became part of that toy box, and they too have seeped their way into his paintings alongside the toys, giving these innocent, childhood-driven Frankensteined paintings MORE layers, elements, colors and feelings than ever before. And the result is wonderful. Every one of his paintings is relatable to and coveted by anyone with a hint of an imagination, and to those of us with overactive imaginations, Nosego's artwork is the foundation for a brand new colorful, silly, whimsical, inspiring, sometimes dark, but ALWAYS magical universe that we can't wait to continuing escaping to.
It's hard not to make a Fresh Prince reference, but NOSEGO will be venturing from Philly to LA this weekend, along with fellow world-builder CURIOT, to debut a brand new series of paintings for their "UNKNOWN ELEMENTS" gallery show this Saturday, December 14th at THINKSPACE in Los Angeles/Culver City.
Lucky for us, Nosego has no problem thinking outside of the (toy) box. —Alex Pardee
For more on Nosego, visit http://www.nosego.com and http://www.thinkspacegallery.com