Juxtapoz
Pardee's Pick: Halloween Issue Portrait Outtakes by Chloe Rice
October 03, 2012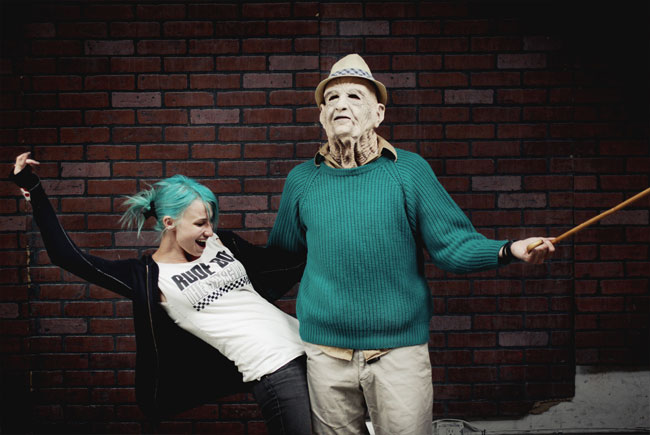 One of the best parts of working on the Halloween issue was editing it. Evan, myself and Trent, the art director, spent weeks tightening up the layout, moving articles around, coming up with a color scheme, deleting all of the "umms", "likes" and awkward pauses from everyones interviews, down to even deciding the exact amount of different images that would make up Notalkingplz's "Retrospective" spread without it looking too repetitive nor too messy. All just to make sure that the issue was the best it could be.
Unfortunately, editing the issue was also the WORST part of working on the issue. Weeks before we started assembling it, we had gathered a TON of material (Matt Ritchie's original interview with Jon Wayshak was over 7 hours of audio) that I had no idea we were going to be able to get (ex: Sam Kieth!!!) and when it was all laid out on the table it was close to three issues worth. Which I had to whittle down to 1. And that's when the sadness started kicking in...
However, that being said, we've been sitting on some really cool stuff that will someday trickle out in other forms. One of those forms is PHOTOS! and one of those "somedays" is RIGHT NOW!
Photographer CHLOE RICE shot a good portion of the portraits for the Halloween issue, and picking just ONE to use for the features was a gut-wrenching, sore-picking experience because all of the photos that Chloe took were ridiculously fun. I mean, we all dressed up, vomited, dipped our hands in glue and blood like some Jean Claude Van Damme homage, tried to imitate japanese horror films, and played with dogs (and Skinner). Who wouldn't have fun doing that?
So to continue that fun, here are a handful of some extra alternate portrait shots that Chloe Rice took for the special Halloween issue.