Juxtapoz
Paintings for a Blind Man: The Work of Roy Nachum
June 26, 2012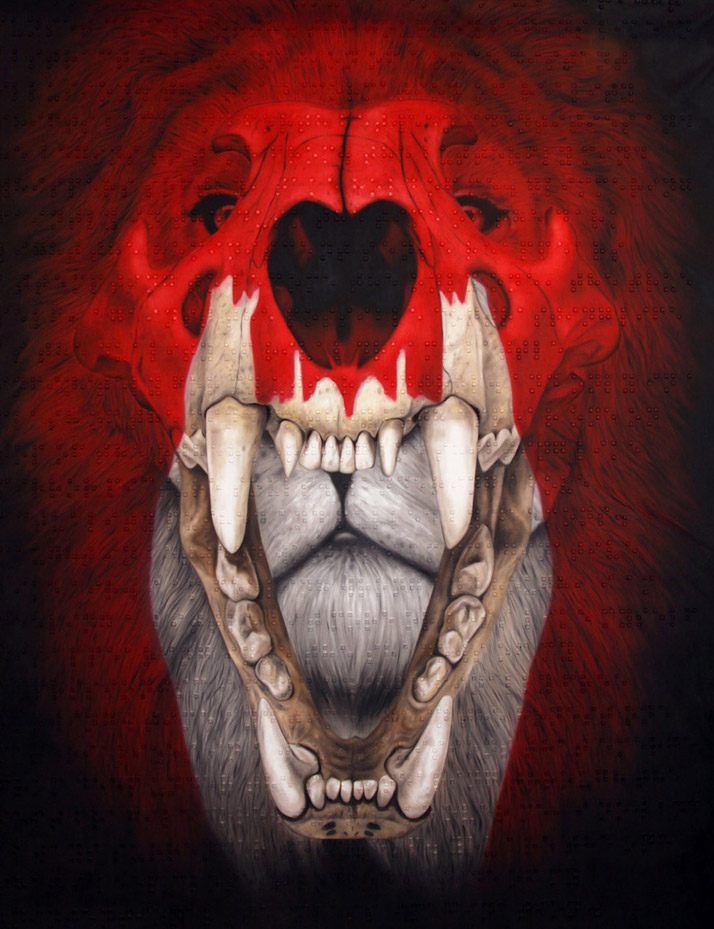 This past week, as we would walk back to our hotel on the Lower East Side of Manhattan, we were struck by a billboard that featured a gorilla roar juxtaposed (hey-o) with a little girl screaming. It was remarkably striking, and one of the reasons we loved it was that we knew it was the work of fine artist,
Roy Nachum
, who just wrapped up a solo show in NYC at Joseph Nahmad. What makes it even more remarkable is that the work is layered with Braille. Nachum, inspired by Braille signs he saw
on walls, in staircases and in elevators, he began to think of how to make paintings and a museum experience for a blind man/woman.

From an essay by David Greenberg:


For years Nachum had developed a process to lay a ground for his paintings. In effect, he sculpts with a tiny raised gesso pixels on the surface of his canvases with a pallet knife. The fractured plane serves as a counter balance to the polished images painstakingly executed in oil on top. Stylistically, his work echoes much of Hyperrealism's tendencies toward narrative and emotion. But his pictures don't fit so neatly into that specific genre. Instead, Nachum subverts his imagery by evoking everything from the epic bravado of Socialist Realism to the brooding intensity of both German Expressionism and Classic Rock posters. He also deliberately limits his palette to a few colors in an almost subconscious nod to the power of Japanese woodcuts.

Inspired and challenged by his museum experience, Nachum searched for a way in which to make his paintings accessible in some way for people who are blind. Eventually, his pixels provided an answer. By transforming what at first was an exclusively aesthetic design choice into a functional system led him naturally to Braille. In effect, his pallet knife and canvas could function as sort of primitive hand-made slate and stylus of Braille production. He mimicked the system of raised cells and arranged them in rectangular columns across the canvas. Embedded now within the confines of a picture, are written messages, poems or quotes, which offer a way into his work for people who otherwise would never "experience" a painting.
images via
yatzer