Painting
Todd DiCiurcio's Philosophical Ponderings on Art, Music, and Composition
November 30, 2017
Motion, to the naked eye in a pictorially transformative piece of work, can be transparent and sometimes taken for granted by the viewer, but yet an obvious artistic objective to its creator. Color schemes that lend to obsessive discernment, in relation to the placement of the elements of art, is likely to become the objects of discussion in a conversation. However, this intellectual banter was birthed through the process of someone putting brush to canvas. Todd DiCiurcio's process, method, and approach to his work, for some conventional viewers, may at times, come off as unorthodox. But it is this sort of ulterior understanding that he has managed to harness and call his own. While submerging himself in varied musical cultures, the musical tunes and its sound waves have somehow intermingled and have influenced his work. His approach is humble and aesthetically appealing, but it's his artistic bounds that have proven to have no barriers, especially as an artist whose entire philosophy is based on life, and existing in "the present." All of this happens on the upscale, praising the nature of the score to his own harmony, in his own artistic compositions.––William Lankford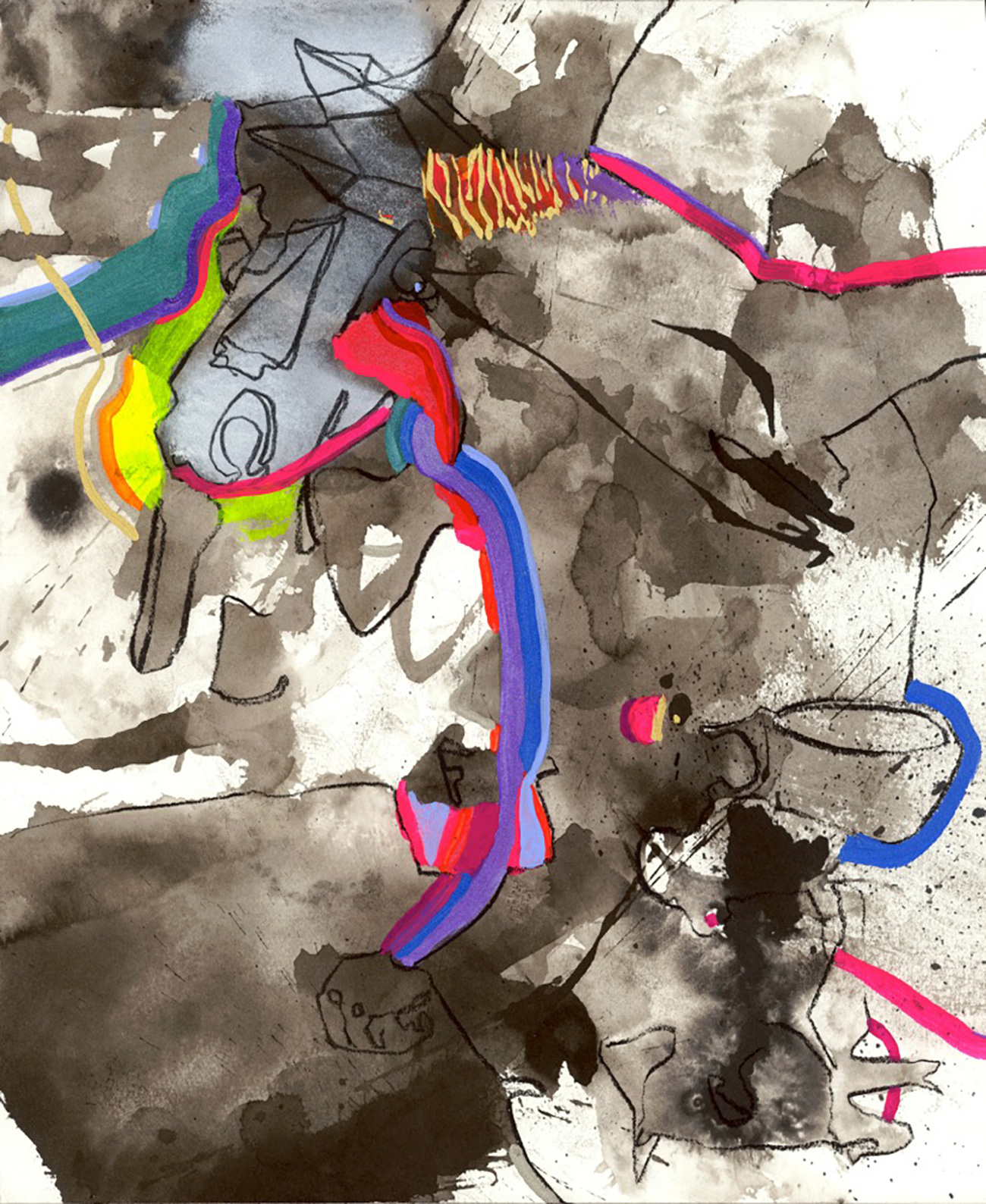 Will Lankford: Can you tell me about Waves for Water, and the board you made for the Juxtapoz Surf Craft show? How did that all come about?
Todd DiCiurcio: Well I came in late to the party so to speak, and I've always been a bit under the radar with all of my work coming from New York. I have an unbelievable support system, and I'm able to survive making art, but honestly, John Rose was the one that connected me, and he was like, "you need to be in this, you're one of my favorite artists." He put me in on a text, and as quick as that, he said if I turned in a board within six days, I'd be in. It ended up working out great. Sean Brewer who did the glassing for most of the boards told me about the show around a year and a half ago. I was doing boards there with another shaper and he said, you've gotta be in this show, I'm glassing the boards and I've been telling these guys about you. I felt like, if it's meant to happen, it'll happen.

I actually got some breaks from charity events. The first break that I got In New York was this charity event for "free arts," where I had Donna Karan and Simon DePury get into a bidding war over the work, which ended up going through the roof. It was due to a drawing of mine of the American Indie band Sebadoh. They were both interested because they thought the marks in the composition were beautiful.
How much does music play a role in your process?
The previous sketches/live drawings I used to do are somewhat discontinued, and will always be a kind of thread in the fabric of what I do. It all really started when I was working in my studio with a lot of music. The idea I realized, was that music affected what I was drawing in so many ways, like how I was drawing, and what emotions were going into the drawings, made me want to try and get it from the source. This is back before social media, in 1998. A friend of mine, who was acquainted with the guy who owned "The Sapphire Club" out of Orlando, mentioned that they were flying in Guided by Voices, and told me they wanted me to draw the band. I thought it was interesting because I had this feeling that I needed to do something like this, but I had my own way of doing it. So I show up and do the work, and there's a bidding war for that painting as well, but I couldn't leave the venue until I sold the painting, I was essentially on lockdown until it was sold, which eventually I did. From that point forward, I started asking bands like Grizzly Bear, on Myspace of all places, then onto bands like Broken Social Scene, and all the way to The Rolling Stones, and New Order, it just started to taking off. I've always worked the same way in the studio, and I've really gotten back to that. I've shown them in London, and I've shown some in New York with a gallery In SOHO. I just feel like my other, more emotional work, is much more important. There's more of a vocabulary there, and a dog that needed to be out.
You mentioned to me that you did some work with Ty Segall. What was that like? and what connection do you have to him?
I went to South by Wouthwest with Panache Booking and my friend Michelle. She put me in front of Thee Oh Sees, Mac Demarco, King Gizzard and The Lizard Wizard, and through working with those bands a handful of times, I met Ty. Ty has always reached out to me to come and do shows, and asked If I'd like to draw a cover for his album. For me it's a reaction and a process that's done in a really strict way. It's an effort to create the dialogue between visual art and music for myself, for my own work, for my being, which is something I needed. It's about the music which, in turn, is so much more important to me.
What would you say the objective is, within the composition of your most current series?
I think I'm reacting to the extreme measures of what's happening in the world right now. There's a sense of subconsciousness that goes into it, I think I'm reacting to a lot on an emotional level. I walk around the streets every day and just observe. I feel people's energy and try to put that in my work, it's not always the easiest thing to do. If you find a connection, you might have something to say, and if there's a solution in there, then there's a voice to be heard in the mystery of not knowing what the relation is. When the work is done, it's all done very spontaneously. When I work in the studio I'll throw ink from across the room and see how it looks, and I'll lay some water out and play with other materials. I'll do a total of maybe three to five layers, and I like to spray each layer so you can see the dimension, making it a more six-dimensional feel. So with this body of work, I'm scaling all these in a larger size.
Can you tell me about the wall murals and the work you did in Venice Beach?
That was for a collaboration I was doing with Tommy Hilfiger for "Tommy Land." It was curated by the street artist Al Baseer Holly, who's based out of Los Angeles. He curated a number of artists from L.A. and I think I was the only one that had to fly in for that particular project. He really wanted me to come out to do some work. Right after that project, I got commissioned to do a large scale mural and currently have two additional projects, one East Coast and one West Coast for the same company to do similar work in their showrooms. So new projects are really beginning to blossom due to the box I worked on in Venice.
I read some years back that you said "Drawing is the truth," can you elaborate on this?
Well, you can't fuck up a drawing, and by that I mean, when you do, it's quite obvious. I think that when you're dealing with a mark, or trying to make a mark on something, there are so many sensitivities of pressure and layers that you can make thicker, wider, or thinner just by lifting pressure. All those little things that the brain is able to do, they're just incredible. Drawing, when it comes down to it, is based on composition, and I really feel that composition is the key that opens up everything about drawing and into painting. Whatever corners you're dealing with, whether it's four corners, or a circle, or a stop sign, or whatever, it should be a boundless thing. It should be infinity, and it should always be viewed as such. Wrapping your head around that can be one of the most difficult things to understand in art.
Thanks Todd!