Painting
The Present Tense: R. Crumb / Barry McGee Brought Together For Stellar Show @ Ratio 3
Jul 15, 2017 - Aug 18, 2017Ratio 3, San Francisco
Two legends of the Bay Area art world, R. Crumb and Barry McGee, bridge the generational gap for a special exhibition at Ratio 3 gallery in SF, which runs July 15—August 18, 2017.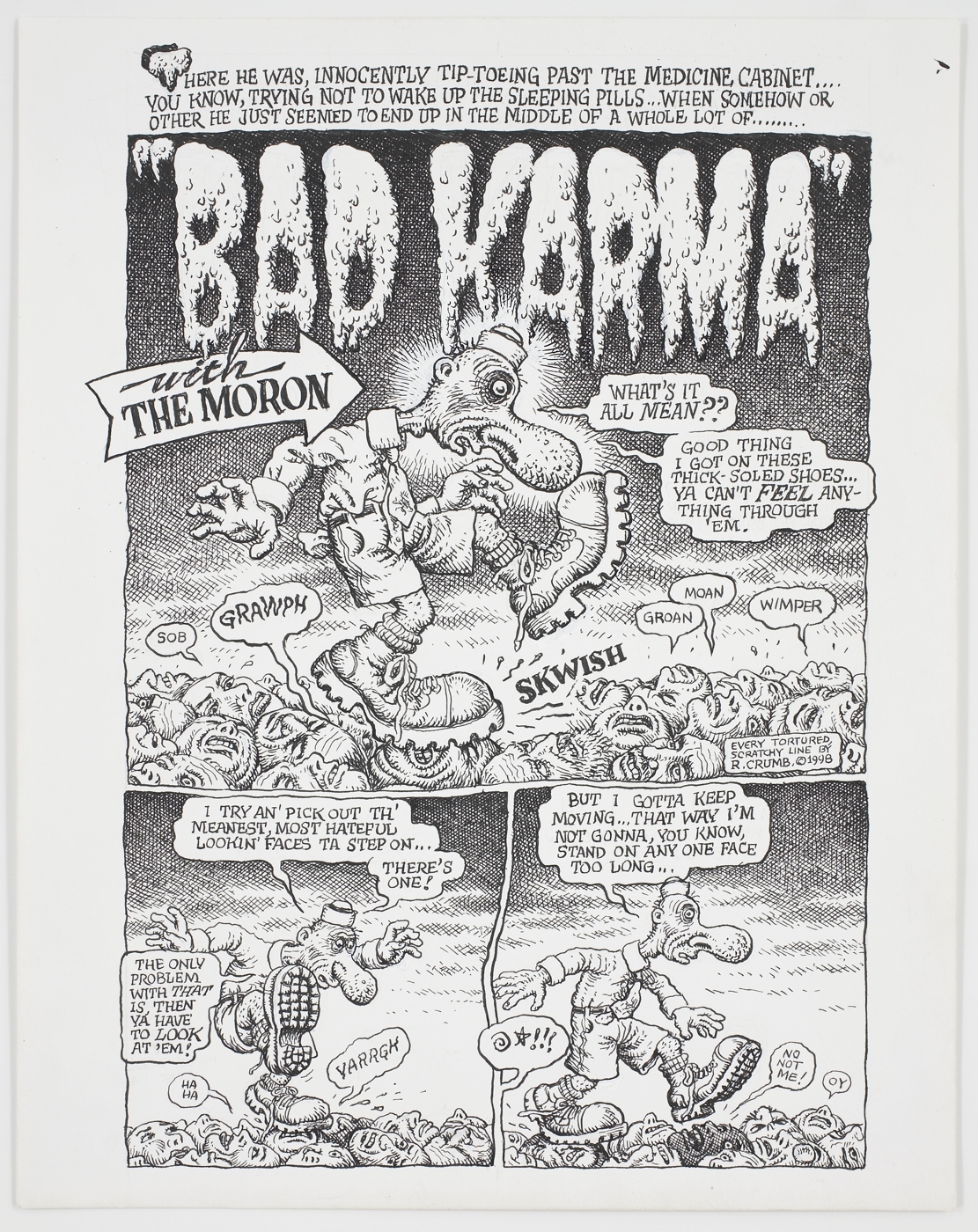 This final phase of The Present Tense features two artists whose careers and inimitable drawing styles were developed in San Francisco. While Crumb's earliest comics and cartoons were created before his time in California, many of his most iconic characters and innovative projects are tied to the same city where McGee has worked and lived for his entire life. This intergenerational pairing seeks to represent a range of artistic output from each artist, varying from casually executed sketches on notebook pages and diner placemats, to elaborately rendered and cross-hatched multi-element masterpieces.
Both Crumb and McGee have an exquisite mastery of drawing; regardless of project or media, line is the foundation of both artists' practices. Both use recurring characters, whether as compositional elements, emotive shorthands, or as narrative actors. The Present Tense provides an opportunity to follow the influence of Crumb's ceaseless work on McGee's early aesthetic. By borrowing conventions from other creative fields and representing countercultural lifestyles in their work, both Crumb and McGee have expanded the visibility of contemporary art in popular culture and influenced generations of artists.
To celebrate the final iteration of The Present Tense, an exhibition which began in March of this year, Ratio 3 welcomes the public to attend an evening of live music organized by San Francisco-based artist Alicia McCarthy on Friday, August 11, at 8pm. The evening concludes with a screening of Terry Zwigoff's 1994 documentary, Crumb. This event takes place at the gallery; admission is free.
R.Crumb images courtesy of the artist; Ratio 3, San Francisco; and David Zwirner.