Painting
Studio Visit: Dominique Fung
November 11, 2017
Dominique Fung's paintings have an entrancing, almost anesthetizing affect to them. Their lush fields of color, glossy finish and pleasing classical compositions all give the viewer quite an eyeful. The Brooklyn based painter is constantly improving her style, refining her technique and bettering herself to produce a body of work that is both polished and original. We recently swung by her studio in Bed-stuy to peek her new paintings, talk about the transition from Toronto to NYC and how personal objects carry significant emotional and cultural weight. Take a look at our interview below.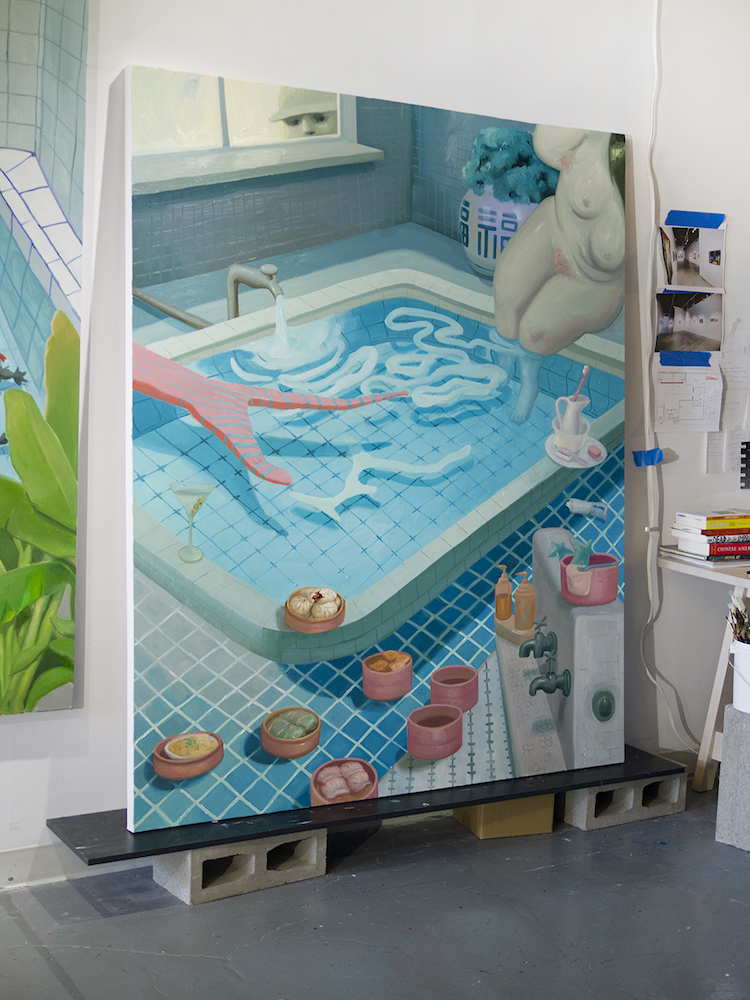 Jessica Ross: First things first, where are you from and what kind of work do you make?
Dominique Fung: I was born and raised in Ottawa, Ontario in Canada and I make paintings.
You really have a knack with creating beautifully soft, glossy surfaces in your paintings, why do you prefer oil paint to other mediums?
I am not adverse to other mediums but currently, I'm mostly using oil paints. I am currently obsessed with the butteriness of oils and the way it moves on panel or canvas. With oil paints, I am able to sculpt and mould the paint in a more dimensional way. The application of the paint can be thick or thin which I love.


Looking through your CV, I've noticed an evolution in both the tone and color choices in your more recent works. How do you think your style has changed over the years and what do you think drives you to experiment?
I had a year or two long stint where I thought to be a "serious" artist I had to use "serious" colours. I mostly used umbers and darker blues and reds during that time and I've now let go some of those insecurities. Working with colours and images, which excite me the most and feeding my curiosity is my priority.
As of late, you've been producing smaller, simplified works on paper. Is it a nice break to some of your more laborious larger canvas works?
There is an immediacy and instant gratification to working smaller. I usually don't work more than 3-4 hours on a small painting. In the larger works, I feel I sometimes overwork certain areas and that to me is an unsuccessful painting.
Why do you think objects hold meaning? Considering porcelain figurines, various foods and plants seem to be the main subject in your work, what do these items signify to you on a personal level?
I want my paintings to have a magical, slick glazed feel and often evoke a world of genteel pleasure. The creamy porcelain painted female figures, mythical creatures, animals, pleasures, food, fruits and Asian antiques/objects all coexisting in a strange and surreal space. Each painting is an individual meditation in which she continuously examines specific and relevant themes of cultural fabrication, identity, cultural diaspora, sexuality and femininity.


For a while you were bouncing back and forth between Toronto and New York but you've now settled in Brooklyn for good. Have you seen a shift in your work since the permanent move? Does each respective city have a specific energy that you can see in your practice?
I lived in Toronto for 8 years and it was definitely comfortable. I really needed change and moving to New York gave me that shift and energy I needed to make my work up a notch. It's been really amazing meeting so many different artists and seeing different shows at all the museums and galleries. I really needed my time in Toronto in order to build my confidence and to have my own voice artist. If I had moved to NYC any earlier I most likely would have been swallowed up by the city.
What's your favorite part in your process? Is it mapping out a blank canvas or putting on those final touches?
I honestly love the entire process. Idea generation and the research portion of the process is the most time-consuming. This can be frustrating and exciting at the same time but when I finally land on an idea, composition or imagery that excites me, I know it is time to begin painting. The first few hours is usually the most exciting part of the painting process and the rest is usually a struggle up until the final touches. It really is a battle for the goal of my work look effortless (this is probably a great metaphor for my life).


Any exciting shows or projects on the horizon? What can we expect in 2018?
This past year I had the honour to have 4 paintings at the 14th factory installation show in LA and next year I will be showcasing full solo exhibition in their new space in London, UK. The show is set for Spring/Summer next year and a date will be announced soon. ( www.14thfactory.com)
Photos and interview by Jessica Ross