Painting
Rod Luff Interview and Opening Photos from Moleskine VI
July 18, 2017
We recently posted the detail photos and event listing for Moleskine VI. Dasha Matsuura and co-curator Rodrigo Luff sat down to talk about this show at Spoke Art San Francisco.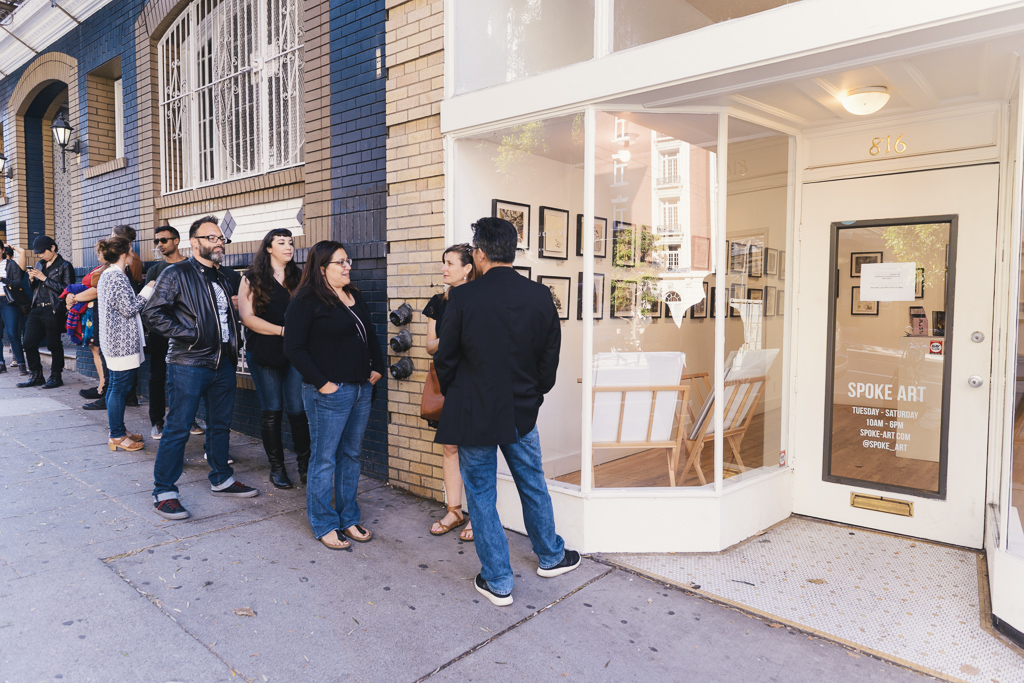 Hi Rod! Thanks for making the time all the way from Australia. To start off can you tell us a bit about your background and how you started painting?
Going back into your past helps inform your future a lot and I like this question. I grew up in Sydney, moved around a lot and had to change schools as a kid and drawing and painting was a way to entertain myself when we were traveling. I drew a lot of comics, anime and dorky stuff like that. I wasn't terribly good but I saw improvement the longer i did it which was exciting. It was a way to find value in solitude really. It's difficult when you're in high school and younger to have to start a new friend group all the time. Drawing really kept me going and i'm really glad I had that.
How did you and Ken first start talking about doing this show back in 2011? Looking back on doing this show as a solo endeavor, do you think you'd want to take another crack at doing it on your own again?
I use to work at a clothing store and I would bring in my sketchbook and I would sketch between moments. A friend gave me the first Moleskin that would become that first show and I was extra determined to not mess up that book. I was working on a solo show at the same time and I started posting them online. Ken saw them and got in touch about sharing them on Highfructose and we just went from there.

I think the show has changed for the better with so many different artists coming from different professions, countries and perspectives. They really go beyond what your expectations of what can be done within a sketchbook. Everyone has worked really hard to put their best work out there since we started inviting other artists 2012.

I value my sleep these days, but I think i'd be pretty interested to do another full book. It was a really interesting exercise in the sense that no matter what I get done in the book, no matter how much I hate a page - it's going to be part of the show.

I was working on a solo show and the first sketchbook at the same time and they really influenced each other, going between messy fun sketches and tighter paintings.
Over the years we've had collectors from the show ask about hidden pieces in the framed notebooks. How do you feel about the final pieces being displayed as unframed objects vs. in the frame for exhibition?
There are two aspects to that one, the practical aspect of artists laying little easter eggs I will neither confirm or deny. I try to just do the one piece for my contributions. I hope too many people don't take their pieces apart!

I do really like the uniform presentation of the work in the show. For me there is the conceptual part too - the ephemeral sketchbook page and the preserved finality of the framed object. You don't usually associate the sketchbook with the framed piece in the gallery.
Artists and art appreciators alike have a fascination with the sketchbook. Do you think the intimacy of not only the scale but the unfinished or ruminating ideas is what draws us to them?
For my pieces specifically they represent the idea of bringing that new idea down onto paper. The work that exists as an impulse that we don't really know where it comes from and we try to figure out the origin of the inspiration in the sketchbook. I think we, as artists, give ourselves more leeway to mess up in a sketchbook. You haven't figured out everything and you haven't refined everything down and sometimes you keep that quality in the final tight paintings in capturing that initial impulse. I think thats why people are drawn to the sketchbooks. They offer more clues and insights to the artists' mind that you don't necessarily get outside of the sketchbook

I really enjoy decoding the mystery and being able to have insight into my favorite artists as a viewer.
Do you have any memorable pieces from over the years?
There have been so many artists so many works, it would be impossible to choose just a few. Jeremy Enecio - the depth and mystery in his work I'm fascinated by, Jeremy Mann's tintype drawings in graphite and oil, Ozabu's super refined and delicate work. Karla Ortiz, she's a firecracker and she delivers so much goodness. Her work has really evolved and changed. I use to follow her sketchbook thread like 10 years ago. Zach Oldenkamp too, I've been following both of them and communicating with them for years before the show started.
How has the show evolved for you over the years both as a contributing artist and a curator?
It has made me work harder on my own stuff, refining imagery and making it stronger. I've been doing more detailed oil paintings. When I get that initial idea, I've been pushing it as far as I can and not going to polish and fuss with them as much.

I really like maintaining the shock value of "Is that in a sketchbook?!" and taking the work somewhere new within the book and thats motivated by seeing other artists really push what is possible within the book.

The show has changed over the years. I could hardly believe it was happening, but as it has become regular I like seeing how the established, repeat artists change and grow and following their progress. I really enjoying mixing in the new artists and seeing where people are going with their work.

What is your selection and consideration process like for this show?
A lot of online art communities and forums. I've seen a lot of artists develop online for years, though social media. I'm always impressed by technical abilities and how each artist considers different ideas in their work.
What are you most excited about for this iteration?
I'm super excited about getting ready for volume two of the book after this round!

New artists as part of the show, it's so important to have fresh faces and I've made a real effort to bring in as many new folks to add that variety. It's a connection to the history of the show with artists I've been following for a long time and preparing us for the future of the show with this new talent. I'm really excited about Emilio Villalba and Johan Barios' pieces.
What have you learned that you've been able to apply to your painting practice in your role as a curator?
The perspective from the gallery side and anxiously waiting for works to arrive. I've really started pushing myself to not squeeze until the end of the deadline and try to get work in early.
I'm a firm believer that everyone should have a service job and that artists, at some point should work in a gallery.
It's definitely a lesson in communicating with the gallery and how important it is. It has changed the way I work and definitely for the better. I want the artists to be able to put in their absolute best work and to put a twist to their particular style or push their own voice.

Personally it's been nice not getting stuck in my own bubbles. In the role of curator I get to communicate with all of these different artists, getting familiar with each other as artists, pushing each other to go to the limit of what we can do in these tiny little books.
What celebrity/artist/personality (living or dead) would you like to have in the show?
Kim Jung Gi, he could fill an entire book before we got one page done. Imagine having him at the opening and letting him loose! If there was a time machine or I could reanimate a corpse i'd love to set Caravaggio loose around SF and see what he came up with. I think he'd get into some bloody sword fights and steal jewels and cause crazy dramas and we'd have to confiscate his sword. He'd capture something fascinating or dramatic.
It sounds like you're really interested in that letting go and giving in to that level of mystery. With big group shows it's exciting not knowing what you're getting.
The other part to that is lot of these artists are under NDA's through film or concept art roles and aren't allowed to share what they're working on so it's really nice to see what they do with that and run with it.