Painting
Poisonous Fish and Imaginative Landscapes Brought to Life
Jun 03, 2017 - Jun 24, 2017Spoke Art, San Francisco
NYC based artist David Welker is showcasing his latest work, Anthropomorphized Anomalies, at Spoke Art in San Francisco. Exploring architecture, fish and landscape in his signature surreal style, Welker has created a dynamic range of original drawings and limited edition prints.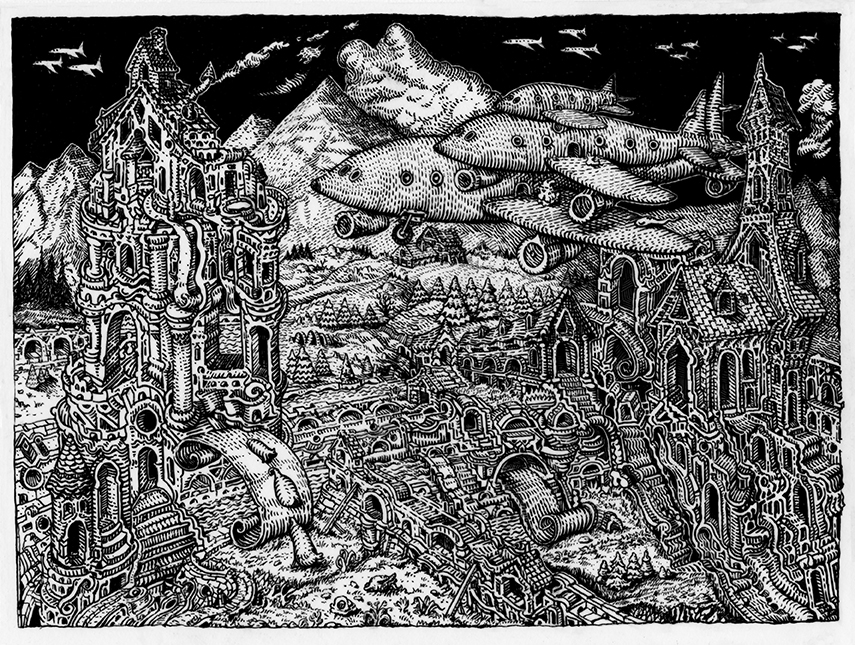 David Welker is a contemporary visual artist known for his elaborate rock posters, murals and paintings, ranging from fantasy landscapes to urban realism. His work has built a devout following from private collectors and celebrities to indie and pop-rock musical acts. Welker's illustration style mixes depression era surrealism with a contemporary take on underground comics, and his hand rendered lettering is an uncanny blend of 19th Century sign typography mixed with equal amounts of modern graffiti.
In this latest show, Welker works primarily with ink and graphite on paper
and vellum, and focuses on the anthropomorphic
 qualities found in objects in his environment. The artist imbues poisonous fish, buildings, landscapes and vehicles with humanistic qualities and a life of their own.
Welker sees architecture as an extension of the human form. His animated structures combine castles, cottages, coo coo clocks and beyond to create surreal characters nestled within imaginative landscapes. Akin to the buildings that populate the artist's imagined realm, airplanes, buses and boats take on animalistic and human qualities gathering in flocks and growing limbs. Exploring a fascination with inedible fish, he has rendered a new deep-sea world replete with mustachioed creatures from the Welker lagoon.