Painting
Our Interview With Soey Milk on Her New Show "Inflorescence," Her Heritage, Process, And More
Sep 08, 2018 - Oct 13, 2018Corey Helford Gallery, Los Angeles
On Saturday, September 8, artist Soey Milk will premiere her second solo show with Corey Helford Gallery, titled Inflorescence. In over 20 new paintings and drawings, Milk captures the most significant moments and eras from the timeline of her life, embodying them as vibrant portraits of some of her friends.
California-based and Korean-born, Soey Milk has already made a name for herself not only in the United States but in the international art world. A graduate of Art Center in Pasadena, CA, Milk has carefully developed her inimitable style over the years becoming known for her portraits of truly alluring and beautiful women. Drawing a lot of inspiration from her South Korean heritage, she creates refined paintings and drawings which have the great balance between the sharp focus of the charming subjects and the vivid chaos of the background.
At first, Milk's path was leading her to become a ballerina, but after she was first introduced to painting she decided to pursue the artistic career. She works primarily with oils and watercolors, creating an outstanding narrative universe that is at once tender and strange. Characterized by the high level of meticulousness, attentiveness to details and powerful combinations of colors and shapes, her work evokes a certain level of sensibility and mysteriousness, floating between realism and abstraction. The porcelain faces of her often nude muses reveal an interior less innocent and pure than lead on to believe at first glance.
In light of her new show with Corey Helford Gallery, we chatted with Milk about her inspirations, showing in LA, and more.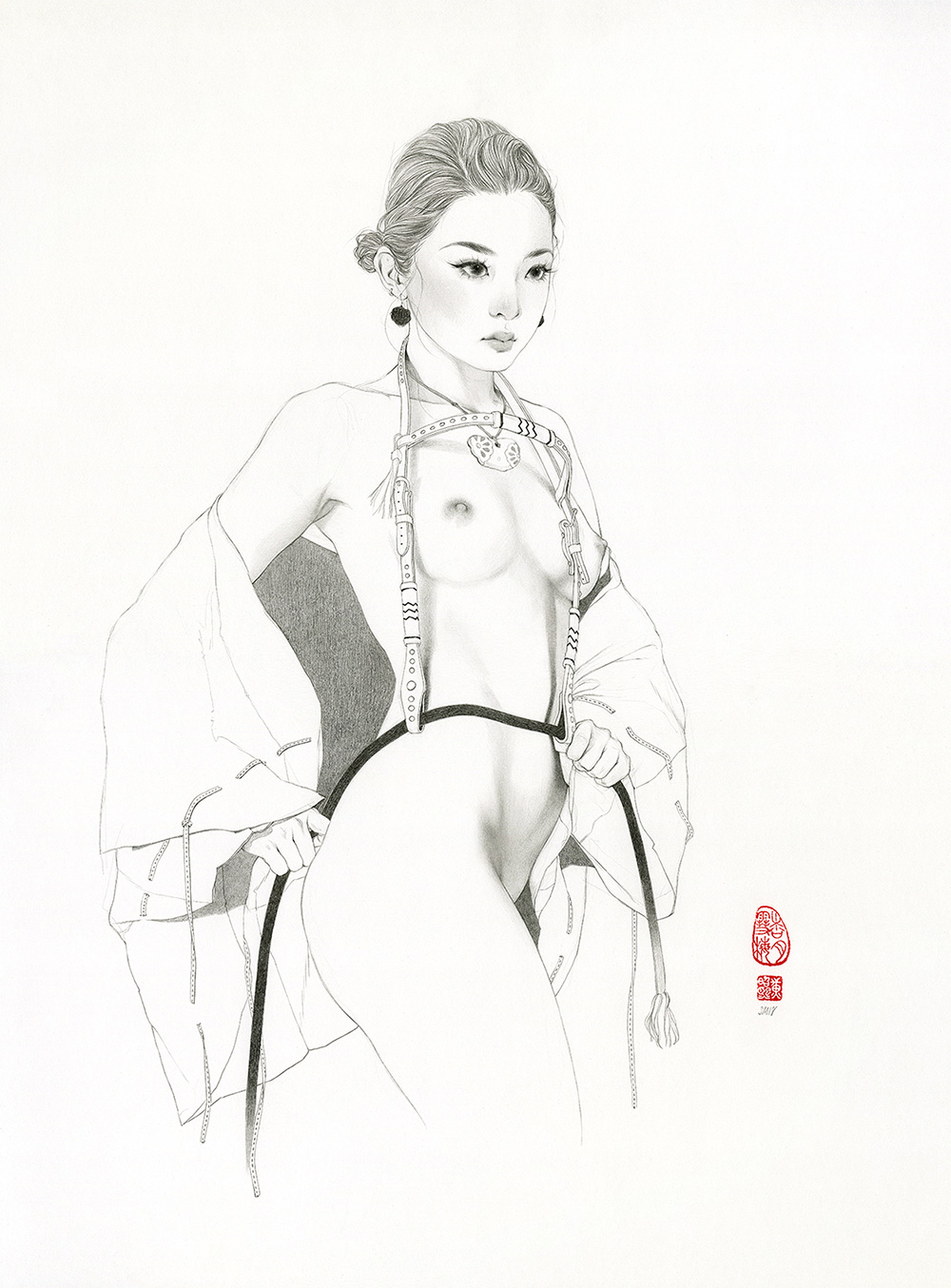 What are some of the most notable shifts with this body of work from your last one?
My last show was maybe a bit over one year ago. It was called Kiokada, which is the phonetic spelling of the Korean phrase "to remember."

A lot of the show was about me remembering my grandparents for some reason.

At that time I was feeling a lot of regret and remembering how much of a relationship I didn't have with them.

But "Inflorescence" is more about me in a first-person perspective, still about remembering, but more focused on appreciating instead of being lost in the shoulda, coulda, woulda's. It's about appreciating and making the most of the life experiences that have happened.
Do you work with models? Where do your paintings start?
I work with models in the sense that I paint actual people, usually based on reference photos.

I try to only work with people I know, who are my friends. It's very important for me to love the subject of a painting even when it's not the figure that I'm working on.

If I'm working on the background or the weaving of the background and the figure of a particular painting, I have to love the relationship the figure has with the chaotic, abstracted mass that I'm painting. So naturally, if I'm painting a figure, it doesn't matter how talented they are at being a model—it matters how well I know them. How much I love them.
How do you feel like your background coming from South Korea changes the meaning behind your work when viewed by an American audience?
There was a time when I thought of myself as a Korean person living in America, but I think I'm finally past the period of two cultures fighting for dominance. I'm hoping that by me being an artist with a background from South Korea, it may highlight some of the symbolism in my work in a way of meeting someone who admires her country's tradition. I hold the culture of the country, especially their dance and the arts in a high place. I don't carry this out is in a very obvious way in my work, unless I am painting a piece that is an ode to Korean traditions.
Do you think your work appeals to the LA audience in the same way it does other places? What are your favorite parts of showing in LA?
In my paintings, I explore what I'm feeling, and surely don't think that I'm the only human being that's experiencing these emotions. I think LA is a city with an incredible energy because I think it's relaxed, yet restless. It's a huge city.

I did my second part of growing up here, it's a mother city to me, just as much as Seoul is.

And living here, I realize how much LA is different from the other cities in America. I appreciate the diversity that the city has. It's a really beautiful melting pot with so many people and cultures, that's constantly changing its flavor every second.

One of my favorite parts of showing in LA is that I get to experience that energy of diversity in the audience. I really enjoy talking to the people who are living here, whether they're from here, or transplants like me.
What's next for you after this show?
What's next for me is to create while I travel. I've only been a studio painter because I've found what's comfortable. Recently I have started falling in love with off-the-grid camping. I would like to try working while traveling because as an emotionally charged person, I think if I'm in the middle of nowhere where I am away and alone, it will naturally give me a different approach to the way I think and feel and create. And I don't know how yet, but all of that will affect the way my work translates onto the canvas. It's time to see what 'paint-on-the-go' may lead to.
Studio photography by Bird Man Photos