Painting
Mu Pan Wondrous "Bright Moon Shines on the River"
Jun 07, 2018 - Jul 06, 2018Joshua Liner Gallery, New York
Joshua Liner Gallery's latest is titled Bright Moon Shines on the River, and is the gallery's first solo show with Brooklyn-based artist, Mu Pan. The exhibition will showcase new acrylic works, all based on one painting of a whale Mu Pan created and destroyed some 11 years ago. Revisiting this central figure, the artist expands his scale and uses the theme of the whale hunt to explore human nature through cartoon-like, but very dense, narratives.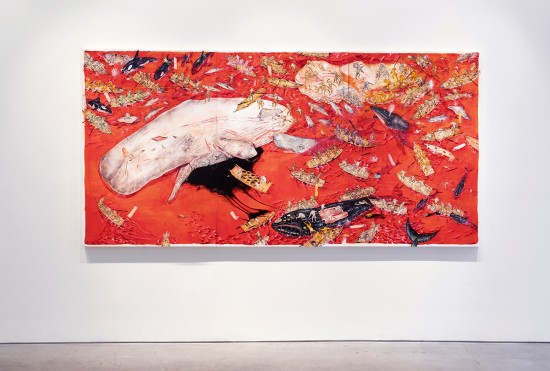 Mu Pan's work tells stories, which the artist attributes to his own childhood creating stories and narratives for comfort, while his parents were away. Instead of asking questions about his world and human nature, the artist began developing his own answers with characters and allegories, a tool he uses today in his compositions. For Bright Moon Shines on the River, Mu Pan explores the violence and humor that drives us all, through a fictional universe that combines elements of Japanese culture with an embattled, nautical world.
With their common ocean backdrop and a shared set of characters, collectively the works all seem to combine to tell a larger story. However, each painting is a unique and separate battle in this war between the animals we recognize and other monsters we don't. Morphed figures serve as visual adaptations of the artist's influences: deadly and powerful dolphins morph with woman, sharks with Yakuza-tattooed warriors in their geta shoes. It is exactly this absurdity, woven amid the graphic scenes of blood and limbs, that crystallize Mu Pan's belief that all humor is based in cruelty. A theme we see again and again in Mu Pan's practice. Pulling from his memories of Looney Tunes characters endlessly hurting one another for laughter, this connection had a powerful influence on the artist. Exploring this connection in his work, the artist comments on our human nature, and considers the frequent violence in his work to be cute and comical.
The central work of the show, Big Whale, depicts one killer whale under attack by a fleet of boats, captained by monkeys. The illustrative nature of the all over composition is applied here with an almost cross-hatch rigor, exposing his homage to the Japanese woodblock masters (ukiyo-e). From Moby Dick to the Japanese wood-block artist, Kuniyoshi, whaling has been depicted in art and literature for centuries; a symbol for the power of nature. With his current body of work, Mu Pan exploits this concept of man versus nature, while questioning the seriousness of it all through his anthropomorphized characters.

http://www.mupan.com/