Painting
Matisse/Diebenkorn: Henri and Richard at SFMOMA
Mar 11, 2017 - May 29, 2017SFMOMA, San Francisco
The Latin word curare, meaning to "take care," evolved into the word curate in the 18th century as the act of actually looking after a collection of art. In our modern sense, that takes on greater responsibility as these enablers (the good kind!) make decisions about context so that a row of paintings is more than a visual list; it becomes a vibrant experience for the viewer. Just as types of frames or lighting invite different forms of contemplation, so do decisions about how—and which—pieces are hung. When two artists are paired together for one show, unifying themes are found, and each can be perceived and enjoyed from a richer perspective.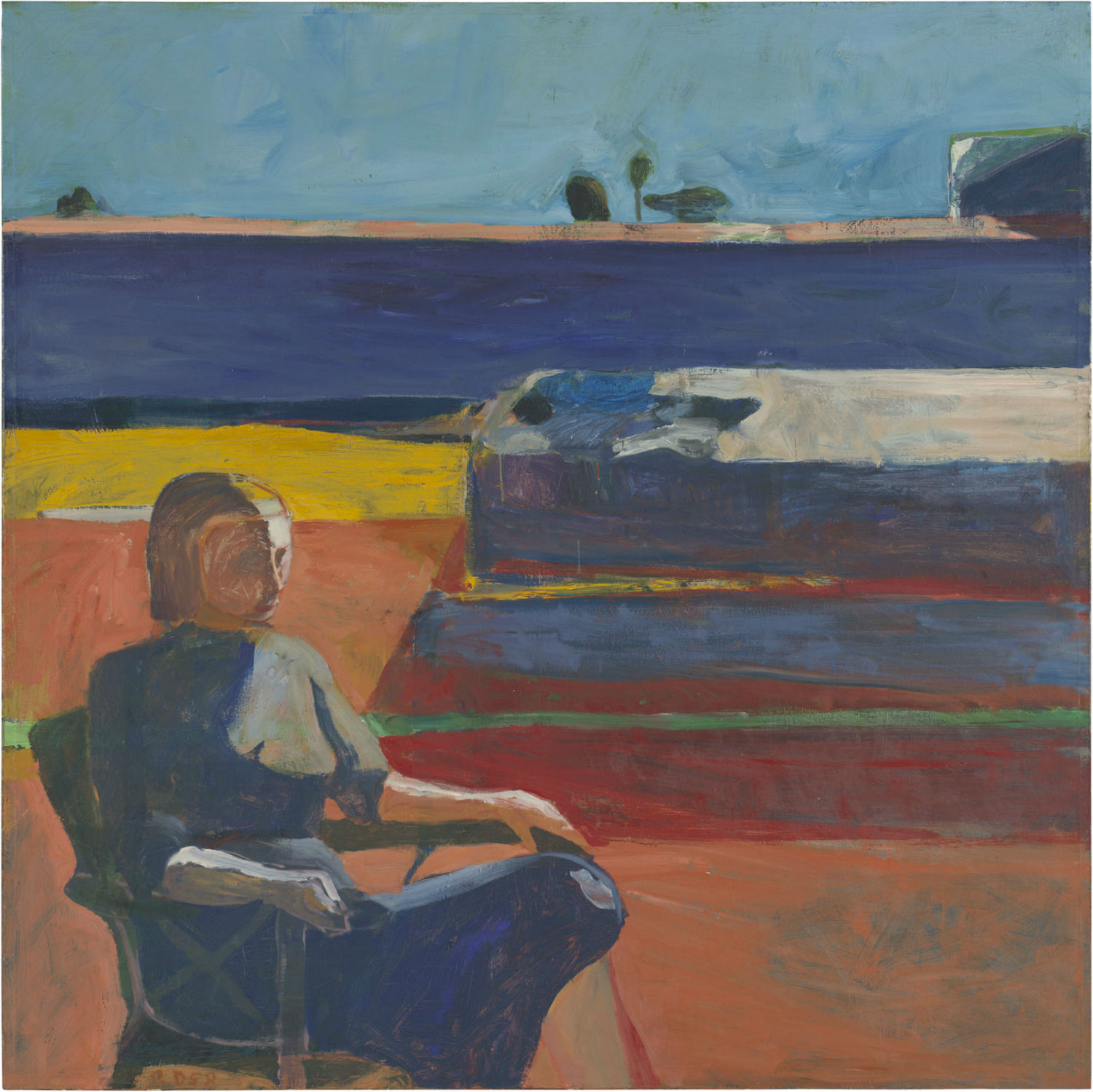 Matisse/Diebenkorn travels from the Baltimore Museum of Art to the San Francisco Museum of Modern Art in an exhibit that explores and compares their work, inspiration and historical context. Both painters revered and studied practitioners who came before. Henri Matisse's world widened when he discovered the Impressionists, and he counted Cezanne as a key influence. Richard Diebenkorn was also awakened by that school of painting, but it was Matisse who became his beacon. In pairing these two painters of early and mid-20th century, their abilities to master, and sometimes, meld figuration and abstraction are underscored. Their individual treatments of interior and exterior, dark and light, and revelry in color both double and deepen the pleasure. SFMOMA Curator Janet Bishop talks about the duet.
Gwynned Vitello: It's fascinating seeing the pairing of the painters' works. Please describe the "ah-ha" moment when this came about. And actually, how do museums communicate an inspired concept like this?
Janet Bishop: The exhibition really had its origins in Baltimore when my co-curator Katie Rothkopf was looking at two of the drawings in the Baltimore Museum of Art, an amazing Matisse from the '20s and a Diebenkorn, Drawing of a Woman Seated in a Chair, from the early '60s. Katie saw those two pieces and felt there was such resonance that she wanted to see them together in an exhibition. Coincidentally, I had shared the idea with our director Neal Benezra when he first joined SFMOMA, so Katie and I decided to join forces and organize the show together.
We were well aware that Diebenkorn was very open about having been influenced and inspired by Matisse. In essays about Diebenkorn, writers and historians invariably mention Matisse, and usually there's a text illustration and mention of how amazing it would be to see their paintings together in the same space. It occurred to us that it would make great sense to collaborate given the strength of our holdings of their works in our collections.
Tell us about the collection of work that he saw at the home of Gertrude Stein's sister-in-law, Sarah. Were students given opportunities like that very often?
Sarah Stein was a native San Franciscan who married Gertrude Stein's brother, Michael. They moved to Paris in the beginning of the last century and stayed for more than 30 years and got back to the Bay Area in 1935, the year SFMOMA was founded. Sarah loved to open her home to people who were interested in modern art. Diebenkorn was a young Stanford undergrad in the early '40s, and his painting teacher recognized how serious and gifted he was, so he arranged for him to visit the Stein's home where there were over 100 works by Matisse on paper or in sculpture. It's rare for an undergraduate to get the opportunity to do this now. He was able to because his professor could tell that he was a student of real substance and wanted to give him the opportunity, one that Diebenkorn later acknowledged was really important, and his first encounter ever with Matisse's work. He said it stuck with him the rest of his life.
While undergoing officer training in Virginia, he made a point of immersing himself in art history by visiting museums. Matisse made the biggest impression at the time, correct?
Diebenkorn had told our former director, Gerald Nordland, that he had seen the pieces at the Steins' and that this experience kind of whet his appetite. Then, in Virginia, he began actively seeking out the work wherever he could. He became a voracious student of art history and visited museums whenever he had the free time. He and his wife, Phyllis, would go to New York, Philadelphia and D.C. to places like the National Gallery. The Phillips Collection was his favorite because it was free and had concerts on the weekend, and you could smoke in the gallery. So, he was looking at a lot of things.
He mentioned a Bonnard painting that he really liked, but the piece he described as the "big one" was Matisse's Studio Quai St. Michel from 1916. There's a lot in the painting he really connected to that didn't really show up in his own work until another ten years or so. He loved the subject, the model in the painter's studio, loved the geometry in the room in relation to the rectangle of the canvas, as well as the relationship between interior and exterior. Diebenkorn did multiple paintings using two different kinds of light and loved the palette. There was a lot he was really drawn to, and this would influence him for many years.
Given the influences of the time, is there speculation as to why he favored Matisse over Picasso?
Matisse versus Picasso has been the subject of conversation for over a century. I think Matisse spoke to him more directly, and it's really fascinating to see how that interest manifests itself in how Diebenkorn built canvasses. He wasn't copying Matisse but took elements from his practice as a painter, absorbing them to make them his own. Picasso had an earthier palette with many browns, while Matisse, in general, has a more celebratory palette, which is something Diebenkorn really responded to.
They both were interested in a kind of bird's eye perspective. Still life would often take a view that was high in the room. Some of the interiors were of the same thing. In Matisse's Interior at Nice from 1919, there's a woman sitting looking out towards the water, and there's a high-up perspective they both enjoyed. In Diebenkorn, you see it mostly in his Berkeley [California] paintings with the influence of cartography and the landscape from above. There are places in both artists' works where they play with perspective in a similar way.
There is the story that, while teaching in Urbana, Illinois, surrounded by nothing but haystacks, Diebenkorn felt so hungry for color that he blacked out his studio windows and let his imagination go rampant. How did Matisse's use of color influence him?
Diebenkorn had just seen the Matisse retrospective traveling show that had made its way across country. He had finished his graduate degree at University of New Mexico and then moved to Urbana, Illinois to teach in the architecture department, which was not a particularly good match for him. By and large, his work is pretty closely connected to place, and in Urbana, he wasn't as inspired by the landscape. Having just had his first immersive experience before moving to Illinois, he ended up being much more inspired by that exposure to Matisse, which is really when we start to see the interest in Matisse come through. His palette becomes much brighter at this time, and the structures of his canvas become blockier, less organic and more geometric, which shows a clear connection to the Matisses he had just seen. The New Mexico paintings were much more subdued because they are using a desert palette, more amorphous in structure.
Both painters depict women who appear to be confident, thoughtful and comfortable.
There are lots of depictions of single and pensive women. Diebenkorn was really in awe of what Matisse did with faces, ranging from barely articulated to refined, to mask-like, and also how intentional Matisse was in his presentation and depiction of women and faces. Both of them liked painting their wives. Amelie Matisse is the subject of SFMOMA's Woman With a Hat. Diebenkorn's wife, a psychologist, was a great model. She was very willing and patient, so she was put into service on a regular basis.
Both of them wanted their paintings to show process and integrated perceived errors into their works.
Diebenkorn would often rework his canvasses, so this is something that both artists shared—a very open declaration of process and a willingness to reveal the many different stages that a painting may have gone through. This isn't unusual, and it just depends on the artist, but Diebenkorn liked the effect, as did Matisse. One of the great juxtapositions in the collection is the drawing of Sara Stein that Matisse did where you see the many erasures, where he's moved her eyes and reworked the neckline; but he then finished and signed it, so he was perfectly happy to let that show through. Diebenkorn has a similar drawing in 1966, a large-scale one where the erasures become as much a part of the work as the lines that haven't been erased. It's wonderful for people who are interested in process to see these similarities between the two.
Did you have any revelations at the end of co-curating this show? Anything you wouldn't have expected?
It was such a pleasure to get to Baltimore just before the exhibition started, and to be able to see the paintings together for the first time. I work with scale models that are half-an-inch to a foot, and while it's been wonderful to think about the relationships, to see them actually together was an incredible thrill. For all our years of working on this show, we could finally see what we wanted to see, which was these two artists in dialogue, together for the very first time.
----
Originally published in the April 2017 issue of Juxtapoz Magazine, on newsstands worldwide and in our web store.