Painting
Marcel Dzama: A Flower of Evil
May 20, 2016 - Jul 02, 2016Sies and Hoke, Düsseldorf
What can you say about the greatness that is Canadian-born, NYC-based Marcel Dzama? In his seventh solo show at Sies + Höke in Düsseldorf, Germany, Marcel Dzama explores painting, illustration, collage, sculpture, diorama, film, puppets, installation... you know, EVERYTHING!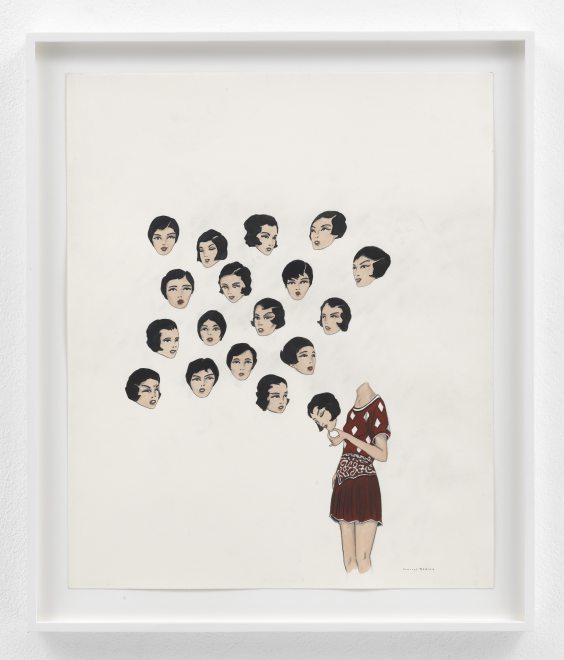 One piece in particular that caught our eye is the marionette sculpture/performance. The gallery notes of the work:
In the gallery's first floor space, Dzama takes the subject of marionette-like dancing figures, which appear both in the fairy tale clock from The Most Incredible Thing as well as in his drawings and stage designs, to extremes by having a carousel populated by tin figures turning in a circle. With movement, the idea of performance comes into play, referring to the stage and to the theater. At the same time, marionettes are an analogy to the chess figures repeatedly quoted by Dzama: both are controlled by a foreign agency. The carousel becomes an overpowering torture machine, a super-efficient puppeteer who forces his creation with mechanical endurance to dance on in an endless cycle. The appearance of the dolls, initially reminiscent of historical tin toys, takes on a touch of violence and oppression, as often the case in the artist's work. This is Marcel Dzama's political approach: playing on stage and dancing dolls, and the question of who has the control, who is pulling the strings, what is real and what is acted. In this way, he ultimately directs attention to our political reality.