Louie Cordero's Unsettling Exploration of Home
Jonathan Levine Gallery
//
May 13, 2017 - June 10, 2017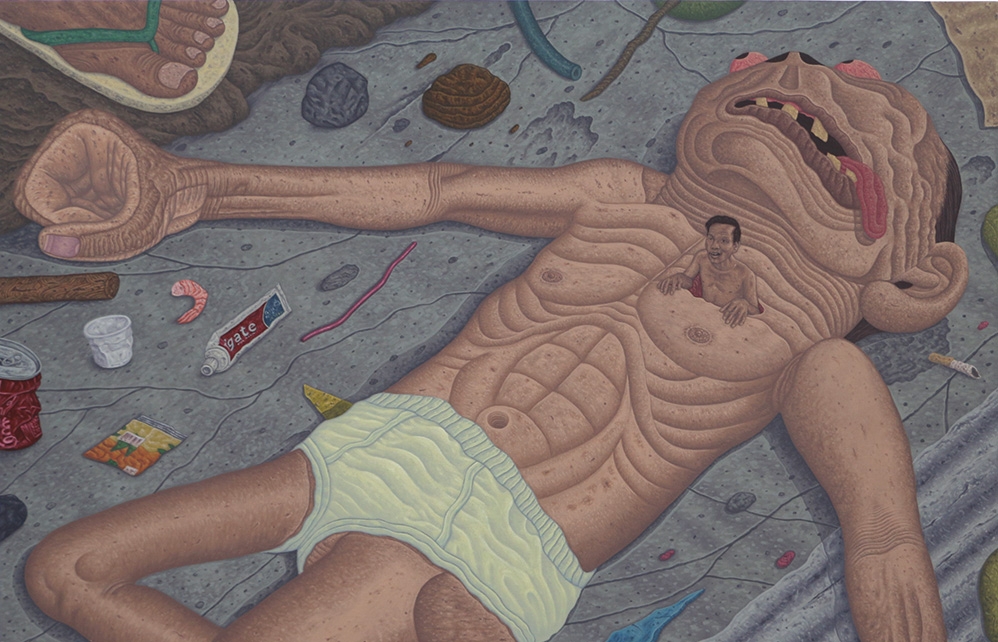 Cordero's renowned for paintings that reference his native Philippines, a nation with a complex mixture of eastern and western influences that's currently plagued by an overwhelming amount of violence. This condition, at times, has veiled the land with an air of uncertainty and susceptibility to vindictiveness.
Louie Cordero will be at Jonathan Levine Gallery this month with his show Under Heavy Manners. For Cordero, It is a condition that is slowly setting in into the consciousness of its people.
Under Heavy Manners is comprised of paintings that depict this vulnerable state, which through observation and contemplation, has prompted Cordero to examine the unsettling imagery that arises from this situation. It is a by-product of certain enigmas that danger generates, which can breed feelings of both silence and dread.
In a way it has been similar to his decision of relocating from Manila back to his studio in the quiet coastal town of Malabon, where every day he wakes up to the faint smell of rust from nearby shipyards. He describes, "In a way it's peaceful and calm here, yet there is an underlying danger that lurks in the night, slowly setting in like rust from abandoned boatyards." In this new body of work brutalized and defeated subjects from Filipino folklore and mythology are juxtaposed with cubist shapes and imagery appropriated from kitsch, the occult, gore-fest films and Futurism.
Cordero also remains inspired by the Jeepney (U.S. military vehicles abandoned after WWII and converted by locals to use as public transportation). Each Jeepney, unique and elaborately decorated in vibrant colors, features an ornate combination of pop and religious iconography. By producing his own unique mash-ups Cordero creates surreal compositions of gruesome environments overflowing with contrasting influences, reflecting the diversity of the Philippines and the bloodshed experienced by its citizens.