Painting
Lee Chen Dao's Characters Finally Meet Each Other in Battle
May 19, 2017 - Jun 18, 2017AKI Gallery, Taipei
While in Taipei this week, we stopped by to see Chen Dao Lee's new solo exhibition, Cha Cha Cha Of Siena, at AKI Gallery. It was the first time we'd caught up with the artist since he was featured in the magazine and in our Hyperreal book in 2014.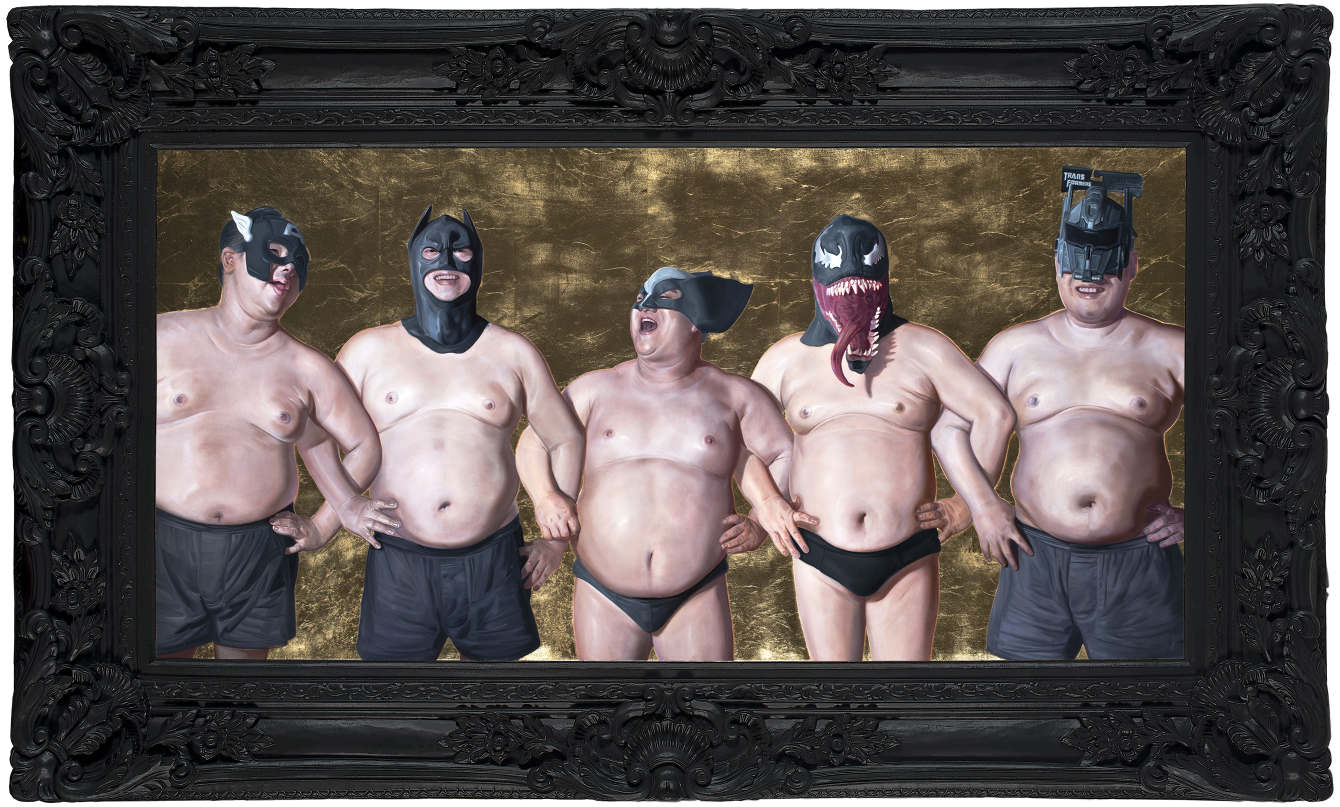 A color he uses in his work (ocher) is derived from an old mining town in Siena, Italy filled with ocher colored bricks and tiles. In his new exhibition Lee mixes the Cha Cha Cha of Siena and Taiwanese folk together and these two totally different concepts lead us enter a fluid, romantic, humorous atmosphere. Through Lee's classical oil painting skills, his crudeness, dry humor and a certain morbid story-telling method, we discover his very own brand of justice and solemnness.
In the past decade of his work, from King's Game, Heroes and the Cat fight series, all his heroes wear masks similar to those of Marvel characters. However, none of them have the iconic physique. Obese and grotesque looking, Lee intentionally smears these super heroes or more specially attempt to ground them in real-life in order to revealing their hypocrisy and vainness. This sort of explosive realization is how Lee humanizes his works without coming off as fake and aloof. The fat superhero's counterpart are the fairies which are naked beauties packing firearms as they fight both each other and oppression from the ruling class and benefactors. In his latest work "The fairies' midnight strike," the fairies band together to defeat the corrupted hero. At a glance it is a lowly sight which tingles the audience's inner morality, making them feel good. While there had been many criticisms towards the artists' materialization of women, Lee is now rebutting against those accusations in his own way—through a war, a struggle, a revolution on canvas. Like he says, "It's a mean to purge the evil scum."