Interview: John Jacobsmeyer On His New Show, Video Games, TV, and The Perks of Cheap Plywood
Jonathan Levine Gallery
//
February 17, 2018 - March 17, 2018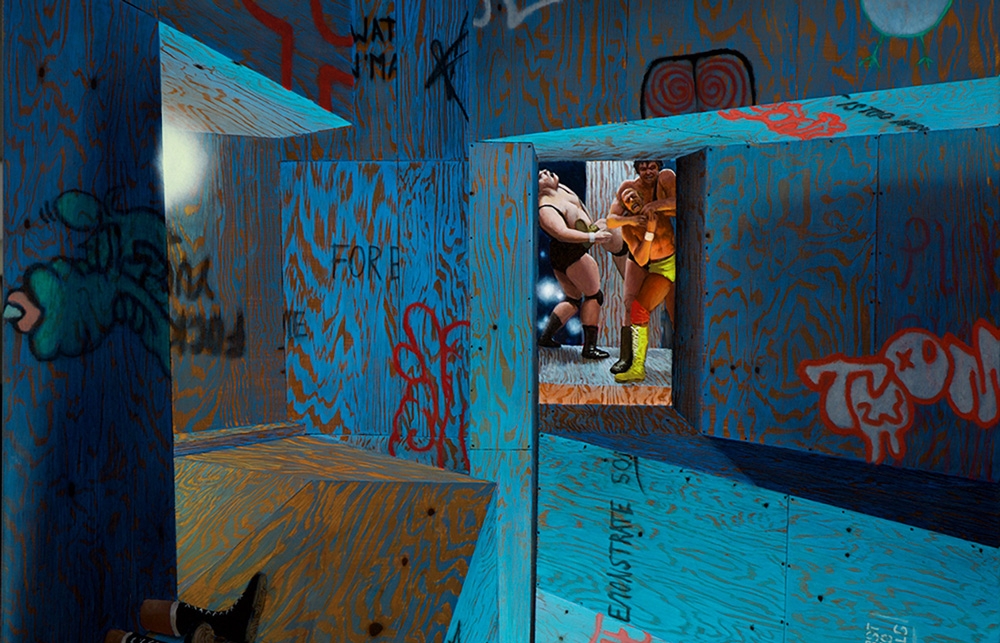 In anticipation of John Jacobsmeyer's upcoming show, Great Feats and Defeats, at Jonathan Levine Projects, we got in touch with him to hear a bit about where he's been at lately. Jacosbmeyer's video-game inspired world of conflict reflects his childhood spent between rural New Hampshire and Virginia, and the freedom and exploration found within childhood dreams and experiences. In his latest show, he hypothesizes a theoretical world where digital technology precedes analog, and how that might play out.
What is one major change in the work from this exhibit as opposed to previous exhibitions?
I think more than my earlier exhibitions, this project, attempts to answer the question: If time were reversed and analog followed digital, if plywood clubhouses were made in order to bring video game narratives into the real world, how would that look? What kinds of stories would take place in that environment?
Tags and graffiti show up throughout your work, do you have a background in graffiti?
I have a background in making clubhouses from scrap plywood salvaged from construction sites in northern Virginia. Sometimes the boards came generously tagged but when we made our clubhouses the graffiti broke up as various boards were cut up or used in different places. The result was a jumbled mosaic of fragments. Over time, I've grown to appreciate the work of graffiti bombers like Katsu who uses drones to disrupt mammoth billboards in NYC. My painting "Let's French" features a Katsu type drone in action.
It also seems like wood plays a continuing role, what is something alluring about painting wood?
I was working on a painting several years ago of Bele and Lochi from a Star Trek episode and wanted them to be in a 1960's wood paneled den. In order to make the wood paneling, I picked up a woodgraining handbook at Home Depot and found that the layered techniques were similar to how I create flesh in oil paint. I had so much fun painting woodgrain that I couldn't stop thinking of other paintings I could make with it. Thinking back to my childhood, growing up on a farm in New Hampshire part of the time, and next to the woods in suburban Virginia the other part made me realize, wooden structures, especially ones made of plywood, were everywhere in my life. Rotary sawn, knotty pine plywood is among the cheapest types of wood product, and its figuring is the wildest. For me, that woodgrain pattern evokes sea monsters, evil eyes, dark holes, landscapes and much more.
Some of your pieces feel like stills from a movie or TV show. Do you watch much TV?
TV, yes. We're experiencing a renaissance in great television lately. Since Battlestar Galactica, TV series have largely outstripped feature films in exploring the narrative possibilities of future humans. I'll stream a series while painting in the studio. Part of what intrigues me is how far people go to become almost superhuman. This is carried to an extreme in much science fiction, including video games. So, with this show, my inspiration for the environments comes from my favorite video games, namely Doom, Return to Castle Wolfenstein and Halo. What better model to have for the design of a clubhouse than level E4M6 of the original Doom?
What your plans for the rest of the year?
At this point, I'm itching to build something out of actual wood in my workshop, a spaceship perhaps. Also, I want to try and build a world using the same 3D modeling software I use for the individual models in my paintings. This will likely take time, but will provide many opportunities for new paintings.

Great Feats and Defeats will run at Jonathan Levine Projects from Februray 17—March 17, 2018.