Painting
Jean Jullien and Brian Lotti Go "Park Life" and "Flat Out" in Berlin
Apr 28, 2017 - Jun 17, 2017HVW8 Gallery, Berlin
HVW8 Gallery's Berlin outpost hosts a new exhibition of paintings by Los Angeles' Brian Lotti and sculpture and illustration work by French artist Jean Jullien.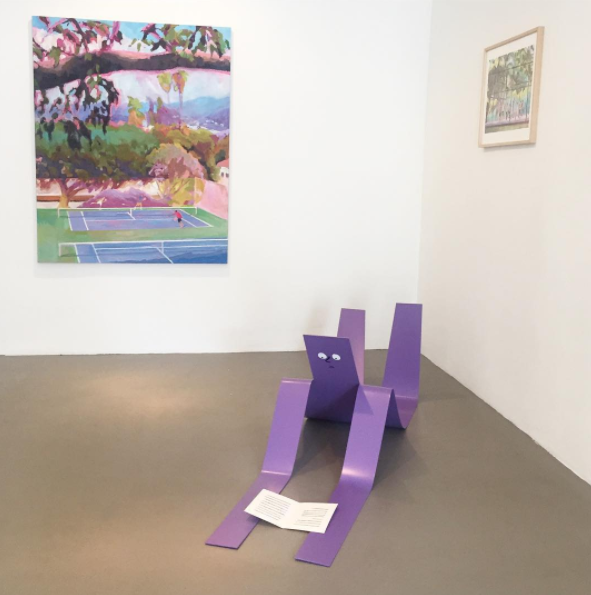 In FLAT OUT graphic artist Jean Jullien applies his signature style to three-dimensional sculpture in his series of six steel artworks now displayed at HVW8 Berlin.
The title of FLAT OUT underlines both the at affect the figures and the surprising strength of the steel, a substantial medium for the presentation of seemingly unsubstantial and mundane moments. The weighty sculptural quality of the large figures is pronounced with an illusive lightness of paper-like delicacy. The softly bending sheets of metal, fabricated by Bram Kerkhofs, loom about the gallery space, unproductive yet sympathetic. The colorful figures invite the attention of the viewer both through and in spite of their inactivity; their private moments of stasis are on display. In spite of their languor, these gures pose the question of what laziness looks like in our world of modern technology, where productivity, amusement, idleness, visibility, and spectatorship often blur all too seamlessly together.
Los Angeles based artist Brian Lotti will present a new body of work in his first ever solo exhibition in Germany at HVW8 Gallery Berlin.
These paintings have been created in the studio through a process of distillation and color mixing based on memory, photographs and sketches. Form, figure and color compose Lotti's palette. As in the works of David Hockney, the figures are the subject of the paintings as much as the colors and locations are. A student of color and texture, Lotti offers the viewer a dreamscape in which to enter: oranges and purples meet rather than collide; swimming pool scenes offered in both day and night render the subject immutable; tennis players run on pink and blue courts with violet mountains in the distance; surfers ride crisp and deep blue waves with a hot orange beach in the foreground. Figures are wrapped by broad patches of fuzzy color and structure that evoke movement and rhythm.