Painting
Interview: No Nonsense and a bit of "Jabberwocky" with Josh Jefferson
Jan 06, 2018 - Feb 24, 2018Zevitas Marcus, Los Angeles
Josh Jefferson seems like the ideal explorer. Explorer of inspiration, explorer of technique and perhaps even more so, an explorer of how his technique as a fine artist can constantly evolve. Not only does the man post some of the best researched Instagram classics on his account (and the curator of the #JuxSaturdaySchool posts) he is now presenting his work in exciting ways of mixing painting and collage, referencing himself while at the same time creating a whole new aesthetic to his work. We sat down with Josh just as his new solo show, Jabberwocky, was getting set to open at Zevitas Marcus in Los Angeles on January 6, 2018.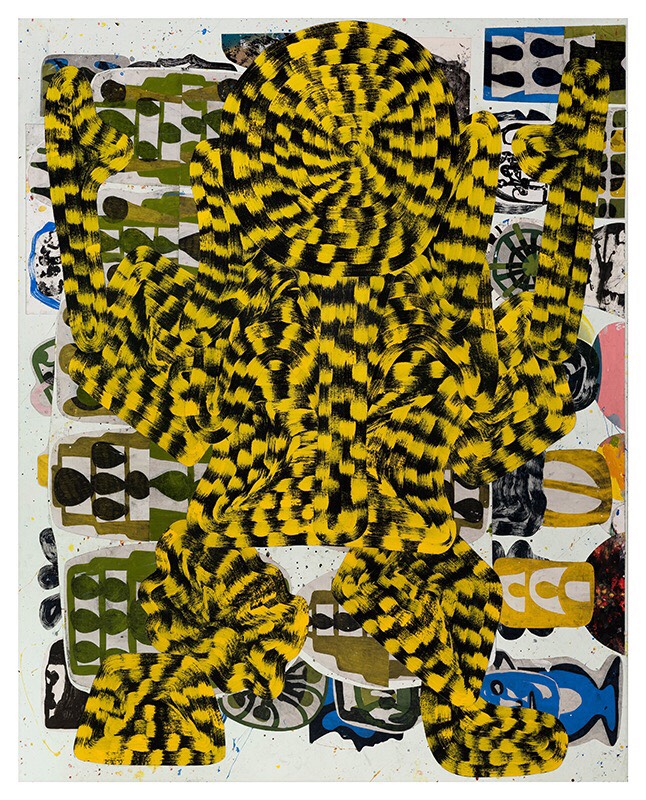 Evan Pricco: It seems like you are having a lot of fun with collage at the moment. What's so appealing about the process?
Josh Jefferson: Collage allows me to lay out various approaches. There's a freedom with collage that painting does not allow and within that freedom is a space to play.
But you are also, can I say, painting your own collages? It's like you are assembling your own thoughts and processes, rather than finding other things and objects and images to borrow from? Is that sort of correct?
I am painting my own pieces to collage with. I had a realization a couple of months ago that I am not a "painter" per say that my strength is collage. By using collage instead just painting directly on to canvas gives me much more room to explore without the risk of losing the piece.


You do a lot of inspired research on your Instagram, so would you say that process of research is beginning to sneak its way into your artmaking more than say, it was 3 to 4 years ago? Or just in different ways?
By constantly doing research and looking at other artists practices I have learned that there are many different and equally important approach's to achieving what you want. In other words what works for YOU is important not what you where taught to do. It took me a long time to flesh out the best way to achieve what I see in my head. And I think that's the point. In art there is no short cuts... it's a long game.
How many new paintings do you have in this show?
I have 10 new pieces are in the show. All of them are 4 x 5 feet.
"Jabberwocky" is a brilliant title for your new show. How many names did you think of before settling on that one?
I actually had a different title for the show. However it didn't fit after I started talking to people about it. I've always been fascinated by gibberish words and my approach to creating can sometimes be scrambled. So Jabberwocky just seemed to fit. You know to quote the press release "Jabberwocky is a nonsense poem written by Lewis Carroll . One of the great works of nonsense verse whose playful, whimsical rhyme gave birth to countless nonsense words and neologisms. "I just love the idea of a nonsense poem there's something ridiculously funny about that idea .
Jabberwocky will be on view in Los Angeles at Zevitas Marcus through Feburary 24, 2018.
Opening Reception: Saturday, January 6th, 2018 from 5 – 8pm