Painting
Interview: Christina Graham on "Ridgewood Reflections"
Jul 19, 2017 - Aug 16, 2017Brethren Gallery, Queens, NY
In conjunction with her solo exhibition, "Ridgewood Reflections" at Brethren Gallery, Queens (on view through August 16, 2017), we sit down with Christina Graham to discuss site-specific painting, Fairfield Porter, and DIY spaces for artists.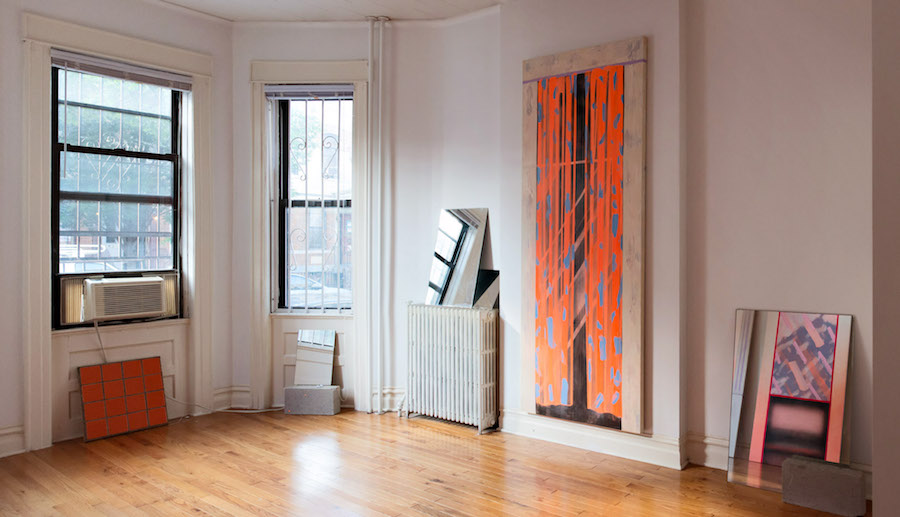 Juxtapoz: What is it about an everyday object like a door or a radiator that stands out to you? How did this most recent body of work come about?
Christina Graham: "Ridgewood Reflections" is my first site-specific body of work, and my first solo show. It's a pretty literal reflection of the room, which is a DIY gallery in Queens called BRETHREN. I met Angela Simione (who runs the space out of her apartment) at a rotating lady painter party. There are three windows with scrolled window guards, welded incorrectly. The walls and molding are Agnes Martin variations on white paint, caked on from years of layering, a radiator, mirrored closet doors. Everything in the room has character—a sort of proud outerborough minimalism.
It seemed important to respond directly to the space and not pretend it's a white cube. I used the windows, doors and radiators as armatures, but let textures from my day-to-day seep in. The mirror and concrete sculptures are supporting acts for the paintings, a way to see the room from unexpected vantage points.
What's your history like in terms of art? where did you start and how did you end up here?
I grew up in Bay Ridge, Brooklyn as an only child. My dad Tom is an artist and illustrator, so drawing was an everyday thing. We visited the The Met a lot, picked up buttons from the steps and walked right in (sorry, Met). I was taught that art was a place where no mistakes were made, but I also felt the weight of a very particular kind of history. I went to LaGuardia High School, which got me exploring the city. I painted mostly oil portraits at the time, and met some of the most talented kids across multiple art forms. That energy is something I've always tried to maintain in my social life. Then I went to RISD and made jokey-conceptual interactive light installations? I don't know, now I'm back to painting.


Do you listen to music when you work? If so, do you have any specific genres that are more comforting or productive for you to listen to?
The "Accurate Reflection" paintings required a lot of physically demanding moves with sensual undertones, so D'Angelo and Sade made sense to me for that relationship. In moments of doubt I blared Candi Stanton's "Young Hearts Run Free" and "Tragedy" by the Bee Gees. A friend introduced me to Four Tet's NTS radio sets which were really great, Frank Ocean because I like having my heart broken and Chastity Belt to feel better about it. Eola and Tonstartssbandht to zone out.
What visual artists have you looked up to the most growing up? Was there ever a pivotal piece that changed how you looked at art and life?
I really loved Fairfield Porter's sense of color. I can't remember how old I was when I thought this, but it was badass to me that he was friends will all the abstract expressionists but did his own thing. Instead of sauntering around hurling paint, he made these beautifully sensitive and disquieting interiors, something that didn't seem very cool or relevant at the time. Alice Neel also really changed the game for me. She made me feel like looking is enough. I love the idea of painting being about sitting in a room with a person.
With this body of work, I thought a lot about Lynda Benglis pours, Peter Halley geometries, Mamma Andersson textures, and reproductions of Rothko paintings at the MoMA gift shop.


What's your day to day look like? Do you have any hobbies that you get a chance to do pretty often?
I recently left my job at a fancy-ish gallery to pursue painting, so I'm still figuring that out. One time a teacher asked what our hobbies were outside of art, and I panicked and said forensics.
I usually make a habit of talking to as many people as possible before I get to studio, and I bike a lot now which in New York, is thrilling, because it's like a video game where the only objective is not getting killed. I walk around and take pictures of construction detritus that looks like art on my phone. You can find a lot of Joseph Beuys and Robert Smithson on garbage day in New York.
Everyone I've ever met seems to be in NYC at the moment, so most of my free time is spent hanging out with friends and trying to keep up with all the great work they're making and doing.


Do you have any shows coming up?
I have a few group shows in the works. One that opens September 27th is work by a group of people I met at Vermont Studio Center in January, curated by Nell Waters Bernegger at Wayfarers gallery.
Any parting thoughts?
My parting thought would be to emphasize how important these DIY spaces are for artists in New York, and in cities everywhere. They bring real bodies together and operate out of the belief that art can be more than a commodity.
The show is open by appointment only, contact [email protected] for inquiries