I Can Taste the Sun: Casey Gray's Latest Solo @ Hashimoto Contemporary SF
Hashimoto Contemporary
//
February 08, 2020 - February 29, 2020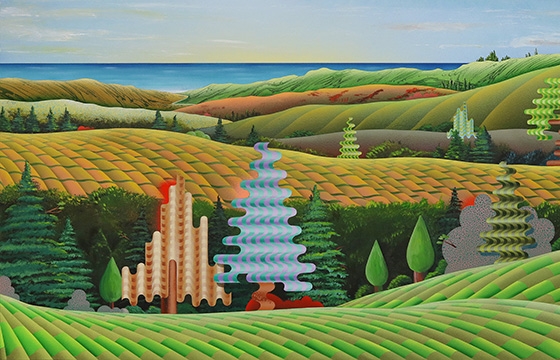 If the subtle sting and warmth of a lemonade sky sounds appealing, Casey Gray's latest solo I Can Taste the Sun at Hashimoto Contemporary SF might be the perfect late winter tonic. Gray paints with bright precision as he marries immediacy and reflection. Flat, tangible colors spring to life, evoking memory, as well as the vibrancy of the moment, much like being beguilement of a children's book that holds winsome wisdom. Stop by Hashimoto for a slow sip February 8 through February 29, 2020.
Dasha Matsuura: Your process of using acrylic spray paint and complex masking techniques is absolutely mesmerizing. If anyone hasn't seen it before, I highly recommend watching *cue video of process.* It's simultaneously simple and complicated in a really lovely way. Having worked this way for a long time and achieving such a level of mastery, are there things that still surprise you about the medium, or have you made any recent changes to your studio practice?
Casey Gray: I've been working primarily with acrylic spray paint for over 15 years, so there is not a lot about the medium itself that surprises me anymore. Anytime there is a new Specialty Can released by Montana, that is fun for me to experiment with; but generally speaking, I know what I'm getting into. That being said, over the last couple of years, I've been integrating other mediums into my process, such as fluid acrylic, molding paste, and a lot more brushwork. And that often leads to unexpected results. I'm still using them with masks, but the limitations of each media force a different, often flatter aesthetic which has been a nice discovery for me. It has spawned a whole facet of practice in works on paper, which really helps to flesh out smaller and less serious ideas. However, probably the most major change to my studio over the last year has been beginning to make sculpture for the first time.
Words and phrases are incorporated into hidden places in the new work. What is the motivation to incorporate text, and can you give us a few clues to finding them?
There's not really a super deep reason for wanting to include words. It's just that, generally, I don't like to be so direct with my messaging (hence all the symbolism), so I look for ways to include text in more subtle areas. I like to steer the viewer in a direction rather than slap them in the face. But I think it's helpful to have a few elements that push the viewer towards the vibe or emotion I'm trying to express, or help decode my thought process behind a given work. I hide things in the wood grain a lot, and sometimes, I spell things out with children's blocks or within other textures. It's actually not so new for me, but there's more in recent work than in past. I like that the viewer might not even notice the text elements until the second or third time they look at a piece.
This show is a transitionary marker of your life in a lot of ways. Can you tell us about some major moments that permeate your work?
I guess I should answer that first by saying that my work, that is the art, has always been fundamentally inseparable from my personal life. 2019 was a wild year for me in a lot of ways, but mainly because I lost my father rather suddenly at the end of April, and three months later, found out that my wife was pregnant with our first child. My work has always been concerned with a search for balance, organization of experience and exploration of identity; and the weight of these two life-altering and identity-shifting events happening in such close proximity was a lot to handle. So in light of that, the symbolism and some major themes in the show largely focus on my coming to terms with the emotional extremes of the last nine months and processing what it means for the future.
Your work always has a sense of optimism, even when it addresses heavier subject matter. How do you use that to process the world around you? Would you consider yourself an optimist?
I try to be, yeah. But for me, that's not actually as easy as it appears. The reason my work is so optimistic, at least on the surface, has to do with using optimism as a force against the negativity in my life. Again it comes back to balance. I've made more somber work in the past, but that's just the thing, it leaves me feeling somber afterward and that's not what I want to get out of making art. I want my paintings to inspire a sense of optimism because that's how I want to live life, not that I feel that way all the time. I try and balance each work with a good amount of dystopia because, sometimes, that feels closer to my actual reality. But usually, those elements appear in more subtle ways; like torn, spilled or broken objects.
There is a type of clarity I get from making complex still life arrangements. My process involves collecting all kinds of disparate source material, including a lot of my own photographs, and organizing this archive of images that becomes the foundation for every new piece. The act of putting them together into cohesive paintings, unlocking a narrative and discovering connections between objects I wasn't necessarily thinking about is where I find a lot of meaning in my work. It wouldn't be wrong to read some of my paintings more as poetry or collage.
I Can Taste the Sun is a quote from one of your favorite chefs. Tell us more about how that embodies this group of paintings.
One of my favorite chefs is David Kinch of Manresa, which just happens to be in my hometown. He talks about the sun as an actual ingredient in his food, and as an essential part of his philosophy of cooking. It's something you can't see and actually taste, but it's there, so to speak. He's deeply obsessed with California's Central Coast, and his sense of bioregionalism is something that I really respond to and try to incorporate into my work, not just with the chosen subject matter, but in the vision as whole, which I think is pretty evident in the show.
Whenever I was feeling low after my dad died, I found that getting out and in the sun was the best way to immediately start feeling better. So for me, I Can Taste the Sun is not so much about food, but has to do with the power of nature and the outdoors to nourish and heal. The optimism behind that idea is the driving force behind this group of works; choosing to be in nature, focused on the future and simple pleasures in life – whether that be the first bite out of a sandwich or just stopping to smell the flowers. I Can Taste the Sun is about making an active choice to not dwell on the negativity in life.
We've talked a lot about food being a big part of your personal life and working its way into the paintings. The works on paper feel like a summer picnic. Most importantly, what is your ideal picnic menu? And secondly, how have you approached these looser works on paper, and what do they do for your practice that larger paintings don't?
Ha, fun question. My ideal summer picnic pretty much centers around a cooler full of chuggable natural wine, and everything else is an added bonus. Hard cheeses are an obvious companion; I love to bring out the mini-Webber, but don't actually get the chance as often as I'd like, so always down to grill up some carne asada for a taco party. For dessert, nothing better than a good box of chocolate donuts with sprinkles. Keep it easy. Finger foods.
The works on paper are pretty antithetical to my large paintings. They are flat and graphic in a very illustrative way, but at the same time, have many competing textures and surface treatments that make them still feel like paintings. I like that they allow me to take a break from the tedium of the large work and focus on simple ideas, experiment with different media and express a different point of view, usually of what I'm having for lunch, haha.
You're incorporating people for the first time as well. How has this new addition changed your approach to the work?
With a still life painting, there is this implication that the objects depicted would be part of a larger world. At some point, I began thinking, "What does the rest of the house or yard look like? Who lives there?" Re-introducing the figure in small ways is about fleshing out the rest of the world that my work lives in. I'm really just focusing on hands right now, but I think it helps the viewer imagine themselves in the work. In relation to the still life pieces, having a figurative element seems to help give things a greater sense of identity.
This is also one of the first landscapes I've seen you do. What made you want to explore this new thread?
I make lots of landscape drawings when I travel, but I've never actually made a landscape painting before as part of my work. Last year, I was awarded this residency up in wine country at the Chalk Hill Artist Residency. I spent two weeks living on the ranch, painting in a converted barn studio surrounded by grapevines. I just couldn't help it. The landscape becomes such a part of you when you immerse yourself in it and leave the stress of the city behind. The farm had this presence and power that was really profound. I would soak up the sun in between painting sessions, fish the lake, swim in the Russian River, the whole experience was pretty idyllic. When I arrived there, I planned on making still life paintings, which I did, but mostly ended up making a whole bunch of oil pastel landscapes instead. Anyway, that residency got me thinking about how I could introduce landscapes into my repertoire, again, as a way of fleshing out the rest of the world where my other work lives. I'm not exactly sure where they are going from here, I just know I want to make more.
I'm super excited about the sculptural work too. In a way, they feel like totems. Is that totally wrong? How have these sculptures developed over the last year or two?
I've been making this series of wavy symbol paintings since 2014. They're very loosely based on emoji characters, but really have to do with wanting to focus on singular symbols in contrast to the complex still life work. The sculptures come from that body of work and are still pretty new, but I'm really excited about them. I had been thinking about making sculptures for years, but couldn't really find an entry point that made sense for me. Then, for a show at my friend Mark Schoening's gallery in Minneapolis, I was asked to make some work at 1/10th scale, and since I can't really make my paintings that small I decided to try and 3D-print some sculptural ideas I had been messing around with in a blender. Long story short, they came out really well and I decided I needed to make 'em legit. How to do that was another story. 3D-printing full size was out of the question financially speaking, and I didn't want to wait around for a production house to CNC route them, so I just decided to carve em out of wood myself. This is the first time they will ever be shown in San Francisco and the whole United States, for that matter. The original batch was shown at a solo exhibition in Berlin last year. They are still basically sculptures of paintings, but I'm hoping they will evolve into something all their own eventually.
There are so many great historical references worked into your paintings, from the compositions and subjects to hidden homages. Aside from the obvious – Dutch masters, still lifes, Trompe L'oeil, Matisse, Barry McGee – who else in art history are you drawn to?
Oh, there are a lot. Probably easier to break them up by genre. Jacques Poirier, Cornelis Gysbrechts and John Frederick Peto really inform my Trompe L'oeil work, I definitely stole a thing or two from them. I love the still life paintings of Giorgio de Chirico and Anton Hartinger. I mean, there are just so many European masters that I'm into, I can't list em all.
You blend so many seemingly opposing elements in such a smart way; depth and flatness, sophisticated historical references and skate culture, playfulness and seriousness. How do these things comingle in the studio?
That is just what my life has always been like. I come from both worlds and like to walk the line between mainstream and counter-culture. I was pretty traditionally trained as a painter, but I'm still basically entirely self-taught when it comes to my technique. I have an MFA, but I've been skateboarding consistently for 25 years. So it's just natural for me to blend things from both hi and lo culture. I paint a lot of the shit from my studio because that's where I spend the majority of my time. Elements in my work might be commonplace, but they're also deeply self-referential.
One of my favorite elements of your work is the number of discoverable details in each piece. Can you tell us about the symbolism or significance of the objects incorporated for this show?
Well, there are multiple references to the sun, but that's a pretty obvious one. None of the elements in my work are really "keepsakes," so to speak. It's not like I'm painting anything particularly delicate or fancy. I don't want to be that personal with the objects I choose. I prefer to boil down symbolism to the most general and basic ideas because I want there to be universal entry points. A big reason I choose an object is based on its most common connotation.
For instance, I chose to put an oven mitt in one painting because it can symbolize protection. Its kind of like a 'be careful or you might get burned' idea, and also it just looks really good with the quilted stitching, adds a nice element of pattern to the composition. It's painted red to counterbalance all the greens and browns in the piece. Banana peels are a recurrent element in my work for various reasons. They symbolize decay and nutrition or just add a nice bit of yellow and a hard curve to a composition. Sometimes I'll draw them lounging in human positions, and in that way, add a subtle figurative element to the work. In that same piece with the oven mitt, banana peels hang in a plastic bag as if to look like a hammock.
I feel like there's a sense of nostalgia in a lot of the objects you incorporate into the work. Do you feel like the act of painting them transmutes these everyday things into artifacts to be revered, encourages viewers to take time to notice them or something else entirely?
I suppose there is a fair amount of sentimentality that goes into my work, but its not so much a longing for the past for me as it is a critical tool for talking about and understanding my present and / or future. The types of objects I select are meant to have a broad appeal, and a lot of times that can reference childhood when my most basic understanding of the world was formed. I'm not trying to put any particular reference on a pedestal, rather it is the collection of all the things together that tells the story or narrates a point.
Aside from impending fatherhood, this show and some sunshine, what are you most looking forward to right now?
Well, the whole starting a family thing obviously overshadows anything else. I'm excited to be a dad for sure. Can't want to get the little dude on a skateboard, haha. But yea, I have a few projects scheduled for later this year that I'm psyched about. I was selected as an artist in residence at the Internet Archive for 2020, which will culminate in a show at Evergold [Projects] in June with two other artists. I've got a couple of commercial design projects in the works that are fun, and I'll be doing a solo show of works on paper in Paris at the end of this year too. 2020 will be as busy as ever.
I Can Taste the Sun opens at Hashimoto Contemporary San Francisco on Saturday, February 8, 2020, with an opening reception from 6 to 9 pm, and will be on view through February 29th, 2020.