Painting
From Middle Earth to Oakland: Obi Kaufmann and the "California Field Atlas"
October 26, 2017
Artist, author, activist, hiker, brand frontman, gallery owner, tattooist and self-proclaimed "Gentlemen Naturalist"— quite a lot of descriptions to put on your resume. However, Obi Kaufmann, revivalist and realist, is a man who has turned the tension between the urban and outdoor lifestyles of California into his artistic practice. Formerly the visual artist behind the successful Oakland, California-based Juniper Ridge brand (a wild-crafted fragrance company), Kaufmann has since published a reflection on his trail hikes, filled with watercolor and prose, The California Field Atlas. Published by Heyday Books, it is a unique guide to California's offbeat paths through the unique lens of this artist and natural explorer. We sat down with Obi to talk about Oakland, painting while trekking, and proper gentleman's attire while on the trail. —Jeremy Smith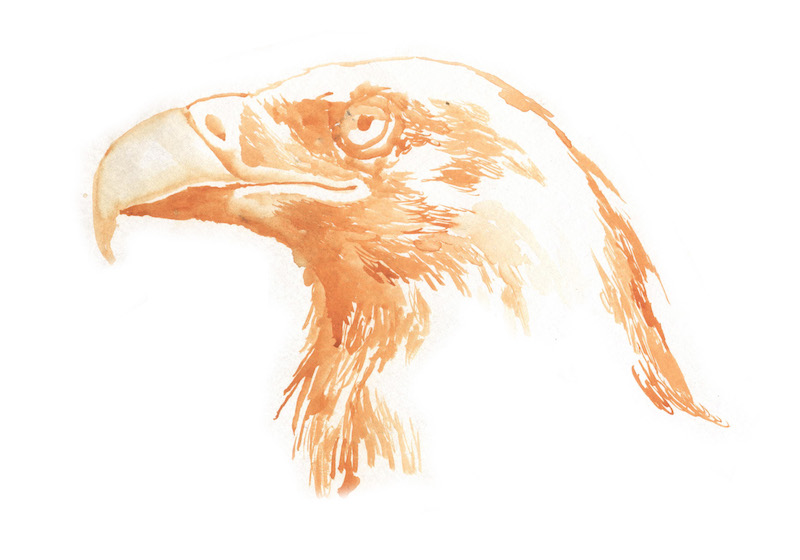 Jeremy Smith: Tell me about your process when out in the wild. Do you hang out, just waiting for coyotes to emerge from the purple sage at sunset?
Obi Kaufmann: I definitely don't do that. Although I'm pretty good at the quick, in-the-field, gesturally-attuned, species-specific sketching, my best work always happens back in the studio. I don't think I would be able to do what I do without the city in my life. I need that dynamic relationship between the pastoral and the metropolitan. There is meaning in the contrast between the two. I go to the mountains to charge my batteries and I come home with energy to spend—which provides me with a dialogue where I can present the more-than-human world of nature and wilderness and make it relevant to the majority of humans who don't leave the city very much. This is my ultimate goal as an artist and as the author of The California Field Atlas: the transmission of my deepest love for the wildest aspects of the state to those who either don't get it, don't have time to get it, or don't even know where to begin getting it.
I've always been this way. When I was young (and to this day), I would pore over the maps of Middle Earth by J.R.R. Tolkien. I am not embarrassed at all to claim the author of The Lord of the Rings as my first and most important teacher of cartography. I found those maps, home to so many imagined societies, drenched in magic and history, to be utterly fascinating, in-depth and full of inherent beauty. California is my Middle Earth, and I am so grateful that my most-fantastic-of-worlds is actually a real corner of the globe.


Tolkien was your earliest foray into art?
You want to know about art, I'll tell you about art. My parents are both scientists. I was born in Hollywood on Sunset Boulevard, and we moved to Danville, California in 1978 when it was one stoplight. My father said to my mother, "That kid is going to have his PhD by 25," and my mother said, "He'll be a potter down on Venice Beach." My father was an astrophysicist and my mother was clinical psychologist, so, of course, I became a goddamn artist.
Nature was my first teacher and my last teacher. I grew up on Mt. Diablo, which juts up between northern and southern California, and on the way to the ocean. It catches all the seeds from all directions, creating a wildflower bloom like no other. The first maps I drew were through the sage mazes, naming the oak trees, all over that place, my original home, Mt. Diablo.
I then went to college at UC Santa Barbara, was a drummer in a hardcore punk band for four years, got an art degree, dropping acid under the Chumash rock paintings in the Los Padres National Forest. I did a stint in the Pacific Northwest, then came back home to Oakland, it being my perfect little hub of California. If you take your hand, put your thumb on Oakland, and draw a radius with your pinky, you'll make an arc from San Diego to Crescent City.
How long were you up in the Northwest?
A few years: got married, got divorced. Spent most of the time painting and thought I wanted somewhere quiet to paint. But it was too quiet, got too weird. I did spend a lot of time tattooing, though.
One of the fictions I've created for myself is this mountain man thing, when I'm really more of a town and country kind of guy. I exist between the urban and the rural, but Oakland, it's always in bloom, one of the few true Mediterranean climates. When I was up North, I was a gallery oil painter. When I moved back down here, I worked in my studio, painting by candlelight in my cave, and it was during that time I rediscovered backpacking. Away went the oils, and I got the watercolors out. I rediscovered color. Color became my alphabet and landscapes became my stories.

How did you link up with Juniper Ridge and become the brand's "Chief Storyteller?"
My girlfriend was Juniper Ridge founder Hall Newbegin's third employee. Alli started there in 2000, and I joined them and, well, it's hard to say, because Juniper Ridge is all-encompassing, but it was 2009 when I got my first paycheck. I was the Chief Storyteller at JR for many years. Everything front-facing for the brand was me. Then I got sick of selling shit, and I knew I had this book in me.
In December, 2015, I met Lindsie Bear and Malcolm Margolin of Heyday, an imprint that's been publishing books about California since 1974 with many of my heros like Gary Snyder and Tom Killion. Heyday is a pinnacle of Bay Area publishing and has been for a very long time. When I pitched them the idea for this book, I promised this thing would be dripping with soul and color on every page. I wanted to write a book of such depth that all points were represented in a democratizing way that had never been done before. This isn't a book about Yosemite, this isn't a book about the coast. This is a book about where to hike in Colusa County.
So what I've done is made a book with 300 handpainted maps and at least as many wildlife paintings. When I say "wildlife paintings," the forms are very specific, but I've taken liberties—coyotes aren't purple unless you're looking at them in the high desert sagebrush at sunset. What I've set out to do is to begin a discussion about our continued human residency in this Golden State, not over the next 100 years, but the next 10,000 years, interpreting the natural systems here as living systems and describing them in terms of earth, air, fire and water. The large makeup of the state becomes decipherable. There are no roadmaps in my book, there are no roads in my book. There are trails. Roads are for A to B. Trails follow ridgelines, there's a walking pace to this book. That being said, this is an indispensable companion to the California road trip. I'm about to go on a big fucking tour all over the West Coast. I've got 47 dates in 60 days planned. From San Diego to Portland, dragging my Coyote Wagon, my 1947 Teardrop Trailer, a kit trailer behind my Subaru.

You've started doing a lot of projects with the Swedish denim brand, Indigofera, as well. I think it's interesting because you have talked to me about hating technical fabrics.
I've collaborated on a particular project, the California Hiking Series, which is a rugged hiking apparel line designed to let me do my job. I hate hiking clothes. I hate technical fabrics. Indigofera brings old world tailoring and fabric sourcing that is very difficult to replicate in the States.
The whole vibe of this line is the "Gentleman Naturalist," like the 19th-century hiker who doesn't require Gore-Tex. If you need expedition wear, I certainly get that. I'm talking about California, from trails to cocktails, from the fog of SF to the sunshine of Mt. Tam and back again. The clothes are armor. I need rugged things for crawling around the trail, dropping paint. I only own three pairs of pants. Simplicity, durability and quality are very important to me, and I'm going to be wearing the same thing in 20 years. With style, it's not about what's next, it's about not fucking up what came before.


Let's talk a little more why you love Oakland.
My studio and apartment is over Premium Tattoo, where Matt Decker's been tattooing for the last 10 years. We're taking over Premium as the HQ of The California Field Atlas.
There are two reasons people live here—the weather and the food. It is possible to live a largely carbon-limited lifestyle in Oakland. I haven't fired up my car in a week. I took a photo of the cormorants nesting, there's 180 or more nests there in the middle of Oakland. I find it easy to imagine grizzly bears along the banks of Lake Merritt 160 years ago. If we have enough imagination and and we care enough, might we then imagine a post-fossil fuel world where the future of California looks like the fecund past?
The California Field Atlas is out now via Heyday Books.

This article was originally published in the November 2017 print issue.