Painting
Down to Clown: Homeless Cop
July 17, 2017
Homeless Cop makes incredibly rad oil paintings in a style reminiscent of a 2017-internet-stained-glass-window. His work covers a huge swath of American culture, from fast food, cars, boats, and computers, to perhaps more sinister characters like our appropriately named "Insane Clown President." We caught up with him to hear what he has to say about politics, moving to LA, his hilarious name, and his vibrant color palette.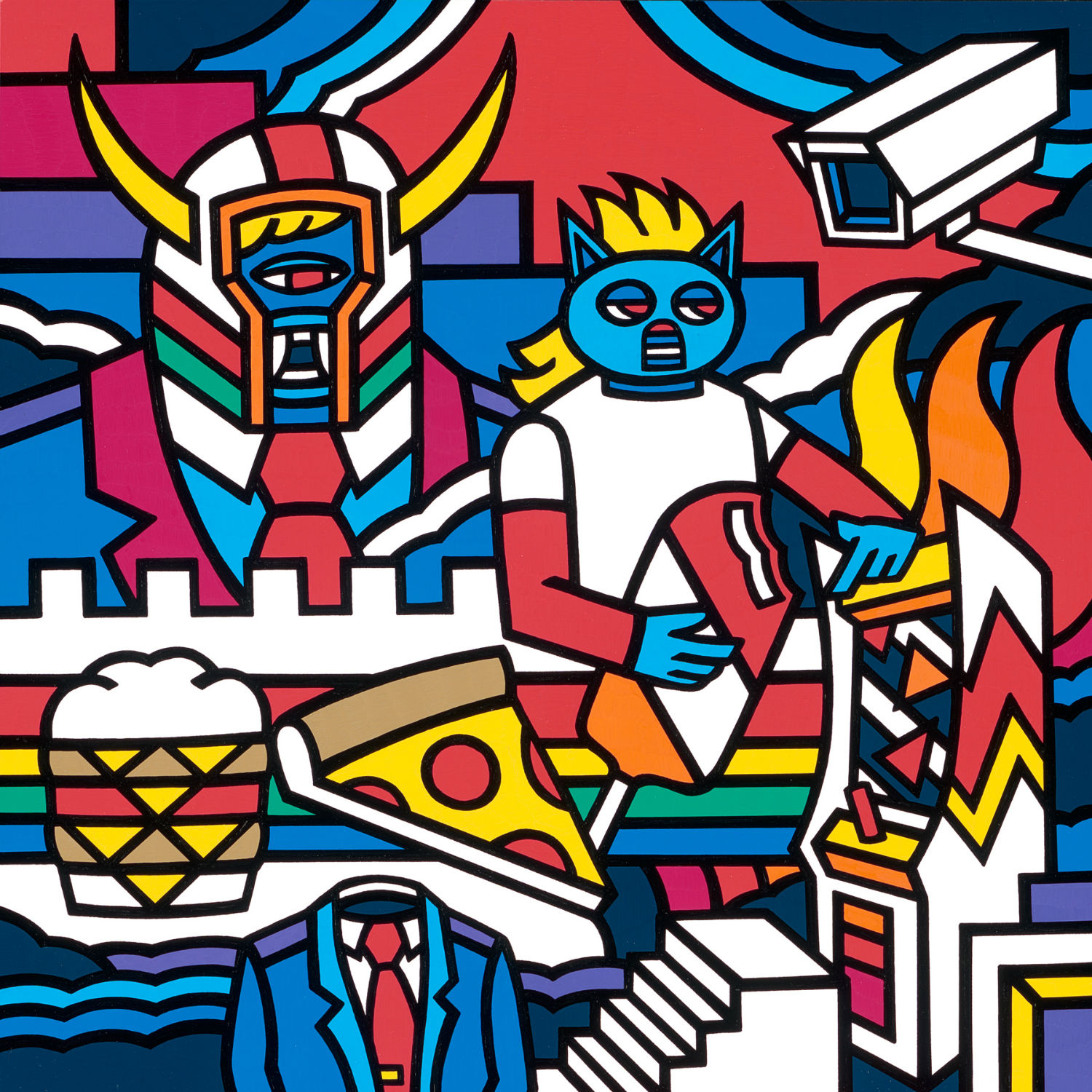 So your work stands out so brightly, and has so much going on in it, where did this come from? When did you start making work like this?
I started painting a little over 10 years ago, and I wanted to paint the same way that I draw. It's all oil paint, and while my acrylic artist friends get work done faster, I just like the range and consistency of oil colors. I think my paintings started out with just a few colors and I've gotten more colorful over the years. I can only guess that growing up in the 80's is what got me into colorful stuff, although in middle school I was sketching out black and white skeleton warriors to piss off my Mom. Colorful stuff just feels more fun to me now.
It looks almost like it's stained glass, have you ever considered making a stained glass version of your paintings? They could be really sick...
Oh fuck yeah, that would be cool and I've heard this for years. I would probably have to team up with someone that can handle that, but I'm down to clown for sure!
Have you found your work getting more political in this climate? Or have you always been kind of political?
Oh, because of the Insane Clown President? Well, we are living in a crazy political age, and I think almost everybody dislikes nepotism and corruption, so I guess you can count me in that resist movement. I think I've paid more attention to politics in the last year or so, but that's because it's a total shit show. I don't claim to know everything, I just like honesty and transparency. Bernie Sanders was, and still is, my guy.
There are a lot of swords, guns, death, sports, violence, and computers in your work. I feel like the same could be said of pop culture generally. Where do you draw inspiration from, and have you noticed a change as we become more integrated into using our devices as our primary methods of communication?
I pretty much draw and paint things I like, or things that I think will look cool together. I never had a computer growing up, but in my adult years I've been lucky to have friends that are good with them. I am very slowly trying to learn Photoshop and hopefully Illustrator. I think computers are really cool when they are coding, or animating, or hacking, etc. Now, people being attached to their phones all the time, and people's verbal skills being at a 40 year low? That's the kind of stuff that's weird to me. I draw inspiration from artists, music, art museums, movies, TV, and comics I like. I love Adult Swim and pretty much everything that Tim & Eric make over at Abso Lutely Productions. Shout outs to Comedy Central and Netflix as well.
Where did the instagram handle come from? When my editor showed me your work I was in love with it before I even saw the paintings...
Thanks! Well, I used to play drums in this noise rock band called Diebrator, and we had 99 songs on the album to name, so we were just putting words together and when I made the band laugh with Homeless Cop I knew that would be my artist name someday. I'm not sure it really means anything, other than a name to remember.
Do you have any shows coming up? If not, what are your current plans if you've got some?
Yes! I will be in the Drinkin' Smokin' & West Coastin' group show August 19th at Think Tank Gallery. (with lots of great artist I like) and I've got a solo show next February at Superchief LA. My current plans are to make a coloring book and some more merchandise. I'd like to get my collection of paintings into a book, and if I have time, I'd like to play drums on a few music projects. I also want to get into acting and standup comedy some day.
Any last words??
As a lifelong fan of Juxtapoz I would like to say thanks and I love you guys very much! My band Gas Station Art has 2 albums on iTunes, and our 3rd (and best) is about to drop in the next month or so. I moved to downtown LA from Indianapolis a few months ago and I gotta say that I love everything about this city so far. I've always wanted to live here and the weather, the food, and the people have all been a dream come true. I'd like to hear more albums from Earl Sweatshirt, and also Workaholics should've never been cancelled.