Painting
Daniel Gibson is just "TRYIN' TO STAY ON THE BULL"
Jun 17, 2017 - Jul 15, 2017New Image Art Gallery, Los Angeles
Los Angeles-based fine artist Daniel Gibson is one of our favorite emerging artists, as we noted in our July 2016 print feature on him. Now, he is set to open a solo show, Tryin' To Stay on the Bull as well as group show he curated, Friends, Do Not Fear. that open at New Image Art Gallery on June 17, 2017.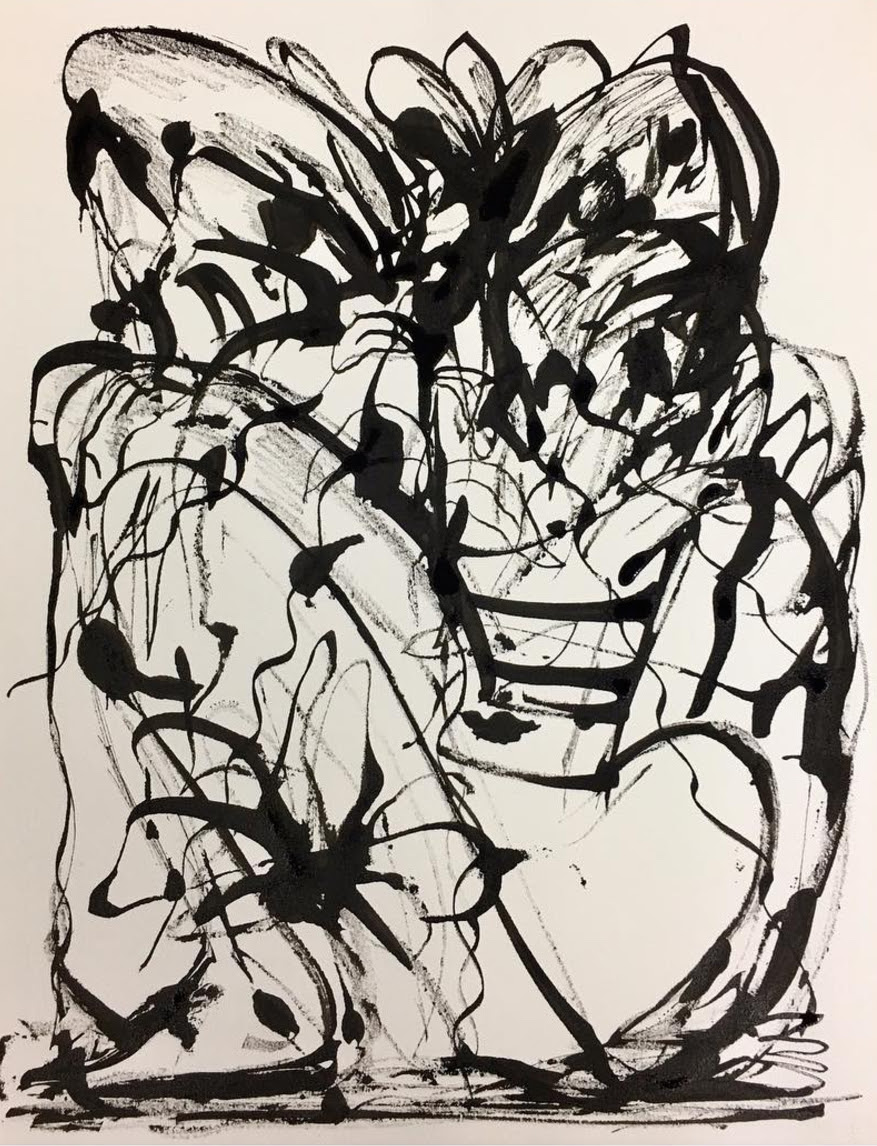 The show features a new series of large-scale sumi ink paintings on canvas in Gibson's scruffy yet sensual figurative style. Daniel Gibson born in 1977 grew up in the border town of El Centro, just thirty minutes north of the Baja capital of Mexicali. Depictions of his childhood desert landscape echo in his monochromatic paintings using charcoal and sumi ink on linen. His paintings convey ease in use with the line and range from sketchy renditions of abstracted objects and figures to the bold brushstrokes used in his narrative based scenes. Deep colored fill-ins between compositions create a rich painterly effect that is complimented by a sort of dusty aesthetic unique to Gibson's work. Gibson's subject matter pulls from a desert vernacular intertwined with couples lounging in nude, the infamous Mexican Coyote smugglers, and alien figures with distorted eyes among other musings. His paintings shift from abstraction to figuration creating a surrealistic atmosphere with casual tongue-and-cheek political gestures relating to his Mexican-American heritage. Gibson's currently lives and works in his Chinatown studio in Downtown Los Angeles.
In the main gallery, Gibson curates an exciting group show "Friends, Do Not Fear" featuring some of his friends and favorites including Micheal Alvarez, Adam Beris, Skyler Bieberly, Andrea Marie Breiling, Alicia Gibson, Stephanie Rose Guerrero, Manuel Lopez, Grant Levy-Lucero, Bruna Massadas, Dustin Metz, Josh Miller, Spencer Moody, Don Pablo Pedro, Lydia Maria Pfeffer, Carlos Ramirez, Javi Ramirez, Tony Romo, Camille Schefter, Kira Shewfelt, Judith Supine, Matthew Sweesy, Kenn Taylor, Trina Turturici, Andy Woll, Marco Zamora, and Zio Ziegler.