Painting
Dan Witz: The "Mosh Pit Paintings 2010 – 2018" @ Stolenspace Gallery, London
Feb 02, 2018 - Feb 25, 2018Stolenspace Gallery, London
Dan Witz is a bit of a legend. His early forays into street art, without the international attention and audience that it has today, set the standard as to what and how street work could interact with or immerse itself into a city's landscape. And of course there is his famous mosh pit paintings, meticulously constructed from hundreds of photos at various hardcore gigs (and in recent years, raves) and painted into massive and cohesive realist canvases. His work is so well-known, even Dior used his works in a recent fashion line. Some of those works will be on display starting February 2, 2018 at Stolenspace in London in a new show called Mosh Pit Paintings 2010 – 2018.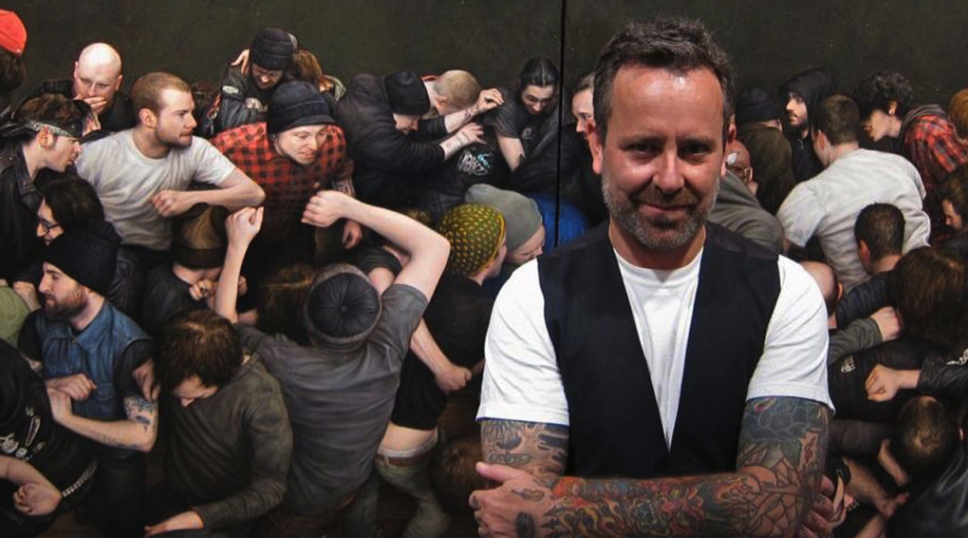 We've worked with Dan a few times over the years, from a cover story in the Juxtapoz print edtion of January 2015 to recent interventions at the Juxtapoz Clubhouse in Miami this past December. One of the things that stood out to us in regards to Dan was his love and interest in realist painting, and how, when he was in art school in the late 1970s, how outside the box he was for his style. "Yes, it wasn't too long ago that painting figuratively was considered rebellious—if it was considered at all," Witz says. "Crazy as it sounds now, when I was a student, painting with technical facility, depicting beauty (unless it was ironic), and accessibility (especially accessibility), were forbidden—completely off the table if you wanted to succeed in art school and eventually show in decent galleries. You have to love the irony: Modern art's very genesis sprang from its rejection of academic realist painting, and now it's the modernists who have become the blinded establishment and the realist painters a transgressive force for change."

As th gallery notes, "Working from photographs he takes at live events, Witz employs artistic techniques that date back to the old masters, in order to render scenes of the most magnificent clarity and depth. Witz reveals that despite the obvious aggression of the punk rock pit, there is also an underlying sense of euphoria and unification shared amidst the crowd."

Witz's new solo show will be on view from February 2—25, 2018.