Painting
Bridging the Art and Tech Divide in San Francisco
Dec 12, 2015The Galallery, San Francisco
It's been difficult to watch some of the changes in San Francisco over the last few years. We've seen many of our good friends and artists pushed out of their studios and forced to leave the city. But we've also remained encouraged by the galleries and artists that have managed to stick around. The Cub Collective is a new group out of San Francisco who are on a mission to bring in a new wave of collectors into the local art scene. Their first event, The Pilot Auction, features some of our favorite artists, many of whom you've recently seen in the pages of Juxtapoz.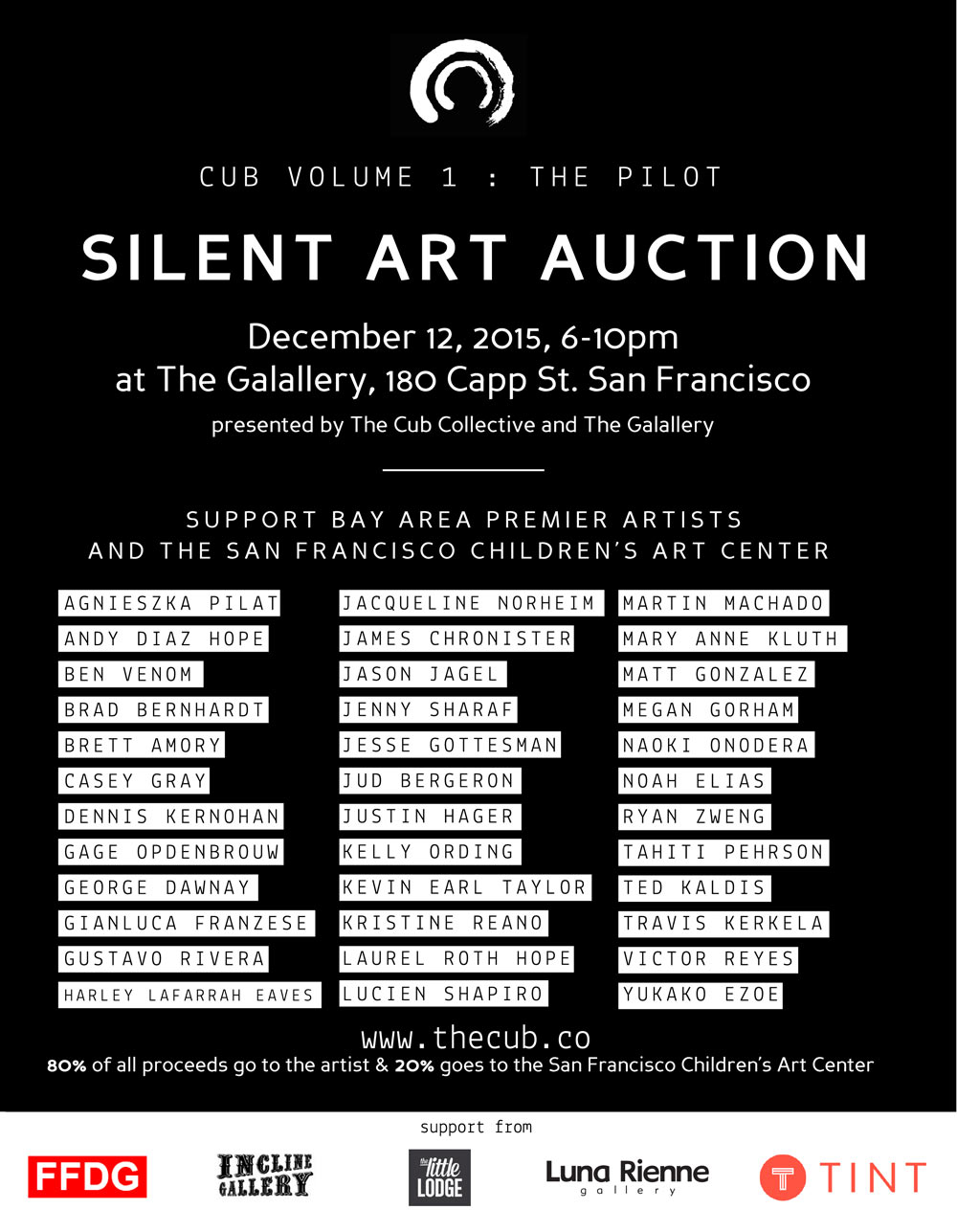 From The Cub Collective:
There is an obvious divide between the two worlds of technology and art in San Francisco, and The Pilot Auction intends to bridge the two. Most individuals in this city who work in the tech sector can name at least ten different startups, their CEO's, and who is funding them, but if you ask them to name ten local artists, they probably need to "Google it". The Pilot will link these individuals with the visionaries and brilliant minds of San Francisco's art world, in hopes to spark the same level of excitement they share amongst each other in the tech community. These artists' direct movements, aesthetic, and thought are the backbone of this city's culture, and The Pilot will make that known.
The event will be hosted by The Cub Collective, a group out of San Francisco who are on a mission to bring in a new wave of collectors into the local art scene. The group consists of a few employees from a small tech startup based out of the Mission. They became obsessed with the art culture of San Francisco after attending an art auction at the Incline Gallery earlier this year. Since then, they have been attending various art events and shows on a regular basis. Attending these events inspired the idea of hosting a show of their own, and with their ties in the tech community and network of friends who almost all work at various startups, they thought they'd start spreading the word there.
"I constantly read articles and hear people talking about the disconnect between the art and tech communities in San Francisco, but rarely see anything being done about it." - Amrit, Co-Founder of The Cub Collective
The collective's efforts towards tying the art and tech communities together and creating a new generation of art collectors will be showcased at The Pilot. You don't want to miss it.