Painting
Augustine Kofie "Build From Memory"
Feb 25, 2017 - Apr 01, 2017Galerie Openspace, Paris
The title chosen for this new exhibition at Openspace Gallery by Augustine Kofie's showcasing 2016-17 new series of collage, painting and installation speaks to our human ability to acquire knowledge and repetitively apply it to the material world. We are defined by our ability to manipulate nature, and by our experience of being in time. What we learned and remember is essential to what we make. In this way, we make the future out of the past through our present action, through building from memory, reassembling a mutated, partially preserved set of fragments into something new. There is loss in this, but there is gain as well.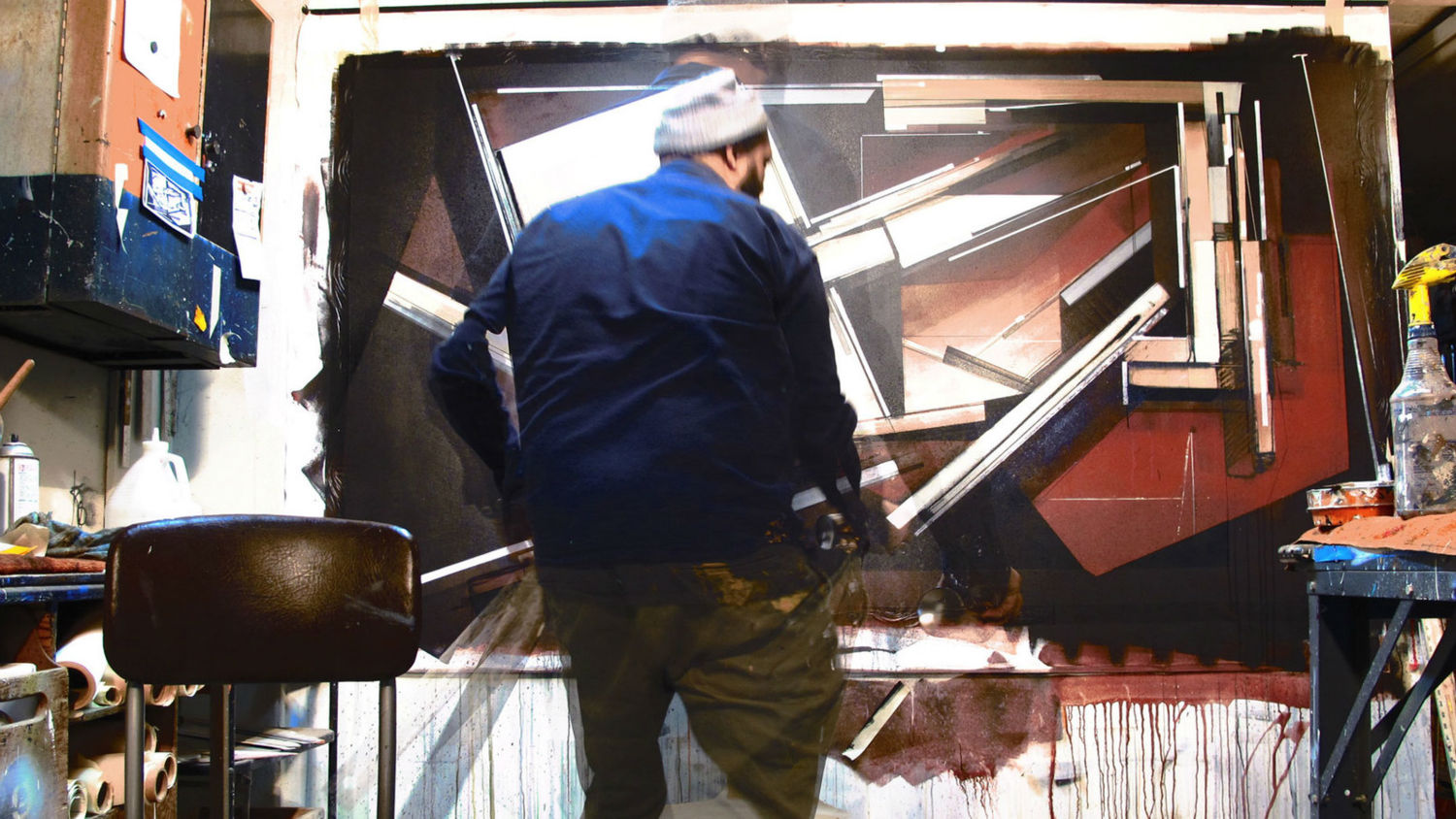 Kofie continues to push and explore technologies and strategies to build up space within his work, and in each series he poses himself a new problem to be solved. Build From Memory began with the challenge of how to produce dynamic movement from a stable, static (horizontal/vertical) foundation. The answer came in the form diagonal "breaks", perspectival lines that produce volume, protrusion, immersion, and depth in the horizontal-vertical system. It is these breaks that are built from memory and inspire the title of the collection, for they come directly from the 3D technique of traditional letter writing practices such as sign painting or graffiti. "If I draw from muscle memory, without thinking, I build a static foundation and then insert such 3D breaks to produce new shapes and space," Kofie explains. "3Ds come from an imaginary point of perspective, from multiple points of perspective, multiple memories."
This classic compositional element and representational strategy informs both collage and painting. "The collage is my drafting room, constructivist technique. It's the finding, recovering, prepping—the mosaic, collage, and transformation of the materials. It's the closest I can come to building a painting, using the material as a color, using paint only to accentuate what is already there." Each fragment has been salvaged out of the destructiveness of time, each holds a memory, each is a portal onto a moment, each font or graphic or color opening onto a memory path.
As always, Kofie's paintings begin in sketch form, but the sketch is not projected or directly copied onto canvas. Position, scale, the relation of shapes, of negative and positive space—all change with the switch in medium. Muscle memory comes in anew—now it is not the embodied knowledge of years of drawing letters bur rather that of painting large public walls that comes into play. "I am loosening up my canvas technique now," Kofie says, "painting as I would do a wall. The body comes in – it's a workout – the canvases are done in quick, repeated spurts, in a painting style I learned from street work, so they have a very loose, active energy. But then I always go back for the refinements, moving through brush sizes from large to small—moving from big dirty mini-roller, from raw brush lines, raw spray paint lines, overspray, that is then finessed and cleaned up with the rigger brush. It's that relationship of gestural freedom and control that always interests me."