Painting
Anja Salonen's "New Dimensions in Recreation"
Nov 10, 2017 - Dec 21, 2017Ltd, Los Angeles
Anja Salonen's new solo show at ltd los angeles stretches the limits of painting and figuration.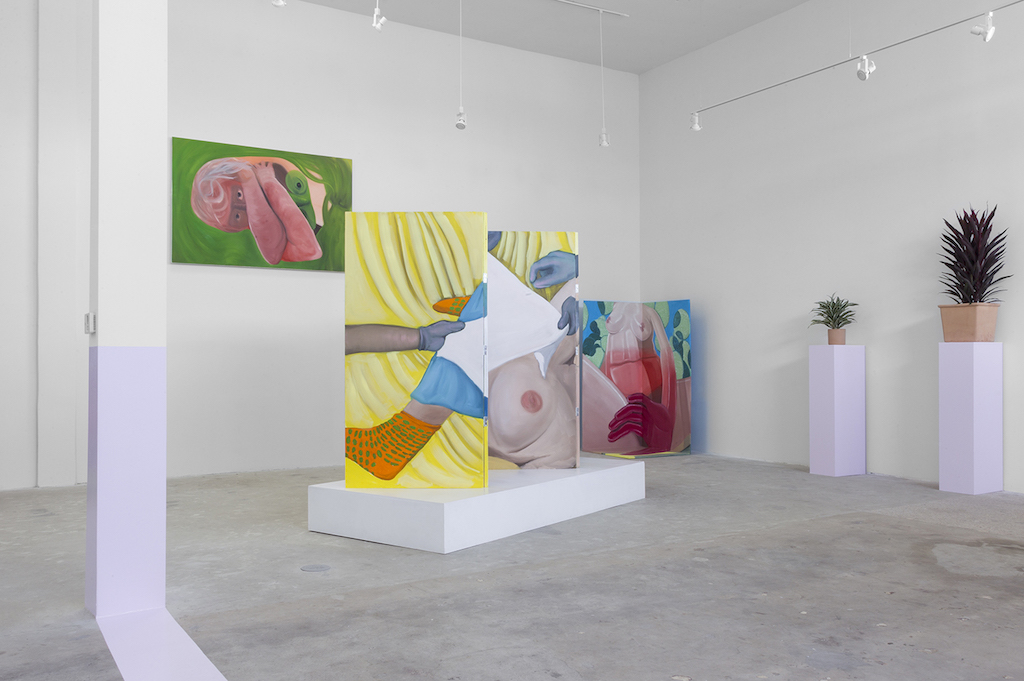 Using anamorphic perspectives, hinged canvases, and art literally hung from the ceiling, Salonen invites the viewer all the way into her work to experience unsettling scenes full of deconstructed figures who, like the paintings that stand in space, become abstracted, "an arrangement of things," as the gallery describes. Ltd paints a vivid picture of the show, "A red thumb probes into space like a rude hologram, a checkered floor sucks down into a vortex. The bodies and furnishings in this new, extra-dimensional language flow like the manipulations within digital software, coded with virtual layers and the evidence of photos and flesh having been clicked and dragged with skew and warp tools."
Far from a typical painting show, we have mad respect for the experimental nature of Salonen's installation and the calculated, shifting perspectives that reflect the changing nature of humanity in a digital age. There's also a room of painted soft sculptures that lean against the wall, a seeming audience for the debut of her animation project, "Pocket Vacuum." Salonen, who is featured in an upcoming print issue of Jux, caught our eye at The Hole gallery in New York last spring, and her new solo show at ltd certainly lives up to the wordplay of its title, New Dimensions in Recreation. Color us impressed.
Anja Salonen's new show will be on view at ltd Los Angeles through December 21, 2017.