Juxtapoz
Opening: Steve Powers "A Word is Worth a Thousand Pictures" @ Joshua Liner Gallery, NYC
September 11, 2012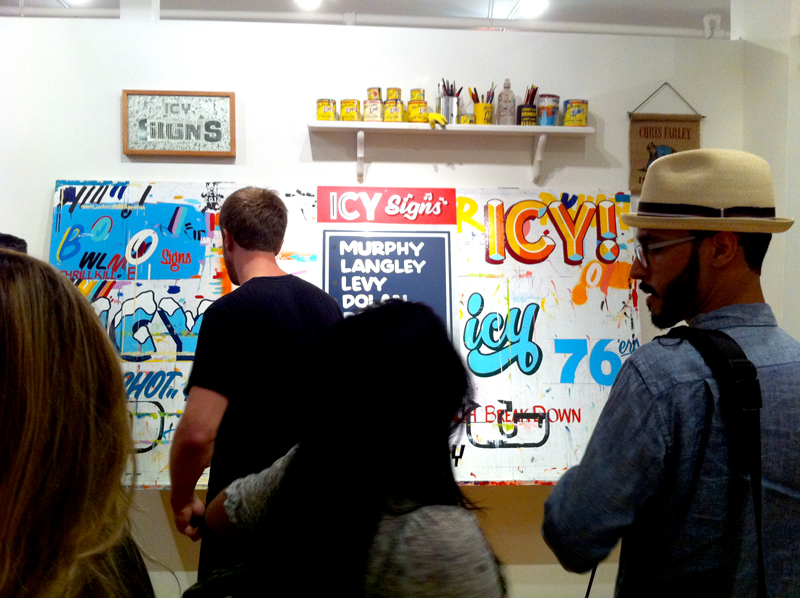 We had the pleasure to be visit the opening of the most recent exhibition of
Stephen Powers,
aka ESPO, at the
Joshua Line Gallery
in NYC.
A Word is Worth a Thousand Pictures
is a wonderful translation of Powers' love of sign-painting, images, and colors. The pieces are made of enamel on aluminum with type, graphics and bright pigments, where Powers constructs a unique personal language that speaks to all. His small scale works, 10 x 8 inch, are called "Metaltations," daily reflections that the artists creates during his daily commute on the subway, that also inspire his 8 x 16 feet works. "The paintings closest to my ideal visually represent what's in my head, a cacophony of wants and needs and hopes and fears and dreams."
His expertise in making signs and symbols pieces of art will be on display until September 29th, 2012.
Check out Powers' Juxtapoz covers in
December 2007
and
May 2012
.
All images and text by Varenka Ruiz/Juxtapoz
Stephen Powers
A Word is Worth A Thousand Pictures
Through September 29, 2012
Joshua Liner Gallery
New York, New York