Juxtapoz
Opening: ROA "Hypnagogia" @ Stolenspace, London
April 20, 2012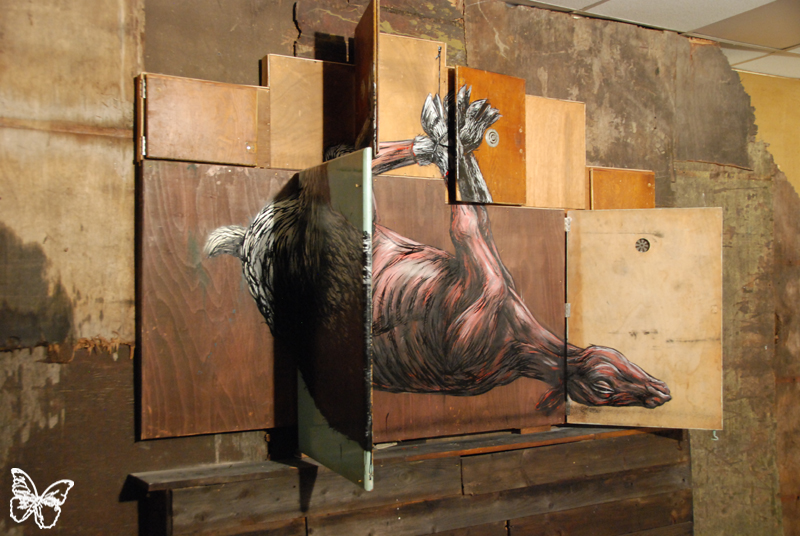 They definitely should create an iPhone app that is called 'Where in the World is
Roa
?" It seems like the man darts the world and leaves evidence of his black and white animals for the world to enjoy. The Belgian street, public, fine, and installation artist just opened a new solo show at Stolenspace in London, and our London correspondent,
Butterfly
, went to go check it out last night.
From
Stolenspace
:
Hypnagogia'will be a 2 space exhibition, featuring installation work & originals on found objects. As well as outdoor work across east London. To coincide with this show opening will also be the launch of ROA's first artist book 'Roa: 'An Introduction To Animal Representation' by Mammal Press...
The architecture and discarded objects act as vessels for the huge creatures' lifetimes, the realism of the images on the man-made material emphasising the tension between culture and nature. Observing the rodents occupying the cities he works in, ROA also comments on the acclimatisation of animals to the urbanised world.
ROA is both a voyeur and a commentator of the transitions he sees around him. 'Hypnagogia' is the exploration of a territory we often forget to enter, and both a literal and metaphorical statement of the disparity between human and animal behaviour.
ROA
Hypnagogia
Through May 6, 2012
Stolenspace Gallery
London, Englan
d