Juxtapoz
Opening: Richard Jackson "Ain't Painting A Pain" @ OCMA, Newport Beach
Feb 16, 2013 - May 05, 2013OCMA, Newport Beach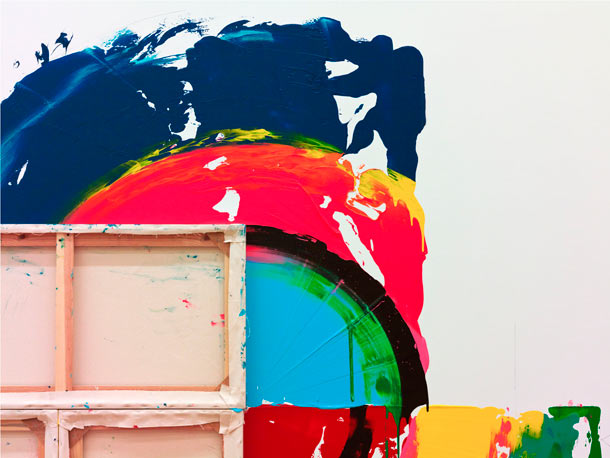 Richard Jackson surveys the scene at his February 16th opening at the Orange County Museum of Art, comfortable in immaculate Vans and impeccably unpressed khakis, looking typically bemused. And why not? Museum goers enter the building, which is graced and disgraced by his 28 foot Bad Dog puppy who mistakes it for a fire hydrant and ushers the tone of this irreverent and important show.
Ain't Painting a Pain presents eleven full-scale installations that truly engage. Visitors are encouraged to explore and circumnavigate as they revel in the color, detail and technique of works that expand the idea of painting in terms of time and technique. While readily approachable and enjoyable at first encounter, each piece invites a smile as well as wonder at the execution of the idea. The accompanying drawings and scale models provide tasty insight into Jackson's world which incorporates an engineering background with an ability to take art history out of the textbooks.
The exhibit, enthusiastically curated Director Dennis Szaakacs runs through May 5, 2013. OCMA's New Port Beach locale aint' too shabby. Just look for the big black puppy.
Photos by Juxtapoz and courtesy of OCMA. Read our interview with Mr Jackson in the February 2013 issue of Juxtapoz.