Juxtapoz
Opening: "Twixt Sc. 83" @ FIFTY24SF Gallery, SF
January 17, 2012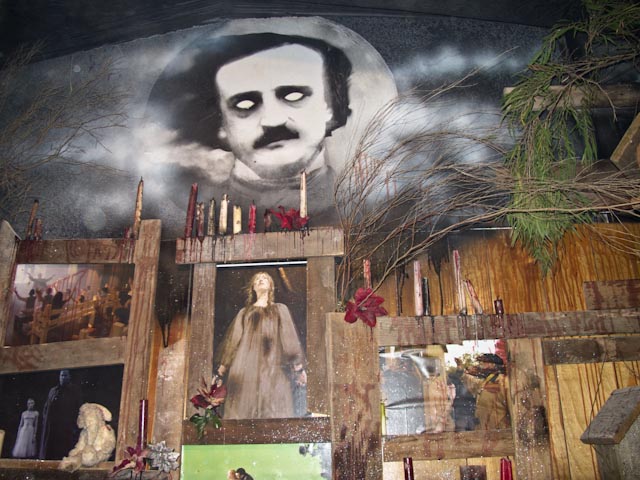 We stopped by the opening of the American Zoetrope/Upper Playground's
Twixt Sc 83
, an exhibition in conjunction with Francis Ford Coppola's newest feature film,
Twixt
. Taking a full-set from the film, as well as various themes including Edgar Allan Poe, Val Kilmer's book signing scene, and the film's elaborate birdhouses, the gallery was transformed into a horror film set by
Twixt
's art department.
We
previewed the show last week
, with full description of the exhibition's details.
Working within their own self-financed restraints and freedoms, the team behind Twixt had the unique experience of researching and building sets in and around Coppola's home in Northern California. Many of the sets were built in Coppola's backyard, while some required the small town backdrops of Northern Napa and Lake counties. In keeping with the original spirit of American horror, some scenes were created with intentional kitsch, while some dream sequence were shot with highly-detailed, ornate sets and original post-production work.


For TWIXT sc. 83, members of Twixt's tiny tiny Art Dept, (Jimmy DiMarcellis, David Hopp, and John Paul Goorjian) will be rebuilding the set of the film's dramatic climax sequence, scene 83. The center of the gallery will feature a remake and stand-alone installation of the film's clock tower, shown in the film as an impromptu 3D experience. Also on display from Twixt, will be bat and birdhouses from Nice, California artist John Hathaway, whose front yard/gallery/shop "The Woodpecker", was a key set in the film. TWIXT sc. 83 will also feature a series of other pieces from the film's set department that were found around different locations in Northern California and in the Coppola archives, as well as behind the scenes and set photography by the film's executive producer, Anahid Nazarian and Set Photographer, Kalman Mueller. The gallery will run trailers of the film, along with other enhancements to bring Twixt's horror scenes to life.
All photography by Brock Fetch