Juxtapoz
Opening: "Szukalski: Drawings" @ Begovich Gallery, Cal State Fullerton
Feb 02, 2013 - Mar 07, 2013Cal State Fullerton, Fullerton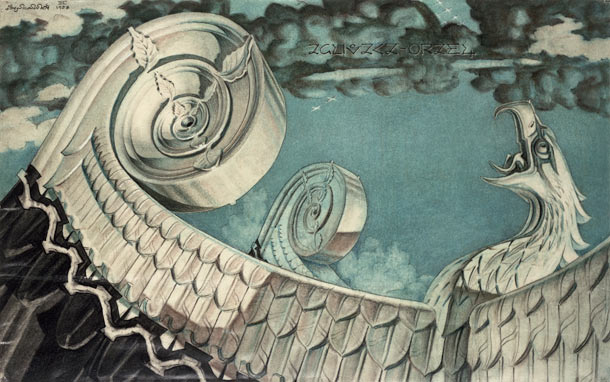 Although Stanislav Szukalski was born in Poland in the 19th century he was influential in Southern California where he lived for a few decades until his death in 1987. A very short list of friends and admirers include Robert and Suzanne Williams, Rick Griffin, Jim Woodring, George DiCaprio and DiCaprio's son Leonardo. Robert William once wrote, "Szukalski fits the definition of genius, his observations, though in question, were brilliant."
His ability to sculpt and draw is legendary. He has been featured in Juxtapoz several times and even graced the cover in 2005. The exhibition at the Cal State Fullerton, Begovich Gallery is the first exhibition to focus on his more than 14,000 surviving drawings. The drawings featured here have never been published. Many of the drawings in the exhibition have never been seen publicly. —Mike McGee
"Szukalski: Drawings" opens Feb. 2nd, 2013 at the Begovich Gallery on the Cal State Fullerton campus: http://www.fullerton.edu/
Szukalski: Drawings
Curated by Mike McGee
February 2 - March 7, 2013
Opening reception: Saturday, February 2nd, 5-8 p.m.
California State University Fullerton
BEGOVICH GALLERY
800 N State College Blvd.
Fullerton, CA 92834-6850