Juxtapoz
Opening: Neck Face "Simply The Worst" @ New Image Art, LA
July 16, 2012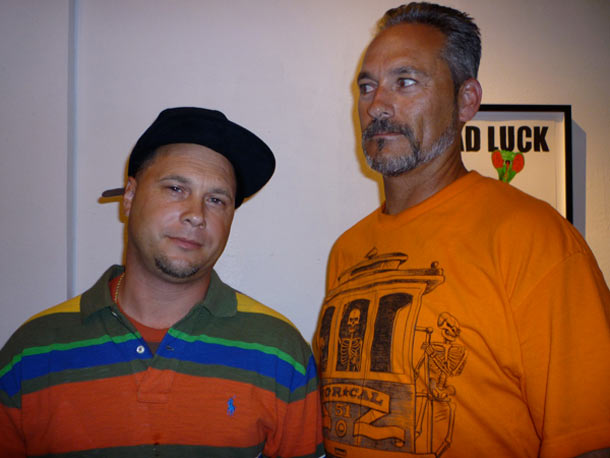 Neck Face: "Simply The Worst" at New Image Art Gallery
by Robin Fleming
This past Friday the 13th, bad luck was celebrated at Neck Face's "Simply The Worst" opening at New Image Gallery in Los Angeles, Calif. Art collectors, graffiti enthusiasts, and the elite of skateboarding showed up to support Neckface. The respect is mutual, as Neck Face says, "Those are my people, they know who I am and I know who they are. We all come from the gutter." From the moment he walked into the crowded gallery Neckface was inundated with markers and was signing boards, graff books, and fans prized collected Neckface memorabilia.
As has become typical for Neck Face, the visceral encounter with the audience at the show is as important to him as is the framed art that's available to purchase. He explains, "I'm here to create an experience. I want to inspire all these little bad kids, 'cause I'm a bad kid. I wanna let them know that you don't have to turn into a good kid to be successful. Of course you gotta sell some shit. How else am I gonna pay for my junk food addiction?"
That same junk food addiction made its way into his art when Chester Cheeto made it into a few pieces last year, but that's part of Neckface's attraction as an artist and a person. His sarcastic one-liners are the voice of the characters he paints. His friend and "assistant" for the show, professional skater Kevin "Spanky" Long laughs as he squeegees the wall where Neckface is painting, saying "I once heard him curse the daylight. He screamed at the sky "You're going down sun!"
As one of his biggest fans, Marsea Goldberg of New Image Gallery nails it, "His charismatic and impish nature are visually and viscerally felt on everything he touches, from the billboards he desecrates with words and demonic characters, all the way down to a sticker he playfully slaps on some unknowing butt." Long concurs, ""He's incredibly unprofessional, but undeniably talented."
When asked where he hopes to show next, with a straight-face Neck Face replies, "A cemetery." Yet for all the darkness and comedic cynicism, brands like Nike, RVCA and Vans chase collaborations with him and the fans embrace him like an old friend, with no separation between the artist and the kids. Neckface's parents and family members try to come out for every domestic opening, and he even has fans whose ages are still in the single digits, little kids love him. "Kids are like, "Hey Uncle Neck check this out" and they throw a rock at a house. Then I'm like, "Check this out", then I throw a huge boulder through the window. Lesson learned." Skater Jerry Hsu's assessment of his friend, "Neckface is the opposite of a do-gooder. He's a do-badder"
"The passion for horror is not something I chose, it's something I was born with. I'm not a fan of seeing a happy ending, to me a happy ending is when everybody is dead by the end of the movie." Contrary to Neck Face's taste, there was a happy ending this Friday the 13th, as every face in the room was beaming with ear to ear grins and stars in their eyes. To check out the latest installment of work and see what all the hype is about, head over to New Image Gallery by July 21st to check out "Simply the Worst".

Go to www.newimageartgallery.com for more details.




Neck Face
Simply the Worst
Through July 21, 2012
New Image Art
Los Angeles, California