Juxtapoz
Opening: Mike Shine's "Flotsam's Harvest" @ White Walls, SF
March 18, 2013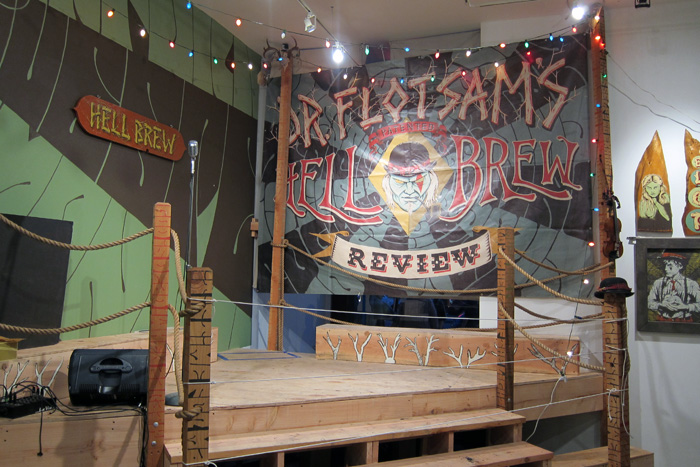 This past weekend in San Francisco, March 2013 cover artist (and often Juxtapoz @ Outside Lands collaborator) Mike Shine opened a performance/installation/exhibition at White Walls Gallery, Flotsam's Harvest. With full musical and dance accompaniment, surrounded by a massive body of work that describes and alludes to the great riddle and poem of one Dr Flotsam, the show was fully appreciated with some of Flotsam's hell brew. Or Jameson. Not sure.
From the gallery:
Flotsam's Harvest will be a sweeping installation of street art, paintings, films, a medicine show performance and the launching of Shine's graphic novella. Each aspect of the show will provide different coded tips and hints, offered to help viewers solve the dark "World Riddle" posed by Friedrich Nietzsche in his book, Thus Spake Zarathustra.he illustrated hardcover novella which the show takes its name from is the tale of Dr. Flotsam's encounters with ten people throughout the course of history.
Written as a "mental screenplay," its pages contain layered clues to the World Riddle. In addition, proverbs and "Flotsamisms," which also provide clues, will be posted regularly on the web, at
Flotsamsharvest.com
and
facebook.com/flotsamsharvest
. At the end of the Harvest exhibition, viewers' answers to the World Riddle (submitted on the Facebook page) will be reviewed by Dr. Flotsam. And winner(s) will be awarded paintings as prizes.