Juxtapoz
Opening: Lazarides Gallery's "Bedlam" in London
October 10, 2012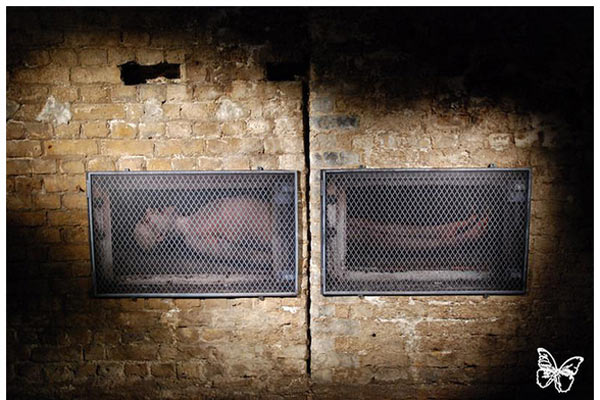 For the past 3 years, as the art world has descended upon London for the Frieze Art Fair, Lazarides Gallery has descended below the city streets to put on Bedlam, in our opinion one of the best exhibitions a non-fair can offer in a during a heavily Art Fair environment. For the third and final year, Bedlam is being held in the Old Vic Tunnels, and Juxtapoz contributor
Butterfly
went to investigate. And from the looks of it, Lucy McLauchlan and Conor Harrington had standout works... 
A small recap/rundown:
Lazarides artists and special guests inspired by London's infamous asylum will transform the five tunnels with their own creative pandemonium.
The exhibition will run from the 9th to the 21st October and feature work by the following artists: Antony Micallef, Artists Anonymous, ATMA, Conor Harrington, Dan Witz, Doug Foster, Ian Francis, Karim Zeriahen, Kelsey Brookes, Klaus Weiskopf, Lucy McLauchlan, Michael Najjar, Nachev, Tessa Farmer, Tina Tsang, Tobias Klein, War Boutique and 3D.
Admission is free however booking is essential.
Bedlam
October 9—21, 2012
Old Vic Tunnels
London, England
Lucy McLauchlan (above as well):



Conor Harrington:



Klaus Weiskopf: