Juxtapoz
Opening: Kenny Scharf "Kolors" @ Paul Kasmin, NYC
Apr 04, 2013 - May 04, 2013Paul Kasmin, New York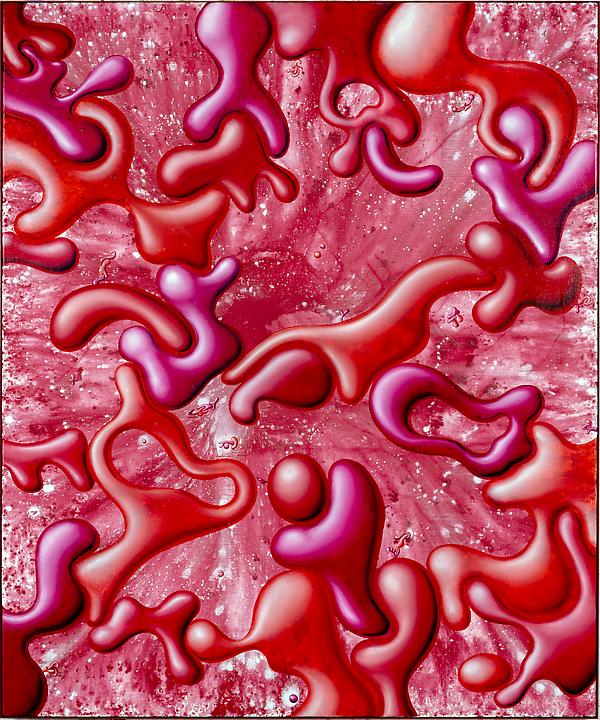 We are in NYC right now for the opening of Kenny Scharf's Kolors at Paul Kasmin Gallery, tonight April 4. (We haven't mentioned this yet, but Kenny's the cover artist for the new May 2013 issue). He wil unveil a new body of work plus a series of sculpture works.

From the Gallery:

Paul Kasmin Gallery is pleased to present Kolors, an exhibition of new paintings and sculptures by Kenny Scharf, including ten new paintings and three large-scale sculptures, on view at 515 West 27th Street. The paintings, inspired by Color Field masterworks, deceptively present themselves as backdrops for the sculptures. Upon closer inspection, the tonally unified paintings beckon the viewer into vibrant, other-worldly, biomorphic atmospheres composed of a variety of shapes, dimensions and details. The three never-before-seen sculptures revisit the classic icons of Scharf's repertoire of symbolic imagery developed over thirty years. Scharf's exhibition possesses a unique energy and exuberance, highlighted by both his cosmic paintings and nostalgic sculptures. A fully illustrated catalogue, published in collaboration with Standard Press and Damiani, will accompany the exhibition and be available for purchase at the PK SHOP and The Standard Shop at The Standard, High Line ($40).
Scharf's use of airbrush-like oil and acrylic paint embodies the influence of street culture within contemporary art practices that he helped establish. Scharf's inspiration stems from the past, the future, nature, and the cosmic world of inner and outer space. In his sculptures, Scharf makes use of his iconic imagery, freezing expressive cartoon-like faces in curvilinear three-dimensional reflective forms. Scharf presents larger-than-life versions of three seminal characters from his pantheon of cartoon-like creatures. Two sculptures, Squirtz and Red Scary Guy, present an embodiment of anger and happiness; whereas Totemotiki climbs twelve feet to the ceiling, stacking characters that showcase the duality and interconnectedness of human emotions.
Collaborations
Two weeks prior to the opening of Kolors, Scharf's large-scale sculpture Squirtz (2013) debuted outdoors in The Plaza at The Standard, High Line. Following the exhibition, a sculpture by Scharf will return to the outdoor Plaza at The Standard, High Line for an extended, outdoor public viewing.
On the occasion of Kolors, Scharf collaborated with accessories designer Alejandro Ingelmo to create limited edition high top sneakers adorned with an iconic, hand-drawn Scharf character. The shoes, based on Ingelmo's popular JOSH style, are available on April 4, 2013 for pre-order at PK SHOP, Edition 01, and The Standard Shop. Fusing pop culture, fashion, and food, Scharf also collaborated with Kreemart and NYC's Doughnut Plant to create seven artful edible versions of his donut paintings. Doughnut Plant has created limited edition flavors, including Coconut Donut in Space, Cosmic Donut, and Chocolate Chocolate!, among others. Since its founding in 1994, Doughnut Plant has been the pioneer of the artisanal doughnut renaissance. Their passion is making the best doughnuts in the world, handcrafted every day using the finest ingredients available. Donuts will be available for purchase from Scharf's Carzy Roy Al – a customized donut cart – in the Plaza at The Standard, High Line, Thursday – Saturday, 7 – 10pm, April 5 – May 4, 2013. For the duration of the exhibition, The Standard Shop will feature a special selection of Scharf merchandise including a limited-edition, organic cotton t-shirt featuring a drawing of the artist's sculpture Squirtz.

Also, Kenny Scharf's Boneyard Project documentary was released today... thank you to Eric Firestone.
The Boneyard Projects :: Kenny Scharf from Jason Wawro on Vimeo.