Juxtapoz
Opening & Interview: Sage Vaughn "LIFE" @ Scion AV Installation, LA
January 15, 2013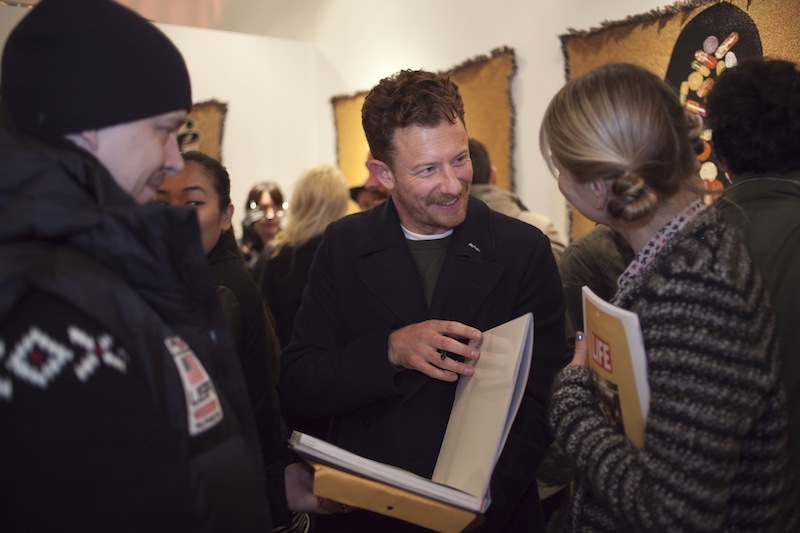 Los Angeles artist Sage Vaughn's latest solo exhibit "LIFE" is open to view at the Scion AV Installation gallery space in West Hollywood. The show features new artwork and limited edition collectible products (a lighter, coffee mugs, leather notebook, blankets, a book, and prints). Combining the iconic magazine graphic title "LIFE" with a variety of photographic imagery that looks like it could've been found in an old issue of LIFE magazine, Sage's work provides a unique experience for anyone daring to listen to what their mind responds to. The mixed media pieces made on large manila envelopes show nature, human, and animals in a variety of situations in LIFE that are sure to provoke thought about your own well-being and the state of others in the world. The exhibit also features two stained glass pieces that beautifully compliment Sage's style. One in particular is an image of two owls sitting on a branch. The backlight and soft colors make the owls presence pop and it reminds us that they do not just exist in the dark.
So what does LIFE mean? What doesn't it mean? The word means nothing but it can also mean everything, especially to those who cling to it. What does it mean to you?
Sage shared a few things with me about his "LIFE"…and the show.

All text and photos by Trina Calderon


What's your favorite thing to have for breakfast?
Genmaicha Tea
What kind of music have you been listening to recently, as you prepared for this show?
New Order
What contemporary artists do you dig?
Jason Dill, Stevie Perez, Guy Mariano, Alex Olsen, Dane Reynolds, Alex Knost, Danny Fuller, Ellis Ericsson, and Keegan Gibbs
What book are you reading right now?
1493 by Charles C Mann


How do you work? Do you have any rituals, exercises, superstitions, and/or practices you try to adhere to on a daily basis?
Turn off the phone.
What does the word LIFE mean to you?
A very effective mantra.
How do you define chaos and why do you think most humans insist on trying to control it?
It's in our nature to assume we can impose our will on the dependable entropy that permeates everything we know. It gives us hope.

Tell me about the wallpaper you chose for the LIFE exhibit. Why did you choose it and how does it connect you with the theme of the show?
It's composed of random images from my life…my Instagram feed.



I noticed one panel was an image from the 1980 film Altered States. What are your thoughts on sensory depravation?
Being alone and undistracted can be a great source of inspiration.
What kind of ideas inspired you to connect the images you chose with the word LIFE (for the envelopes and blankets)?
A lot of trial and error, a lot of time spent trying to match images I found amusing/interesting with that word, LIFE. The ones that fit, we're surprisingly obvious.
You're exhibiting stained glass artwork for the first time. Why did you choose to work with stained glass? What was the experience of creating an image for stained glass like as opposed to painting a picture?
I've always enjoyed creative processes that are rich in tradition. I found Judson Studios online. They've been family owned here in L.A. for 150 years, which is ancient for LA. and they agreed to let me in to their amazing workshop where they showed me some of the techniques used in making a stained glass window. I got to work, tried to stay out of their way, and a month later…I had a couple windows fabricated.


"The light in the sky and the sheer absurdity of the people here are a big inspiration." I read that in your statement in Milk & Honey. Can you elaborate a little more on what that means in regards to your experience as an artist in Los Angeles?
The amount of shit (particulate matter) in the air here in L.A., drastically affects the way we see distance. The vast amount of shit (cinematic material) in L.A. drastically affects the way the entire world sees humanity. I think both of these facts inspire me and make me laugh.
Since you're a homegrown Valley kid, what's the difference between the SFV and L.A. for those who don't know?
Everyone's done time in the Valley, so to speak. You're either from an area that is adjacent to somewhere more illustrious, more glorious, or more significant. Or you're going to end up in a rehab somewhere that's less illustrious, less glorious, and definitely less significant.


The show runs from January 12th - February 9th, 2013.
Scion AV Installation?7667 Melrose Ave,?Los Angeles, CA 90046