Juxtapoz
On Space Time Foam by Tomás Saraceno in Milan
November 13, 2012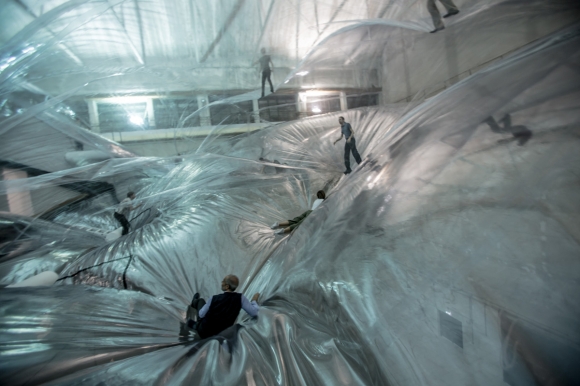 Want to cure your fear of heights? Want to make it worse? Want the illusion of flight and walking on air? Well, then you should head to Milan, Italy and take part in the interactive installation, On Space Time Foam, by Tomás Saraceno at Hangar Bicocca atrium. The piece is a floating structure composed of three levels of clear film that can be accessed by the public.
The work, whose development took months of planning and experimentation with a multidisciplinary team of architects and engineers, will then continue as an important project during a residency of the artist at the Massachusetts Institute of Technology - MIT in Cambridge (MA).
On Space Time Foam is a very particular, unusual and suggestive work of art. It can be considered as an experiment that nevertheless requires the willingness to interact, individual and collective sense of responsibility and special behavioral conditions. For this reason we are providing rules and suggestions to guarantee to the public the best experience possible for the whole duration of the exhibition.
And if you are scared, you can watch from the ground floor. The installation is on display through February 3, 2013. (images via
gessato
)