Juxtapoz
Nina Pandolfo "Spice Angels" @ Lazarides, London
June 01, 2012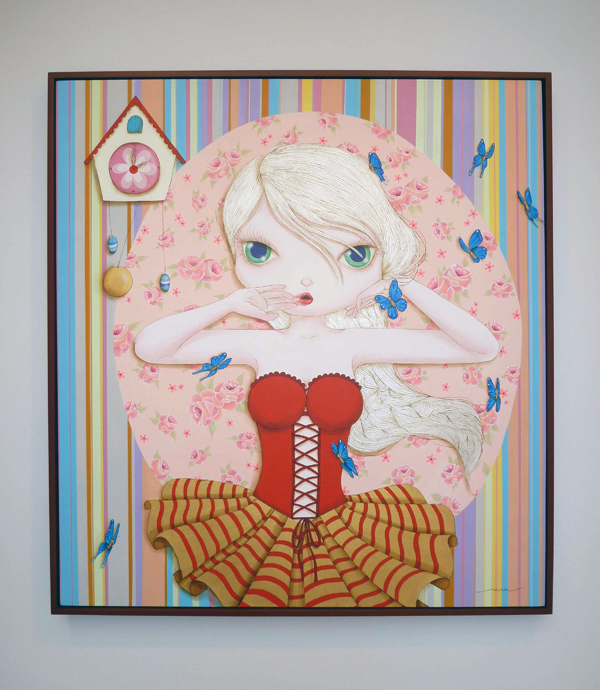 We were looking forward to this exhibition at Lazarides Gallery in London: Brazilian artist
Nina Pandolfo
's
Spice Angels
. Bright, bold, playful, Pandolfo has been on our radar for quite some time, a great mix of Japanese style with a Brazilian twist, a full set of characters that seem recognizable at first glance. The show opened last night in London. Pandolfo also has worked with Os Gemeos, a good collaborative partner to have.
From Lazarides...
Feelings marks Brazilian artist Nina Pandolfo's London gallery debut with her 'Spice Angels' series, overflowing with lively patterned, vibrantly coloured canvases and sculptures.
Making a departure from her childlike, timid girls with glassy questioning eyes, her beauty-conscious and daring characters are more sophisticated with elongated forms and a deeper and more contemplative gaze. The history of high fashion, Japanese trends and steampunk art have all contributed to the style and invention of Pandolfo's girls, which don a variety of outfits from lacy burlesque corsets to science fiction inspired trends, alluding to both a retro and futuristic fads.
Whilst steering her fictional creations towards a more developed stage with plentiful references to the world of fashion, Pandolfo continues to seek inspiration from a certain playful sensitivity and treasured childhood memories.




Nina Pandolfo
Spice Angels

Through July 5, 2012
Lazarides Gallery
London, England