In Conversation with JJ Horner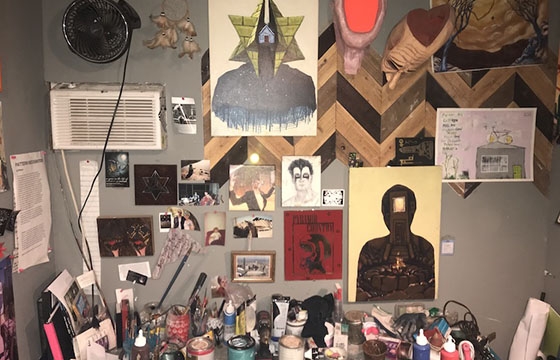 Curating group shows with adidas' support has been one of the most epic opportunities of my life. Working closely with core skate shops and exceptionally talented artists across the world, it's a dream come true. I get to spend a few months with each crew, sharing ideas on what type of work could be created and displayed, potential venues, DJs, hosts, bartenders–which are all key to a show's success. Then we get to decide on how the show will be hung, the live performance of the night, which beverages we should have on hand, and overall, just make sure everyone is prepared for opening night! I've made so many awesome friendships through these experiences over the past four years, curating 19 Showcases. Thank you, adidas Skateboarding.
Phoenix was no different. Trent from Cowtown linked me up with an arsenal of male and female skateboarders who were also creating art across many mediums. After reviewing this list in-depth and working with additional friends in the AZ scene, I made my picks.
I was well aware of Pyramid Country, but I never really knew who exactly was behind the art and all the insanely awesome videos. JJ Horner and Jackson Casey welcomed me to the Phoenix scene with open arms. Turns out, they are big fans of Natural Koncept. And JJ's installation at Legend City Studios that evening was mindblowing. It was a beautiful, to scale paper-mâché scene of a person tripping on the world he is painting.
I've always been a huge fan, but after hanging tough with the Pyramid Country crew in Phoenix that weekend, I was looking forward to the next opportunity to work on a project together. So while in Arizona over the holidays, I sat down with JJ Horner at his art studio in downtown Tempe known as "The Compound." –JZ Radical

Detail of I am here. Right now. Right now.
JZ Radical: (Train rolling by)… Let's hold for a moment. Ok, we're all set. Where are you from JJ?
JJ Horner: I grew up mainly in Apple Valley, Minnesota, which is pretty much a half-hour south of Minneapolis and St. Paul. It's the suburbs, by the zoo. We're just south of the Mall of America.
Sick.
And then, I moved out here when I was 17 or 18 to live with my mom.
Were you going to art school or focusing on art in Minnesota?
I always did art, but not in art school. In public school, art class was always my favorite, ya know. Couldn't get enough of it. When I started skateboarding, it was a big motivation to move out here. I was over the Minnesota winters, and the scene in Phoenix was blossoming, so I wanted to be out here for that. I did my junior and senior years of high school in AZ, then went to the Art Institute of Phoenix for a couple of years. I got an Associate's Degree in Multimedia Web Design, which I don't use at all, but I met a bunch of cool people there. That's kinda how I got turned on to Cowtown, just that whole scene and stuff.
Yeah, for sure. Any shout outs you want to give to the Minnesota scene from your 14, 15, 16-year-old era?
Our squad growing up was, Blake Pemberton, Beau Hough, Mark Smith–God bless his soul. Who else did I shred with out there? Nick Boudwyns, Ryan and Nick Murray, Dave Overlund, Ben Smith... there were more but that was our thick squad. There were older dudes who skated with us sometimes too–sometimes they'd take us downtown to skate Minneapolis. Tate Atkins, Andy Green, this dude Grant a guy named Tigger, there were others I can't think of now. When I was skating in Minnesota, there were no parks. There was one park in Mankato at the YMCA, that was two hours south, but none of my friends had a car. So yeah, we would skate parking garages in the middle of the winter–it would be like negative 2 degrees.

Deathwish x PC x Ellington x Compound original art
I was doing the same thing in Wisconsin.
Where I lived in Apple Valley, there was "the suburb spot" down the road from my house. The middle school ledges. At that time, all the dudes from Minneapolis would drive down and skate the ledges and stuff. Strangely enough, Darren Navarette was from Apple Valley and he was the dude who originally waxed those ledges. Ryan Fabry too.
Legends.
So yeah, he and Ryan were the Apple Valley guys. I learned about that later, but they were the guys who waxed that shit. I heard Gershon Mosley skated them and a bunch of other heavy hitters from that time. If there were any pros in town, they'd cruise down. It was a pretty solid weekend spot. That was my introduction to that whole skate world.
Yeah.
There was a shop called Fobia, which was right down the road from my house. Todd Bratrud used to do a lot of stuff for them before Familia. That was basically my introduction to the art world. Seeing Bratrud blow up through Consolidated and that kind of thing, then Flip or whatever – it was very much like, "Wow, this guy is killing it." The skateboard industry didn't seem so distant anymore. There's this mural in a Burnsville strip mall pretty close to my house. So that was cool–like pre-internet–it seemed accessible. These guys are doing it, maybe I can do it too. I'm a skater, I do art. Skateboarding was that "in" for me. It felt like a real community.

Oofie and the bus
So you arrive in Phoenix, jump into a new school at 17 years old. As a skater, it's a little easier to make that transition, right?
I had actually spent my 7th-grade year out here too, so had some friends already. My mom lived in Laveen. I met Brian Taylor in 7th grade and remained friends, he was my first skate buddy out here. All the Laveen guys went to Tolleson High School, where I ended up going. So I just linked up with the skaters at the school. They were all randomly ICP Kids, which was really funny. That's what's neat about skateboarding, you can see through those differences. (Laughing)
Moving out from the midwest it must have felt like you landed in the epicenter of skateboarding. As a kid, I felt like California and Phoenix were like the hot spots. I remember seeing Streetstyle in Tempe and thinking, "Oh, that's like a real scene." Colby Carter. Just seeing photos in the mag from PHX. It seemed like the Girl & Chocolate team was in there a lot too. Then later, of course, The Muska hung tough in AZ. It must have felt like a full-on skate world.
Oh yeah, totally. Desert West opened shortly after I moved here that was a legit public cement park. You would always see pros out there.
When did the PHX Am start?
2001.
What year did you move out again?
1998. I graduated in 2000. Then after being here for eight years, Boondoggle comes out. The Minnesota scene exploded–there were parks everywhere and another amazing scene developed. I heard Tony Hawk recently say that the Minneapolis skate scene was one of his favorites. So anyway, going back to visit and stuff was always cool - link up with the crew in MN.

Cowtown Triptych
What was the first board company you drew graphics for?
Ummm. (laughing) My own. My friends Tom Norris, Hans Swanson & Brian Reinsvold–we started a company called Dwell. That was pretty funny but felt like the world at the time. We did, like, two runs, and just skated through all of the boards. That's when I first got to know Trent and Ed (of Cowtown). I'd drive around with these boards, trying to sell them to shops, ya know, writing handwritten invoices and stuff. Trent was always down to buy boards, which was super sick. They're the best.
Trent and Ed gave me the opportunity to draw a series for Cowtown. I was living with my buddy Charles Darr, who was friends with all the Cowtown Cubs back then. CTC. Ricky Geiger and the Trapasso's–Nick and Pete, Josh Stinson, Brian Lantz, a bunch of dudes. Charles was friends with Ricky, who ended up living with us for a bit. Ricky and I would do art together. He told me he was going to show Ed some of my drawings and, sure enough, he was stoked on my work. I did my first three board series with Cowtown. That was also Cowtown's first art series, which was really cool.
Damn, that's rad.
So yeah, I gave them the original art out in the Glendale shop. They took the money straight out of the register and handed it to me. I bought some bearings and went to my friend Bob Wohl's ramp, who I met at the Art Institute. I think I had new wheels and new bearings. I don't know what happened, but I straight up slipped or flew off the side of the ramp into a fence and just totaled my ankle. I broke my ankle all crazy and flattened my heel. I was in a hard cast, not even a boot for three months. That was a big shift for me, like, "I'm fucked now." That was my deciding moment, "What am I best at? Not skateboarding."
(laughing). I really had to give it thought, what was I best at? I'm probably best at art, so I'd pursue that, and I remember thinking, "Well, why do I want to do that?" Ya know? Then I realized it was to say whatever it is I wanted to say. And the point of that was to build a platform, so my goal would be to continuously build bigger platforms.
So yeah, I remember thinking all of this out in front of Bob's house, with my foot throbbing and sad because I can't skate. I remember thinking that I would use my powers for good! (Laughing). It was that kind of positive thinking that got me through the injury and helped me to get more, not really jobs, just more opportunities to show. I was able to curate more. Deciding on a direction opened up that path. It's cliché, but that's how it worked. Every opportunity I get now I want to take full advantage, in hopes of building a bigger platform. That's the formula.

Braun's pro board
So Dwell turned into the Cowtown series. Can you give us a little run down of what happened from then up until now, just to give everyone an idea of how you got to where you are today?
I guess the next big opportunity that came up after the Cowtown series was doing insole art for Nick Trapasso's first pro shoe. That was super cool.
Legendary skater. He always backed Natural Koncept, so I was extra stoked on Nick, seeing him at ASR shows and stuff.
Natural Koncept was so cool growing up. Still is. I'd skate Cannon Skate Park on Lake Street, maybe, two times a winter. That was the park that turned into third layer. You'd see Navarette at the park here and there. There was a pretty big vert ramp.
And you'd see Caz Helmstetter at the park. He was fuckin' ripping. I mean he was gnarly. He was throwing boards at kids (laughing). You would be like, "There's CAZ. Watch the fuck out!"
So yeah, Natural Koncepts was like my first glimpse into that world. And NK was also another art-based skateboard brand, which you didn't really see a lot back then, other than the obvious Foundation, Toy Machine, or Consolidated.
That turned into a year-long thing. I had all of these different expectations and it turned out to be pretty anticlimactic. I sent them an invoice and they were like.. "No. How about this?" (laughing). They basically told me you can either do it or you don't.
I was like, "Fuck, I guess I'm doing it." And that became the trend for a while as far as commission work went. I learned early on, No one is gonna pick you up in a golden chariot and take you to the castle. Ya know, take me to the ball. (laughing).
Leading up to that, my expectations told me, "Every big opportunity was the ONE," like, this is the one that's gonna change it for me.

The Phoenix Showcase at Legend City Studios
I feel like that shoe sold really well.
Oh, for sure. But I didn't sign it. People probably thought Nick drew it. I remember correcting people on the internet. On the Slap messenger board: this was actually drawn by JJ Horner. (laughing).
I'm sure if anyone asked Nick, he would say, "It's my man, JJ."
For sure. If they could understand him. (laughing). That's not even a diss. I love Nick. He's got his own lingo, for sure. I am honored to have done that graphic for him. It's just all a learning experience.
So from there my next big thing was when Trent and Ed let me curate some PHX Am after-parties and art shows. They had a gallery at their Tempe shop, and I did my first sectional piece for an after-party art show. My sectionals are basically several paintings that make one large painting. My first was a self-portrait. Adrian Lopez was hanging out and was hyped on it, he asks, "Hey, can you do a 'Dia de Los Muertos' thing? La Catrina?" I said, "Yes I can Adrian Lopez." (Laughing)
Was it for a Zero graphic?
No, it was just a commissioned piece for his house. I ended up driving it out there, hand-delivering it to him. I get out there, and we hang for a bit. He's got Ben Horton custom paintings in his house that were painted on his wall, all this old crazy skateboard memorabilia. It was tight. So I told him how much the sectional was and he was like, "How about this much?" It was like a third more. I thought, "This is how it should be!"

Joseph's Ark
Oh, he went over. What a G!
That was a big boost for me, for sure. I spent that entire summer in Minnesota, traveling around with my friends, which was really nice.
With that cash?
Yeah, totally. Let's see, the next big one from there was skateboarding wise, when Jamie Thomas was doing an Insight Tour. He hit up Trent and asked, "Do you have a local art guy? We're coming through PHX." Trent hit me up and I put together a greatest hits kind of show. All of my best work at that time. That whole squad came through. I was obviously a huge fan of Jamie Thomas. I made an Insight painting for them. I sent Jamie a picture, and he got the shirts printed and shipped to the shop while they were on the road. He was walking around all night trying to push these shirts. He totally killed it for me, which was rad. They ended up coming back here to The Compound, and partying around the fire. I remember going into the house for a beer and Scotty Copalman was in the kitchen talking with Jamie. Jamie had a leather jacket with all this fringe and shit, and Jamie is telling Scotty why it didn't work with Zero and stuff. Meanwhile, this is Ellington's old house. It's moments like that when your 13-year-old self is hyped. It was a surreal moment. I mean Thrill of it All was like the Holy Grail for us back in the day.
That video really took skateboarding to a new level. Like this can be done on a skateboard? Pure madness.
It was crazy. Plus, Scotty Copalman is from Arizona. Ellington is from Arizona. Once again, it seemed more accessible.
So, Jamie gave you a bunch of cash the night of the show for the t-shirts?
Yeah, and they ended up buying the Insight piece I had made for the show. He made me a couple of grand, dude.

Masks from Swimmin' in 'er
Let's talk about Pyramid Country for a moment. Give me the lowdown. How many years are you in Arizona before Pyramid Country kicks off? Also for the record, can you please name every Pyramid Country video.
Woah. There's a lot.
OK. How about the top 5? (laughing). And the influence of old video games, etc.
That's a big question.
I know.
Okay, so I was in the Valley for 11 to 12 years when it started. Almost eight years for Pyramid Country. This 4th of July, it'll be eight, since it started in 2012. Right when Jackson moved to town, I was working at Cowtown. I liked his videos. He had just done "Friends with Benefits." That was his first major independent film. He came into the shop one day and says, "I like your art, blah blah blah," and I was like, "Cool, dude. I like your videos." We hung out in front of the shop, chatting for an hour. He told me, "I want to be able to take girls out for steak dinners and stuff, ya know?" (laughing).
At that point in my art life, I had become more of a realist. I just told him, "Dude, we don't have any money. Do you have any money?" He wanted to make shirts with me. He was doing a thing called Clouds Hate Life. I just said "Sorry, dude. Maybe sometime, just not now." We didn't have cash, and if we made money, it was just going to be drunken away, anyways. In retrospect, had I said, "Yes, but let's do something else," I probably could have done all the b-sides for Boyish. So that was always kind of a bummer for me.
So, we remained friends. Then this dude, Bobby Green emerged back into the scene after a nasty break up type thing. His brother, Pat Green was an early legend–he was on Darkstar and stuff. Bobby was facilitating his growth as a skater back in the day. They were both well-known skaters. I knew Pat, but Bobby made sure that we became friends because we were both living in the hood, I'd see him at the coffee shop. Bobby started skating a lot more again and sparked me to skate a lot more too. We decided to make a point and shoot video called "Dad Cam" one drunken night. That was with Charles Darr, Bobby Green, Colton Brock, Shane Cunningham, and Pat Green had a part, also the Harper Brothers; Cameron and Preston Harper.

Jackson and Tyler
It started out as this super simple point and shoot video. We thought we were old guys. (laughing). Bobby took it to a whole other level. We ended up having five friends' sections in the video. He ended up filming over a hundred people. It was insane. We had this premiere right down the road that was just unreal. It was gnarly. Literally the gnarliest premiere I had ever heard of. Other than, maybe, Baker riots. It never got to riot status but it was dope. (Laughing)
So here we are, premiering this hour-long point and shoot video. We had the after-party here, and it didn't get busted up, somehow. The night went off. It was wild, and we felt like we brought the community together. After that, Bobby was super hyped on how everything turned out. He bought a VX again and started filming more. He's an entrepreneur type–always been really self-sufficient, that kind of thing. Stand up dude. He was sitting on some money, so asked Jackson and I privately if we wanted to start something. We were both like, "Fuck yeah."
We met up at Bobby's house one night, and he kind of broke it to both of us. We all agreed, and within that one night, we came up with the name Pyramid Country, the character Exeter, the direction, all that shit. Basically we came up with the first six months of work that night! All of that was what was seen in "Worship Friendship," Jackson's last independent video that's sponsored in part by Pyramid Country and Send Help. That's Exeter's first appearance and Pyramid Country's first appearance.
Our first video was "Couch Lock Odyssey," which was mainly b-sides from "worship." Eric Blattner pretty much filmed a full part. Pat filmed a full part of that too. The Skateboard Mag put that out. I remember when we premiered it which was on 4:20 almost seven years ago, Hammeke was hanging out. I was live-painting and stuff. It was going off. It was another awesome premiere. We had this band Snake Burner playing. They were doing all of these cool covers and stuff. I remember Hammeke asking Bobby or someone, "Dude, what are you doing putting this out through The Skateboard Mag? (in Joe's voice) "Next one is coming out through Thrasher."
So, I was live-painting and Hammeke says, "Let's do a canvas for Thrasher." I was like, "Yeah, man. I'm down!" I was on that opportunity immediately. We went out, shot a photo. I gave him all the images. Probably within two weeks.

Dwell Board
What a massive opportunity.
Fucking A. I thought, "We are not going to fuck around." I think the very next day, after the Couch Lock premiere, Tony Vitello hit up Jackson. He asked, "You want a job? Let's put out the next video through us only." And yeah, then we did "Phoenix Lights," our 2nd video. It was all night skating. That was our debut through Thrasher. That was cool.
And at that point, you're starting to feel some serious momentum with the brand?
Kind of, yes and no. I think when Exeter dropped that was the moment you could tell it was happening. DVD sales were still relevant. We were like, "this is working" type of thing. We've been such a niche kind of underground thing, not like we're trying to keep it mysterious, we just do what we do. So seeing that momentum was validating.
Couldn't have said it better. How many videos has Pyramid Country put out?
That was one of the trivia questions at the Legend City Showcase. (laughing) Full lengths, I think it's 13.
That's sick. That's a very strong statement for any brand.
Absolutely. It's because dudes on the squad are just killin' it. Just rippers. We go on a lot of trips. Watching these dudes produce is such a treat. It's insane. The footage speaks for itself. Jackson has always been my favorite editor regardless, even before Pyramid Country.
Just to see him kill it, then his take on my b-roll stuff was always cool to see. It's always been super productive and ambiguous in a way where we're not just a clothing company or an accessories company or a grip company. We're this broad crew type collective where there's never been a conflict of interest with skaters ya know.
In the beginning, we wanted it to say, "We're clothing." Then, for example, Jonathan couldn't be part of it because he wanted pants from Krew. So it evolved into this kind of collective thing that made it easy to be hyper-productive because you can get all these different people involved. We've never been stuck with the same formula. If you want an opportunity, here it is. See what you can do with it or otherwise, it's been real.

Studio Wall
Yeah. Come on the trip. Shred. Get a big part in the video.
We've always tried to keep it organic. Now, organic is Blake Carpenter hittin' us up, "Yo, let me come on a trip." He's the perfect fit because he's seen all of these videos and knows exactly who we are. Max Taylor came on this last trip too, same deal. We're like, "Are you sure you guys want to hang out and stay in our small ass Airbnb? Okay..."
But there's some magic there.
Yeah, totally. That kind of vibe has really grown in that way, which is really cool and interesting to see over the years. I feel very fortunate to be a part of it. Yea. Super dope.
Let's talk about the Showcase for a moment. Basically that's how we met. February 2019, Legend City Studios. 13 artists from the PHX scene. That was an awesome group show.
Super cool show.
I had a blast meeting everyone. Working with Trent was really cool too. I realize how busy he is running Cowtown, but he, Ed and Laura were such a pleasure to curate the event with. It was such a killer experience for me.
Cool. That's what's cool about Trent, Laura, and Ed. When they agree to something they give it a 100. That type of deal.
Jaylan did an awesome job as well as the MC. That space was so sick.
Yeah, Legend City is such a cool spot. Back to what we were talking about, "taking advantage of your opportunities and stuff." When you hit me up, I thought, "Sure, I'm in." I felt like, "This is what you do and you're down for it, so alright, cool. I'll do my best too." Ya know? So it was rad.

JJ and Tyson Krank Collaboration at The Compound
Everyone came in strong and showed a lot of killer work. The walls were full, for sure. We designed it so that your installation was the very first thing people would see when they walked into Legend City. Then it opened up into Josh Hawkins' ramps which were amazing.
Little installation pieces spread out through the gallery. Andrew Rifle or Triples automotive mannequins.
That was so sick. I still rock one of his t-shirts all the time.
He's rad for sure.
Tino Rincoln had work next to Triple. Huge fan of his illustrations. I've been following Tino on the gram heavy. He puts out a lot of rad footage. That kid rips.
He's one of the illustrators for Cowtown now. He's really dope. Tino's work was at the New Years Show last month.
Steven Salazar showed some amazing work as well.
He's awesome. He's another ripper too. He did a graphic in our last line. Very cool.
Clay Halling's work really stood out as well. I was diggin' those Foundation graphics he did. Alex Brand's art was beautiful too. AZ desert inspired.
Clay is super sick. He's been designing a few things for us here and there, he does great work. Alex is rad. OG ripper. His style is something he developed on his own which is super rad. Like, painted animals made out of cholla skeletons.

Compound South
Justin Modica was rad to work with too. OG ripper right there.
He's one of my favorites. One of the first pyramid country boys. He makes all kinds of cool stuff. He's making a giant vert ramp. They actually just finished it, 24 feet wide 11-foot vert ramp.
They will have to do a Rumble in Litchfield. So were you stoked to show with this group of artists?
Yeah for sure. I've shown with a lot of them over the years. It was more just an opportunity to show in that spot and how stoked you were about it. obviously the Jux presence is rad. And The spot it was in, Legend City does a big group show called Chaos Theory every year, I thought, "maybe I'll meet Randy and get invited to Chaos Theory this year." (laughing).
Before we close this interview I wanted to talk about the Compound and I wanted to let you know that we need to do something in 2020 in NYC. Figuring everything out real soon. I've got some killer venues in NY.
For sure. Let's do this. I'm down.

A man and his pyramid
Let's coordinate.
Always down.
Always nice to come to the city.
For sure. When anything new and exciting presents itself I'm always down to tackle the opportunity. Same thing for the Showcase at Legend City. I was like, "I'll make a new install for this show. I'll do a big build-out."
Give us a little breakdown of where we are right now. Some of the energy surrounding this place. The Compound.
I was introduced to this space through Givan Walton and Denny Krank. Through skateboarding. There was a ramp in town, Tucker's ramp.
That's where I met a lot of transition skaters here. Lee Bender, Tubbs, Marty and Mark Murawski would skate over there a lot. Bunch of dudes. Givan and Denny would tell me, "You got to meet our friend Keith." He used to live here, at the Compound. They told me they were trying to start this gallery space so they could legally party here without getting shut down. They were looking into starting a club or just whatever it took to create a legit party zone.
This is downtown Tempe. Ya know, college town. Cops around here are used to college parties and stuff. Ready to shut down a good time, at least at that time.
So I met Kieth, and he invited me to show. I had my first solo show here. Became good friends with him and sold a bunch of stuff. I guess he was hyped on my work ethic or whatever. He was like, "I'm thinking about having a New Year party if you want to curate the art show for that." I said, "Well yeah. Let's do it."
So the first New Years' show here was 2007. Then this house opened up, so my buddy Colton Brock and I moved in. It was a no brainer. At the time, I was living with Colton in Phoenix, and we were thinking about moving downtown. I didn't really want to live in Tempe, ya know, college town. But this spot opened up and it was super cheap, the yard is huge and you can do whatever you want. I've been living here for 12 years now.

Exeter
Closing shout outs?
Got to shout out my mom. Joyce Barth. Great lady. Paul Horner. Brian Barth. God Bless their souls. Miss you guys. Bobby Green. Jackson Casey. Pyramid Country. Cowtown, Thrasher magazine. Colton Brock. Josh Zickert. Sierra Joy, of course. Yeah I mean, shit. The list is too long. "Pyramid Country 2020" (laughing)
Thanks, JJ.
You're welcome.
Was that good?
That was perfect.