Going The Other Way: Piper Lewine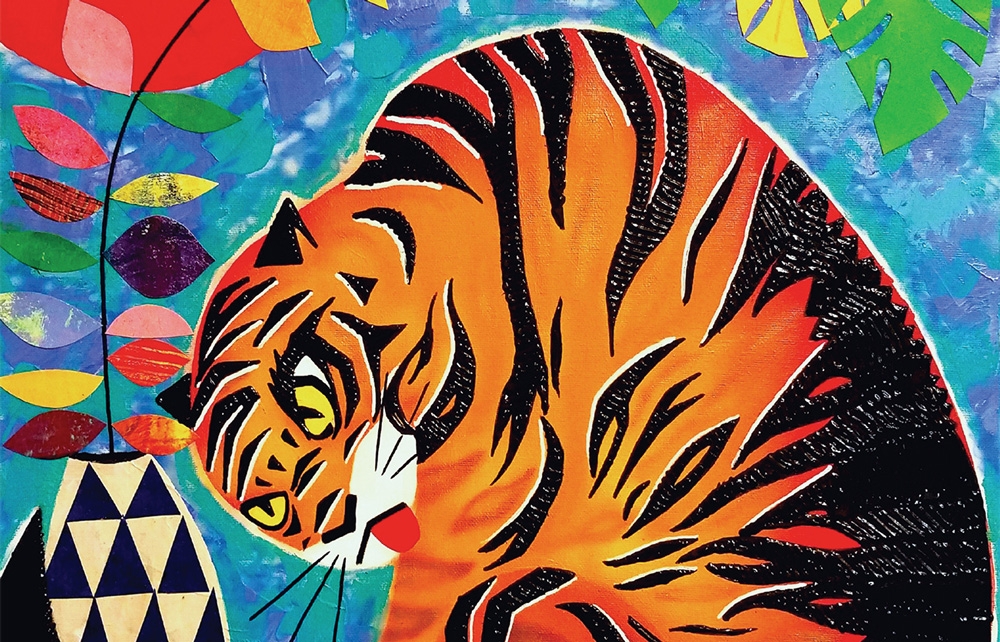 Piper Lewine is as diverse and multifaceted as the city of San Francisco, where she dwells. She embodies darkness and light, pain and joy, deceit and honesty, creation and destruction, compassion and nonchalance. Self trained with vicious tags, and a wide variety of styles, she made a name for herself in the world of Bay Area Graffiti and has started to gain traction in the world of fine art. Her one woman cold-wave scream-core band Tropical City recently performed at SF MoMA, and she also recently completed a capsule collection for Element Skateboards. Many of the top artists in the adored San Francisco Mission School consider her the next generation, sewn form the seeds they scattered carrying on the spirit of raw, passionate, creativity. ––Mike Kershnar
Piper Lewine is as diverse and multifaceted as the city of San Francisco, where she dwells. She embodies darkness and light, pain and joy, deceit and honesty, creation and destruction, compassion and nonchalance. Self trained with vicious tags, and a wide variety of styles, she made a name for herself in the world of Bay Area Graffiti and has started to gain traction in the world of fine art. Her one woman cold-wave scream-core band Tropical City recently performed at SF MoMA, and she also recently completed a capsule collection for Element Skateboards. Many of the top artists in the adored San Francisco Mission School consider her the next generation, sewn form the seeds they scattered carrying on the spirit of raw, passionate, creativity. ––Mike Kershnar
What is like being a woman in graffiti?
It's terrible, and its awesome. It's harder. and It can be a lonely place. I used to get really bummed out about it way back when, but then someone I really respected sat me down and told me "Graffiti writers are a minority, and you are the minority in the minority. Everything sick in life has been done by the minority, not by the majority." That really blew my mind. I do think if I was a guy, things would've moved a lot quicker, but whatever, in the end it all balances out. At least that is what I tell myself.
What is it that makes graffiti interesting in your eyes?
Well in a lot of ways, it is boring when you take a look at what is out there. Especially with the fall of San Francisco… I was lucky enough to paint during the last prime era of SF. That was fun, because there was a select group of people who were up, and it was good competition. That's what made it exciting, not to mention the high adrenaline. I am kind of a flat line person when it comes to emotions, so it is nice to do something that is not drug related and makes me feel such high thrill levels, especially when you are climbing roofs and hopping fences to paint spots.
To keep it exciting for me, I made it more about my art, and expanded my horizons.
What does THR mean to you?
It is a level of achievement. I worked hard for it. It feels good to be acknowledged for all the hard work you have done, versus getting props for being someones girlfriend or a hot piece of ass. It is nice to know Barry respects me. It feels weird to talk about. At the end of the day, I am just doing my thing.
What gets you inspired and out of bed?
I'm excited to make art; to work on my little books and to study styles. I am the type of person where if I do something twice, I am over it. I like to keep switching it up. When I first started writing, I was super toy, but I knew what kind of a handstyle I wanted so I would practice for hours and hours each day. I did that for months. Curing my own boredom with improving my techniques. I didn't want to be the kind of writer that could piece but not tag, or that could only write their own name well. I do not think of myself as naturally talented, I am hungry for growth and willing to work. I study art history on my own. I study the masters. I like variety, and I like diverse groups of people to be able to appreciate my work. I don't do it just for one crowd.
How was your musical performance received at The SF MoMA?
The MoMA people loved it, they said they were mind blown by it and I was mind blown the MoMA was open minded enough to let me do it. It was all thanks to Alicia McCarthy, it was her art opening, My one woman band Tropical City has become like the band that plays at all the art shows, but The MoMA paid me which was a first.
How do you feel about ORFN's current fame after his untimely death versus when he was alive and producing?
I knew that would happen. He had his own way of doing things and you could either go along with it or you could fuck off. To me, he was a genius, and like most geniuses, he suffered and caused himself to suffer in ways he was unaware of. I am glad his work is getting out there in the public eye, it always should have been. I'm kind of in denial about his death, so the more of his work that gets out there, the more he still feels alive. His legacy always needs to live on, and having his work in the public arena is a way to do that.
Why do you think there are so many deaths in the world of graffiti?
I was just thinking about this. Is this something that happens as we get older, that people just die, or is truly more concentrated in this particular scene? Graffiti writers tend to be the most extreme of the extreme, and that can come along with drug use and intense emotions. ORFN and Vote didn't go out that way, but a lot of people do overdose and do too many drugs trying to compensate for living in this money driven society that doesn't usually welcome different types of thinking.
What do you believe in?
I believe life can be pretty shitty, like a series of struggles so any little glimpse of happiness that you can find is precious, and that is what you go after. It can be small things. I knew for me that getting up early, and getting dressed up, and going to work every day at a retail store was sucking my soul and making me very unhappy. So I set up my life so I don't have to do that anymore. I found ways around it so that I can sit and make art all day because that is what makes me happy. I just can't be on other peoples time schedules. Society makes you choose, you can go get married, have a family, have a career, buy a house or you can go the other way. You can't go back and forth, you can't dabble. I set up my life so I am not responsible for anything except myself. It is all a compromise, either way you go. I don't dwell on the hardships though. I try to explain my experiences to younger kids, so hopefully they don't have to go through some of the same shit I went though. I definitely did not have anyone older, that I looked up to, talking to me when I was their age. It is nice to know that you are not crazy because you feel like you don't fit into the box that society creates.
Who has helped you?
A lot of of people have helped me, especially all my friends who believe in me. As far as graffiti goes, I was blessed to be taken under the wing by so many great writers, all of whom helped me in different ways, and put me on to a lot of new things. You don't get anywhere in this world without the help of others, but to be more specific, you are the one who really kickstarted things in the art scene for me. I never really thought about pursuing it, I was just creating. We made a connection years ago about being kept down by the fucking masses and their group mentality thinking. I encouraged you to ignore the naysayers and do your own thing, and now you are thriving. When The Growlery came about, you hit me up and said "You do so much work, lets put it out there." Then everything started rolling, shows, collaborations, media… Another major one is Alicia McCarthy, whom I became close to after the death of ORFN. I had no idea she respected me and admired me. It blew my mind. She got me the gig to perform at the MOMA for her SECA award show. That's what it is all about you know? Giving back and sharing some of the sunshine. It inspires me to do the same thing if I am ever in the position. Leading by example.
What goals do you have?
To stay out of jail. To get better at art and keep producing. I don't know if the world cares, but I care, for myself. I want to keep progressing. I always want to have that thing that keeps inspiring me, and I want to maintain my lifestyle.
What advice would you have for young artists and writers.
Do it for you and not for anybody else. Truth and passion will prevail. It may not always win the fight, but it will win the war.
Special thanks to Piper and Mike Kershnar for giving us some context to Piper's fantastic work as an artist.