Juxtapoz
New Neon: Light, Paint & Photography @ Bedford Gallery, Walnut Creek
Dec 05, 2013 - Feb 23, 2014Bedford Gallery, Walnut Creek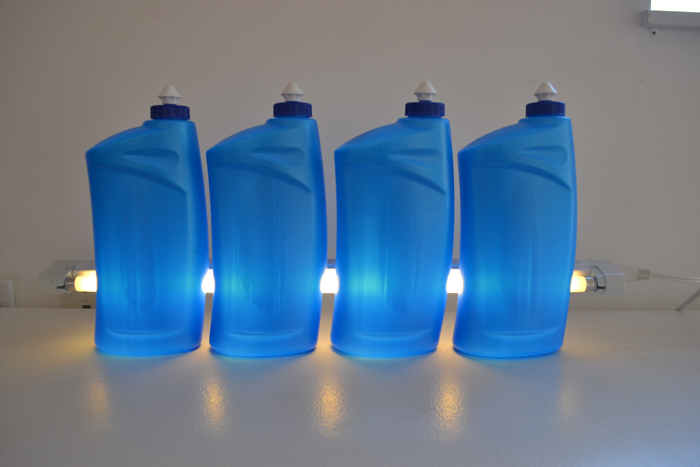 There is a great show open right now in the East Bay of the San Francisco Bay Area called New Neon: Light, Paint, and Photography at the Bedford Gallery in Walnut Creek, featuring a roster of California and international artists that work in and around the medium of neon light and paint. Not only is our very own contributing writer Kristin Farr (above) in the exhibition, but Juxtapoz favorites like Richard Colman, Kill Pixie, Patrick Martinez, Amir Fallah and otheres all made their way into the great show. It is open through February 23, 2014.
Here is the exhibition statement from Carrie Lederer, Curator of Exhibitions and Programs at Bedford Gallery:

Taking its cue from the revival of neon in art and pop culture, New Neon: Light, Paint & Photography examines how the medium has been repurposed in sculptural, painterly and photographic practices to reflect the cadence and drama of our media-saturated cultural landscape. The artists in this show all use the vibrancy of neon light and pigment to capture our attention and emotions, and I'm drawn to and intrigued by the ways in which they employ neon to portray a conceptual idea—be it humorous, surprising, or disquieting.
Historically, neon light and paint were both exclusively functional media, and were long-time cohorts with the commercial marketplace before being recruited into the artist's studio. Neon light was developed in the late 1800s and Day Glo paint during WWII, and both were used to secure the sale of product. Now, with neon in the hands of artists, we have a collection of artworks at the Bedford that capture our attention and engage the viewer with works ranging from abstract and conceptual to personal narratives.
The genesis of light as medium is age-old, with its origins stemming back to the use of radiant light, such as sunlight through a stained glass windows. Like clay or wood, light is a malleable medium. Resonating with our perceptions and emotions, it can extend beyond image and form. For over a half a century, artists such as Robert Irwin and Bruce Nauman have gracefully employed light to dissolve the edge of sculpture and its environment, or to transform the playful carnival-like nature of neon to create political, ironic, or humorous images.
The artists in New Neon are building on this rich history and have created artworks using luminous materials such as neon light, fluorescent paint, and photographic images of neon—many of which are ironically set in nature. New Neon presents thirty artists from around the U.S. and beyond who deftly use illuminated materials in ways that are sure to bring delight and intrigue to our visiting community.