Juxtapoz
Neopopstreetfunk 4 @ Gallery M Squared, Houston
November 13, 2012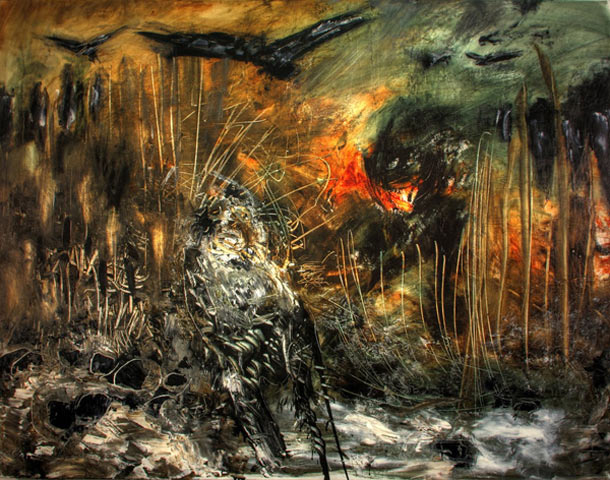 Neopopstreetfunk is pleased to announce Neopopstreetfunk 4, a group exhibition of original paintings and mixed media showing at Gallery M Squared in Houston Heights. In this, its fourth year, the boys behind the Best of Houston award-winning pop and street art event have outdone themselves yet again. Showcasing new work from 28 visual artists of every variation, Nicky Davis and Kevin Sechelski continue to set new standards in the Houston art scene with their iconoclastic, irreverent shows. From gritty guerilla street art to fantastical surrealist offerings, Neopopstreetfunk 4 promises a night of visual bliss and aesthetic beauty, but with a swagger, as well.
One of the reasons for starting Neopopstreetfunk was to showcase Houston artists, and many are in this year's show. Channeling the dark ghosts of unknown torments into Abstract Expressionist creations is Claire Richards. David Hardaker's work is painstakingly hyper-realistic, though intentionally defaced with crude afterthoughts, a cheeky statement about our perfection-obsessive society. Quirky characters and bizarre dreamscapes typify the paintings of Jessica Rice, the colors complimenting the peculiarities perfectly. Lindsay Villa's mixed media art will explore female sexuality in both a mysterious and whimsical way. And, Houston artist Kelley Devine has a penchant for using newspapers as canvases, giving her pristine female visions decidedly verbose complexions.
From the Houston street art scene, Eyesore and Cutthroat are in the lineup this year, as well as Cris "Goodhero" Gonzalez. Eyesore's animalistic pen and ink drawings are superb in their line work and detail, and Cutthroat's work is a perpetual homage to the revolutionary Mexican spirit. Mastermind Award-winning painter and sculptor Patrick Medrano will also be joining in, bringing his characteristically Old World-inspired surrealist aesthetic to the event. The skull-headed imagery of The Death Head will be on show, as well as the comic-inspired work of Leo Medrano and the wonderfully crafted, somber mixed media sculptures of Edgar Hernandez. And, Lisa Chow will be showing her adventurous duo, the little girl and bunny rabbit, drawn and colored lovingly with pencil on wood.
Ales "Bask" Hotomsky hails from the Czech Republic and is a visual artist with a style and tone that highlights the absurdities of advertising and consumer culture. From Dallas, Christopher Bingham creates seedy images of Americana. Also from Dallas, Hatziel Flores flawlessly mixes sexuality with cartoonish imagery in true Low Brow style. Both from Austin, Adrian Landon Brooks' 2-D staid characters (seen above) are quietly inviting, and Graham Franciose illustrates immaculate scenes of subdued, imaginative beauty (below). Brandon Loving, of Savannah, Georgia, is an illustrative artist with a classic style and witty, sharp imagery.
From Arlington, Jeru Gabriel brings his colorful palette and punky portraits, and from Los Angeles, Walt Hall will show his demure, yet fascinating illustrative paintings. Yis "NoseGo" Goodwin and his humorous, brilliant animalistic pieces will, once again, be in the show, and from Berkeley, the "Mexa-kitsch" of Leanne "Elrod" Rodriguez and the feline-centric, slightly Sendakian work of Deth P. Sun made it in. Rounding out the lineup are Scarecrowoven Harrigan and his acid trip monsters from New York, and all the way from Indonesia, the vibrant, eye-catching work of Arkiv Vilmansa will certainly impress.
Gallery M Squared is located in the Houston Heights and is dedicated to collecting, preserving, researching and exhibiting fine and decorative art. Representing artists of all generations, the gallery handles work in all media, including painting, sculpture, photography, film, video, drawing and printmaking.
Opening Reception: November 16, 2012 @ 7pm
339 West 19th Street
Houston, TX 77008