Music
Queens of the Stone Age: Josh Homme and Boneface on the Art Behind "Villains"
August 25, 2017
"Everyone needs someone or something to rail against—their villain—same as it ever was." When I read this statement by Josh Homme, band leader of the quintessential California desert rock band Queens of the Stone Age, regarding their new album, Villains, out August 25th on Matador, I was already hooked. Truth be told, I have been hooked since the summer of 2000, when QOTSA's "Feel Good Hit of the Summer" was my mantra. The band has always had a little fuck-you attitude mixed with intensity and humor, which is probably why Homme relates so well with UK-based illustrator Boneface. The artist's work adorned the band's 2013 album ...Like Clockwork, and he recently entrenched himself in the recording sessions again, this time for Villains, producing a new set of visuals that perfectly support Homme's slogan of revolt. We chatted with both Homme and Boneface about creating their own Steadman and Thompson universe. —Evan Pricco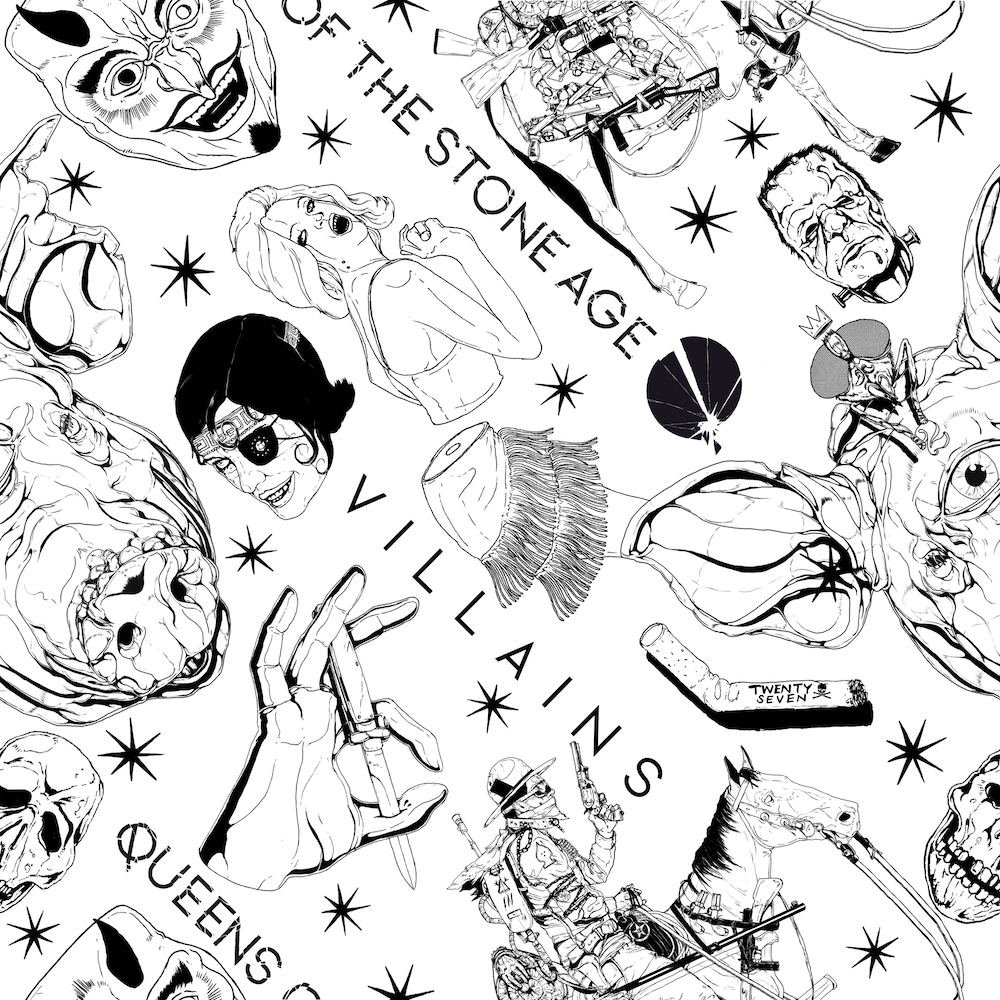 Evan Pricco: Josh, for you, how did you decide that Boneface's art would work well with the band? First with ...Like Clockwork?
Josh Homme: I think Lux Interior of The Cramps said it best: "I don't know about art, but I know what I like." Boneface had this illustrative style where he could draw motion and really capture the action of body movement. And he was putting it on this 2D background that made the image jump. And quite quickly, you could see he had this disdain for humanity [laughs]. He was painting superheroes in these post-combat scenes where they were only experiencing the pain of what came after. In the Juxtapoz article where I first saw his work, he said, "I don't like to go outside. I don't like to see people, people are wankers." And I thought, "Oh my god, I love this kid."
He was just out of art school, and I have this thing about rules. There are really no rules, and the only real reason to learn rules is to break them correctly, finitely. Boneface just seemed like someone yet to learn any rules. So I just cold-called him. I asked if he had ever animated, and when he said no, I said perfect. We flew him over during ...Like Clockwork. That was a difficult record to make, but we always have a good time, so it was like giggling on the rowboat to hell. We brought him into that, told him where we were pointing as a band, talked philosophy, and he just started to draw. I kept him there for ten days and he became part of the artwork.
Had you ever done that before?
JH: No, but I had always been looking for the right partner. There are so many times when someone says, "I'm going to go with my gut," and you think, "Jesus, don't do that." I'm a realist, but you also need a hopeful, idealistic side of yourself. Before, someone was going to batter this artist, but what happens if you show him what it's like to have freedom? I felt like we could reinforce his ability to say, "fuck off," if something didn't feel right. And I feel like I always strived to find that Steadman to my Gonzo.
That relationship between visual artist and writer, or musician, if done right, can be mutually beneficial and create a timeless aesthetic.
JH: I like to push people's buttons. When our first record got censored, I named the second one Rated-R to convince the PMRC that it had already been pre-censored and they didn't need to. And they bought it! What about if you just said drug names to people? (As in the song, "Feel Good Hit of the Summer.") Would they get bummed? What would they do? Boneface understood the visual side to this, and we would have great talks about these ideas. I remember asking him why he wears a mask in photos and he just said, "I don't want people to know me. I just want to draw." He told me that he was bullied as a kid, and he would later draw his bullies in really fucked-up situations. I think I understand that need to make art as a revolt. Not to mention his style connects with me. When you are young like Boneface, in those formative years, you either work for someone else and they abuse your talent, or you defy people with your talent. And if you can draw like that, there is no reason you shouldn't just defy everyone.
So, Boneface, since you worked for the band before on the ...Like Clockwork album and tour, how did you approach the initial work that went into Villains?
Boneface: Returning was honestly a pretty daunting task. People seemed to like all the artwork I did for the last album, so I felt I had something to live up to. Also, the fact that QOTSA tend to use a different artist for each album cover made it kind of special that they decided to use me again. I think Josh likened our relationship to Hunter S. Thompson and Ralph Steadman in the initial rallying call. So after I'd decided to plunge back into the QOTSA jacuzzi, I started work the way I usually do, just trying to create something cool. I did a bunch of preliminary drawings before I'd heard any new songs or we'd even talk about the album, and one of those sketches actually ended up being the basis for the album cover.
Since the last album, did you ever come up with ideas for your art or other projects that made you think, "Nah, I'm going to put this aside for a QOTSA project"?
BF: I had no idea I was gonna be called back to work with them again, so doing that would've been kind of presumptive. I do keep a small sketchbook for ideas, which I dipped into occasionally, and some old personal pieces got thrown in there too.
At what point did you get involved in this new album? Did you come around for the recording sessions?
BF: I came in pretty early, before they'd actually really started recording anything, back in November [2016]. I flew out to LA for a week and we hung out, talked through some ideas for what we wanted to do, tossed around a few album titles and stuff. I went out there again a few times between January and April, getting rough cuts of songs and gathering ideas from the guys for different pieces of artwork. I set up a desk in their recording studio lounge, so whenever anyone was taking a break from recording, we'd talk through ideas. For the last album, I was only there for a week, so it was amazing to be able to be there as the album was taking shape and work at the same pace they were.


There is such a rich history of bands teaming with a specific artist for each cover, and sort of creating this linear, historical timeline of both sound and vision. Is that something you like about working with the band, that this is like an art story that grows with each successive album and tour?
BF: I definitely think that's one of the most interesting parts of getting to work with these guys again. They give me a lot of creative freedom, and I like to form stories or even just small moments in weird, obscure ways that probably won't even be picked up by people. We haven't continued the story we set out to tell with the animations we did last time, though. I think this album has an entirely different feel, so using those characters over again wouldn't feel right. This album requires an entirely new set.
If you can describe Villains in one phrase, what would it be?
BF: Flash Gordon dancing through an 80's-futuristic ghost train ride as Dracula watches from the shadows…
Queens of the Stone Age's new album, Villains, is out on August 25, 2017 via Matador Records.