Music
Chris johanson's "Quiet Music Festival of Portland", June 27-28, 2014
Jun 27, 2014 - Jun 28, 2014Disjecta, Portland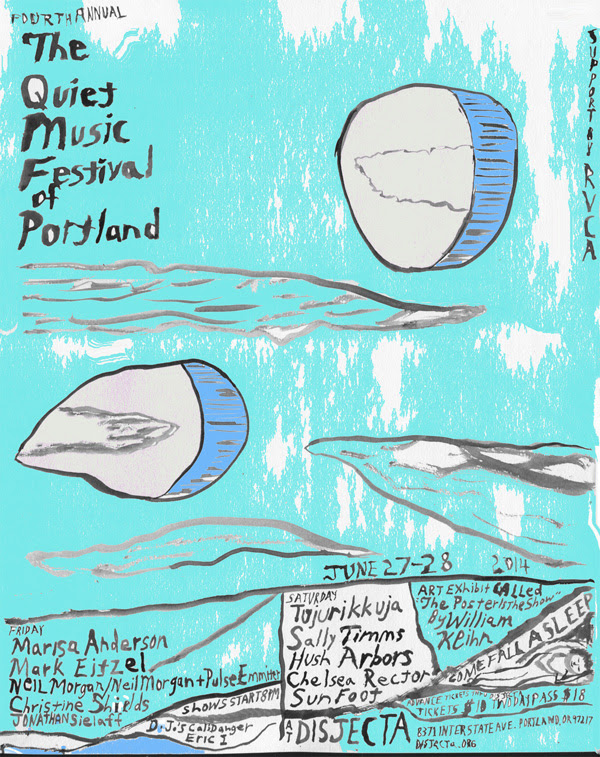 "The only festival where sleeping is encouraged," artist Chris Johanson is pleased to present the fourth annual Quiet Music Festival of Portland. The community listening experience celebrates emotional, vibrant, and low volume music honoring the quiet act of listening. The two-day event opens on Friday, June 27 and runs through Saturday, June 28, 2014 at local arts and cultural organization Disjecta and is made possible with support from RVCA.
Each year the Quiet Music Festival of Portland brings together a variety of notable musicians and bands from across the country. This year's lineup continues the tradition of showcasing rare, one-of-a-kind performances interpreting low volume, deep-sonic meditations. "Perfect for blending your conscious and unconscious self and music," Johanson says the Quiet Music Festival of Portland is "an excellent place to create your own REM music videos." Highlights for this year's festival include:
Combining a trifecta of solo guitar, baritone ukulele and voice effects, California artist and musician Christine Shields unveils songs from her current project the "Lost Film" soundtrack. Mark Eitzel brings "the chaos" to the stage with his electric guitar set fusing classic lounge with new material and an unpredictable atmosphere.
Known for her unique compositions inspired by an eclectic mix of Delta blues, West African guitar and Appalachian mountain music, Portland musician Marisa Anderson delivers a memorable guitar performance.
Eerie secrets are revealed during California artist Chelsea Rector's recital, "I will tell you 'I Love You.' All of the songs are small enough to fit in the palm of your hand." And legendary UK artist Sally Timms' performs a stellar assemblage of shruti box, found sounds, and music from the upcoming soundtrack to her sci-fi feminist art exhibition in Chicago.
Join Jonathan Sielaff for an exploration of timbres and layers during his set of amplified bass clarinet combined with electronic effects. Enter a phonetical forest of folk, country, and psychedelic sounds with Keith Wood and his band Hush Arbors.
The stage erupts with "a barren landscape of static, broken drones, alternating tones, hiss and feedback" from ambient noise project Tujurikkuja's duo Christian Dixon (Earth Jerks, Death Sentence and PANDA!) and Joshua Kit Clayton (Orthlong Musork, ~scape, and Mille Plateaux).
Things get cosmic when singer and songwriter Neil Morgan teams up with ambient synth composer Daryl Groetsch's Pulse Emitter for a "heavenly soft celestial" performance. Morgan adds, "I'll do side A of my new record by myself, 10 minutes all spoken, a Cappella and then Daryl and I will reach for HEAVENLY SOFT CELESTIAL."
"Tired of negativity," Sun Foot makes its melodic footprint with a barely amplified acoustic set, a Cappella and as a quartet with Sam Coomes of Quasi playing the piano.
Enjoy the relaxed, casual ambiance of the Quiet Music Festival of Portland. Its signature one-of-a-kind 70s and 80s interior, soft lighting and recycled décor have become a Portland tradition. Surround yourself in a draped background of hand-dyed textiles, custom fabric designs and painted walls by Chris Johanson and his wife artist Johanna Jackson. Mississippi Records' Callie Danger and Eric I return to the festival to spin DJ sets.
On view this year is "The Poster is the Show," an exhibition by artist William Keihn, who created the collection while he was living in San Francisco "during the recoil from one tech boom and into the rise of another." Collaged from found paper, random materials, and lo-tech printing, Keihn's series of works are inspired by concert posters of the past and celebrate "lazy psychedelia" and "hyper mundane" realism.
The Quiet Music Festival of Portland is all ages and open to the public. For tickets and additional information, please visit disjecta.org.
Photos above by Chris Owen