Music
Arcade Fire's "Reflektor": The Story Behind the Album Cover
November 05, 2013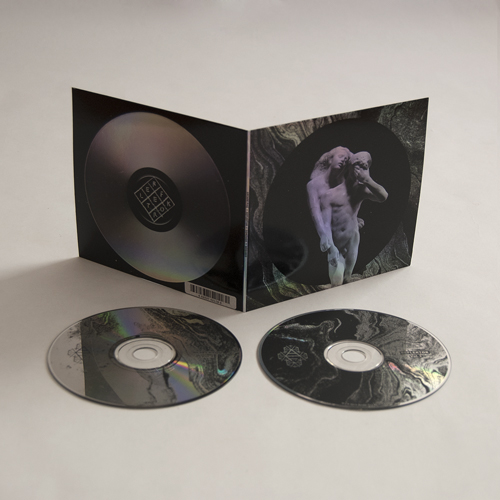 Over the past two months or so, Arcade Fire's return has been one of the highlights of the fall music release schedule. For us, we have always been huge Arcade Fire fans not just because of the music but because of the care and attention they put into their album art design and entire look for a tour and stage production. Whether having Spike Jonze direct a short in conjunction with The Suburbs LP, or their new media experiments on their website, the Montreal-band pays close attention to art in relation to their music. Their newest LP, Reflektor, takes this care to a new level.


Not only has the band done a spot-on job promoting the LP in an age where viral video and celebrity culture rule the roost, but they have collaborated with Anton Corbijn and Roman Coppola on videos related to Reflektor, and will once again team with Spike Jonze to score his upcoming film, Her. But a special treat came in the physical packaging of Reflektor, with a special holographic album cover, designed by creative director Caroline Robert. Robert created not only the cover art, but the Reflektor visual promotional campaign that was both interactive with fans but also a mystery that was unveiled as the album's release date came nearer.



For the occasion, Caroline Robert spoke to Juxtapoz about the making of the art surrounding Reflektor, and how to make both the physical (and digital) album special once again....

For REFLEKTOR, the band fell in love with Rodin's sculpture Orphée et Eurydice (that we have on the album cover). Orpheus' myth inspired them while writing some of their songs. They were also talking a lot about the influence of Caribbean culture on their music and their desire to bring back carnival energy into live performances. They wanted to create a clash between those 2 worlds: super classic and beautiful (Rodin's sculpure, black an white) versus raw and spontaneous (Haitian raw art, voodoo, carnival, textures and colors). A tension that is very strong in their music.
The death of CD, the end of an era (reflective age) was also frequently in the discussions. They wanted to use old CDs as reflectors during live performance (collage on congas) but also on artwork. Once again, a clash between the fact that this shinny and multicolor object is at the same time the symbol of obsolescence or death.
Paradoxically I wanted to make a CD jacket that people would like to have and not throw away in 5 years. Something that they would keep like a treasure. So the idea that the artwork should be a reflektor came naturally. I wanted this reflektor to feel organic, as if it was an open door to the Other side. Water is reflective and at the same time is a significant element that enable to access to another world in a lot of beliefs (sacrament, purification...). So I started to do a lot of marbling prints (suminagashi), to petrify the surface of water. Those prints became the backdrop of the sculpture, and were also integrated through the artwork (inside panels, CD and vinyl labels).


The artwork, printed on holographic board, embodies this idea of passage between life and death. Dead and alive at the same time, the black and white artwork comes to life thanks to light. It animates in colors when you move it, like a CD. All jackets (CD and vinyl) were printed in Montreal by Transcontinental Ross Ellis's great team. We had to do several press tests to get the right density of ink, to be able to block the reflective effect on some areas and enhance the light effect.
To me, the artwork had to be deeply connected to the music and to the band's energy but at the same time it had to be strong, generous and playful, so people would also like to keep it and to re-appropriate.
People are taking pictures of the album cover and share it on social medias. Each time it looks different depending on the context and the light. Same thing with the REFLEKTOR symbol (inspired by voodoo vévés). I wanted the symbol to be simple enough so that anybody could draw it but it also had to be strong, so people wants to draw it and make it live on walls, school tables… It's alive artwork! That's my best reward.


In addition to album artwork and identity, I also had the chance to do the artistic direction on Just a Reflektor video, directed by Vincent Morisset... justareflektor.com. The artwork and this video are strongly connected since I developed it at the same time. All my experiments for the artwork fed my research for the video, and vice versa. For example, at the beginning of the video, the main actress draws the REFLEKTOR symbol on a wall and I used a making of photo of this scene on the back cover of the single jacket.

For more information about Caroline Robert, visit http://www.caroline-robert.com